[2018-7-11]
When I got my cross tattoo last November, I went with my friend George Metry. He had gotten one when he was 8 years old, on a sidewalk in Cairo; he said he could see the tattoo artist was dipping his needle into a cup containing some kind of leaves, and when he asked what it was, the artist said it was collard greens.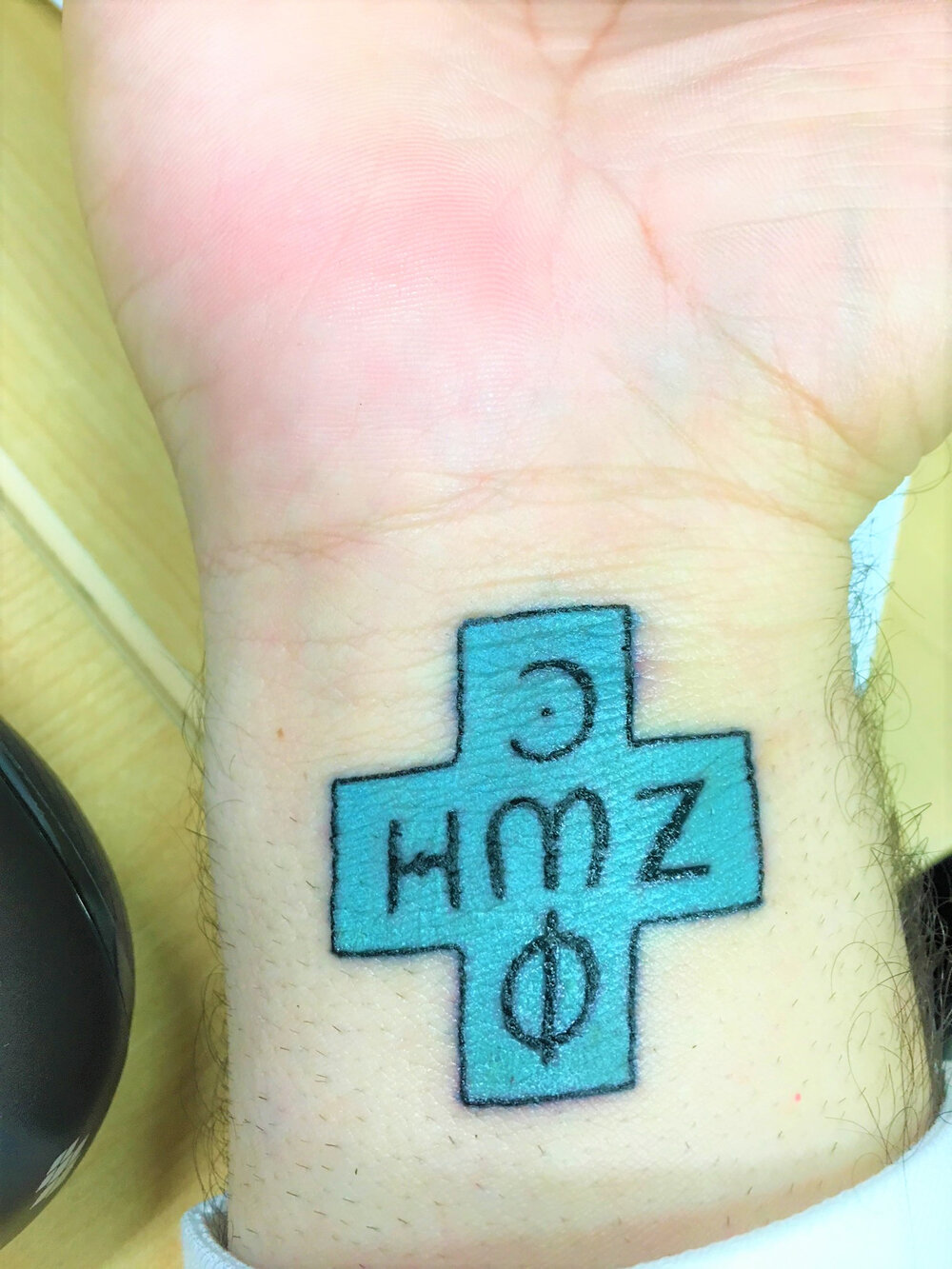 George got a simple tattoo then, but when he became a member of Holy Cross Antiochian Orthodox Church he received a "Phos – Zoe" (Light – Life) cross from his sponsor. He decided to get a replica of that cross tattooed on his wrist, covering the older one.
Some Christians argue against Christians getting tattoos, even one like this. Here is George's thoughtful reply.
***
Dear Frederica,
Thank you so much for coming with me to get the Cross tattoo, it was a blessing.
Yes, a meaningless tattoo is a terrible idea, especially if it will take you away from the Lord. The tattoos we've gotten were Cross tattoos, which are meant to remind us of the Lord every time we look at them. Mine reminds me of the Coptic Church, which I love dearly. Reminds me of Egypt. Reminds me that when I set a foot in Egypt, I will be looked at, known, recognized and distinguished as a follower of Christ, the God.
Of all death punishments, the Lord chose to accept the most shameful death, on a tree, the Cross. In return, He turned that death into eternal life, but wait, He also turned the Cross into a sign of victory. He removed the eternal shame and death, and gave us eternal victory and life, only through the Cross.
It is known in the Coptic culture that when non-believers look at the Cross tattoo on our wrists, it arouses evil in them. This was mentioned many times by the converts to Christianity; they simply admitted that those tattoos just provoked the evil in their hearts and got them to think of ways to harm Cross tattoo bearers. Which is why we got them in the first place, to be true sheep among wolves.
Now, what the Coptic Church has done is the same: instead of hiding our faith, we share it, and we choose to be marked as Cross followers, to be distinguished as Christians.
In the Egyptian culture too, a tattoo is a "taboo", but not when it comes to a Cross tattoo. Right away, it's understood and accepted.  It will cause much anger in the hearts of those who don't want to see the Cross. It either reminds them that they are not strong enough to witness to the Lord in such a manner, or they don't believe in Christ altogether. But, it will also bring a lot of comfort to the hearts of those who love the Cross. So, we also took the "taboo" of the "tattoo," and we turned it into sign of Christianity, unity, love and comfort, and this is the Cross in its essence.
My departed Mother, Beatrice, had a Coptic Cross tattoo that she received in Jerusalem when she was baptized at the age of 4. That was in 1948. By the time she was in her mid-forties, that tattoo was almost half way into her inner arm. Pretty cool!!
To summarize this, God took the Cross, the sign of eternal shame and death for the Gentiles and Jews alike, and turned it into a new Church with eternal victory and life, and shared that with the rest of the world. The Copts took the tattoo, the sign of taboo and social rejection, and turned it into a daily testimony of the faith and love to the Lord. Then they shared it with the rest of the world, too.
Enjoy your tattoo. It's a beautiful bond with the Lord, and with us as a church.
—George Metry