A Litany to St. Michael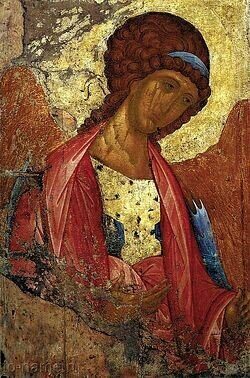 Chief Captain of the Angels,
pray for us
Angel of fiery appearance,
pray for us
Angel of miraculous beauty,
pray for us
First-formed star of the world,
pray for us
Traverser of Creation,
pray for us
Fulfiller of the Creator's commands,
pray for us
Mighty and powerful,
pray for us
Minister, spirit, and flaming fire,
pray for us
Leader of the thrice-holy hymn,
pray for us
Greatest of Archangels,
pray for us
Commander of the heavenly powers,
pray for us
Protector from assaults of the devil,
pray for us
Purity of thought,
pray for us
Minister of glory,
pray for us
In robes white as light,
pray for us
Kindling the fire of God upon earth,
pray for us
Bestower of enlightenment,
pray for us
Singer of the victory hymn,
pray for us
Illuminator of our way,
pray for us
First in boldness,
pray for us
Witness of the mysteries of God,
pray for us
Witness of inexpressible things,
pray for us
Who attends the counsels of the Trinity,
pray for us
Who fulfills the judgements of the Trinity,
pray for us
Minister of divine radiance,
pray for us
Deliverer from oppression,
pray for us
Deliverer from sorrow,
pray for us
Deliverer from sickness,
pray for us
Deliverer from sin,
pray for us
First of the Angels,
pray for us
Watcher and keeper of the human race,
pray for us
Who crushed the proud head of Lucifer,
pray for us
Who bound him in shame forever,
pray for us
Firm rampart and shield indestructible,
pray for us
Who guards us with a sword of lightning,
pray for us
Wise counsellor,
pray for us
Companion of all Christians,
pray for us
Bringer of enlightenment,
pray for us
Bringer of strength,
pray for us
Bringer of joy,
pray for us
Bringer of peace,
pray for us
Bringer of consolation,
pray for us
Leader and fellow-fighter in battle,
pray for us
Enlightener of those in doubt and perplexity,
pray for us
Deliverer from false attacks,
pray for us
Mighty rampart of God's Holy Church,
pray for us
Whom God sends to serve his people,
pray for us
Who subdues the tumultuous elements,
pray for us
Who dispels evil intentions,
pray for us
Who brings the cruel to justice,
pray for us
Who brings unbelievers to truth,
pray for us
Deliverer from distress and mishap,
pray for us
Deliverer from sins and evil habits,
pray for us
Strength of Christians who suffer and struggle,
pray for us
Who clothes the weak in the armor of faith,
pray for us
Who raises God's humble servants to heights of power,
pray for us
Who will cast sinners like tares into the lake of fire,
pray for us
Who will lead the righteous to mansions of our Father,
pray for us
St Michael, illumine our minds with the light of God that shines upon your lightning-like brow. You show to all who fight against us that God and His holy Angels are with us.
Pray that we receive the spirit of true repentance. At the hour of death, lead us to the habitations of Paradise, where there is neither sadness nor sighing, but life without end, where we may see the light-filled face of our all-good Lord and Master, and falling at his feet with tears, cry out in joy and gladness:
Glory to You, our dear Redeemer, who in your great love sent us your Angel Michael as a minister of our salvation.