Fr. George Calciu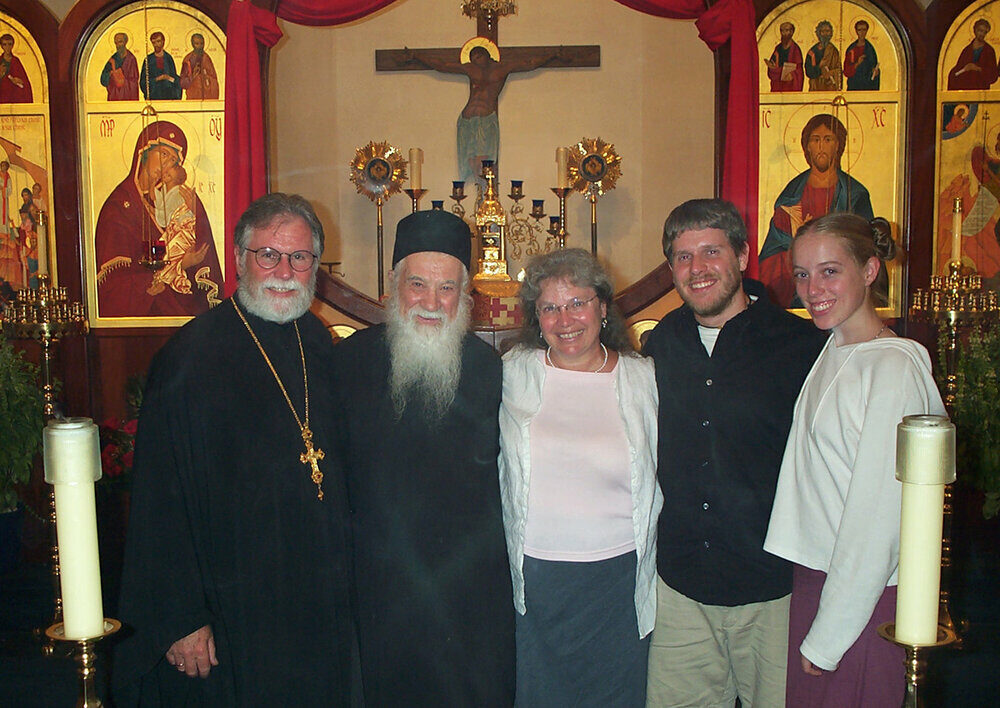 Fr. George Calciu was my spiritual father for seven years, while he was pastor of Holy Cross Romanian Orthodox Church in Alexandria, Virginia. He was arrested for his preaching in Romania during the Communist persecution, endured the dread Pitesti "brainwashing" prison, and survived to be a "living martyr". One of his cellmates was the late Pastor Richard Wurmbrand, who wrote "Tortured for Christ" and founded the Voice of the Marytrs organization. Fr. George died on November 21, 2006, near his 81st birthday.
Waggeners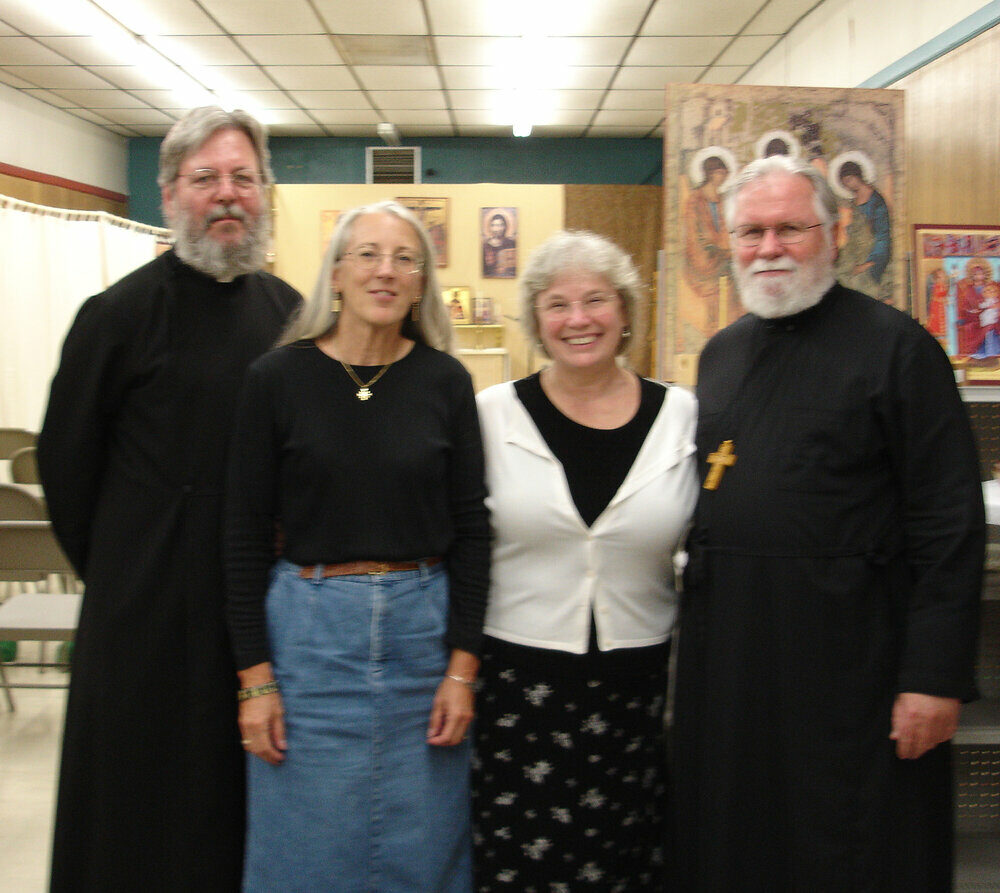 Gary and I with our life-long friends, Fr. Alban and Helen Waggener, whom we first met at Virginia Seminary in the 1970's. We are godparents to each other's children and have spent many a great time together. In the photo we are standing in Holy Trinity Antiochian Orthodox Mission in Lynchburg, Virginia, where Fr Alban is pastor, and which celebrates the Western Rite liturgy.
Wesley J. Smith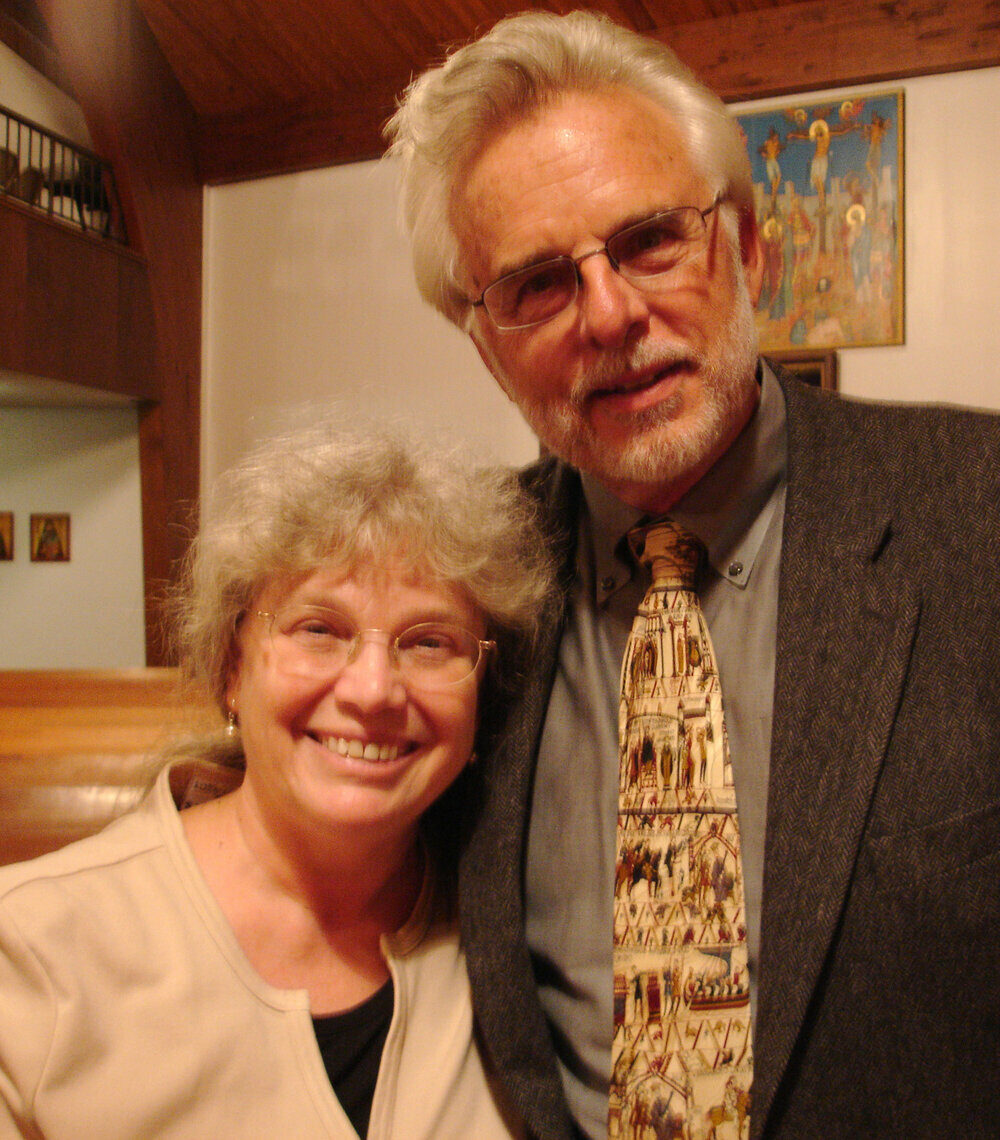 Here I am with Wesley J. Smith, author of "A Rat, a Pig, a Dog, a Boy" and other works on bioethics and related topics. Wes has become a good friend online and this was only the second time we'd ever met.
Rod & Julie Dreher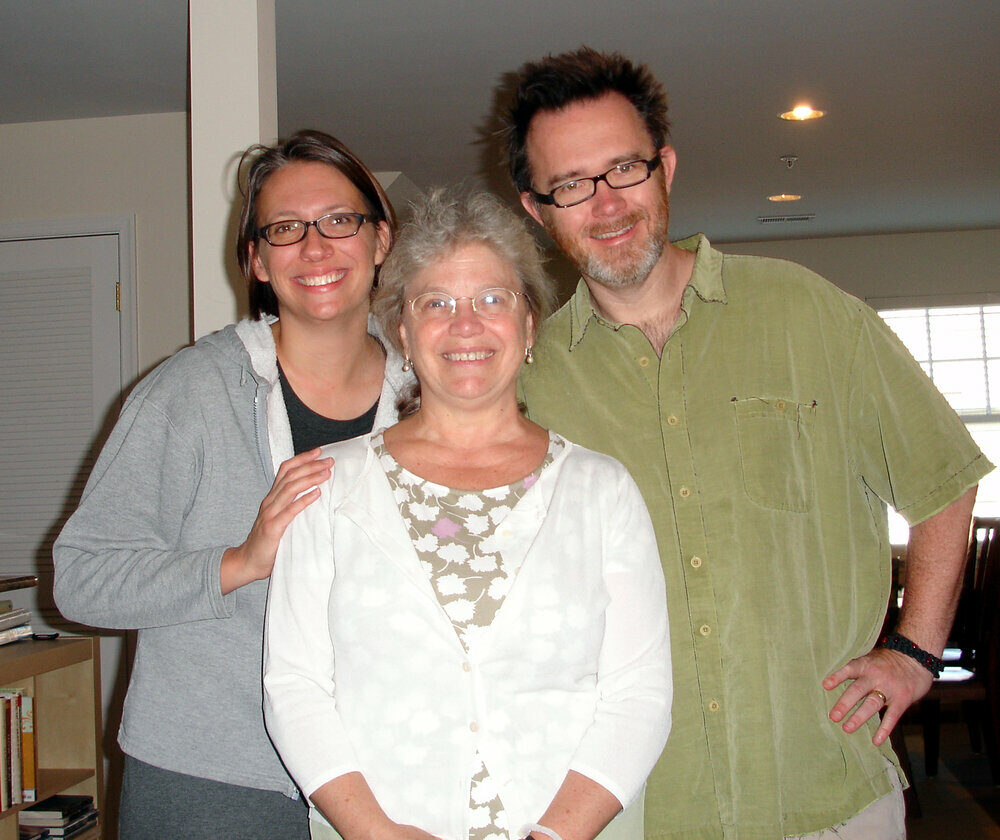 With Rod and Julie Dreher. Rod is the author of "The Little Way of Ruthie Leming" and an editor / blogger at The American Conservative. Rod and I met about 1994 and quickly became good friends. He met Julie at a speech & booksigning I was doing in Austin.
Terry Mattingly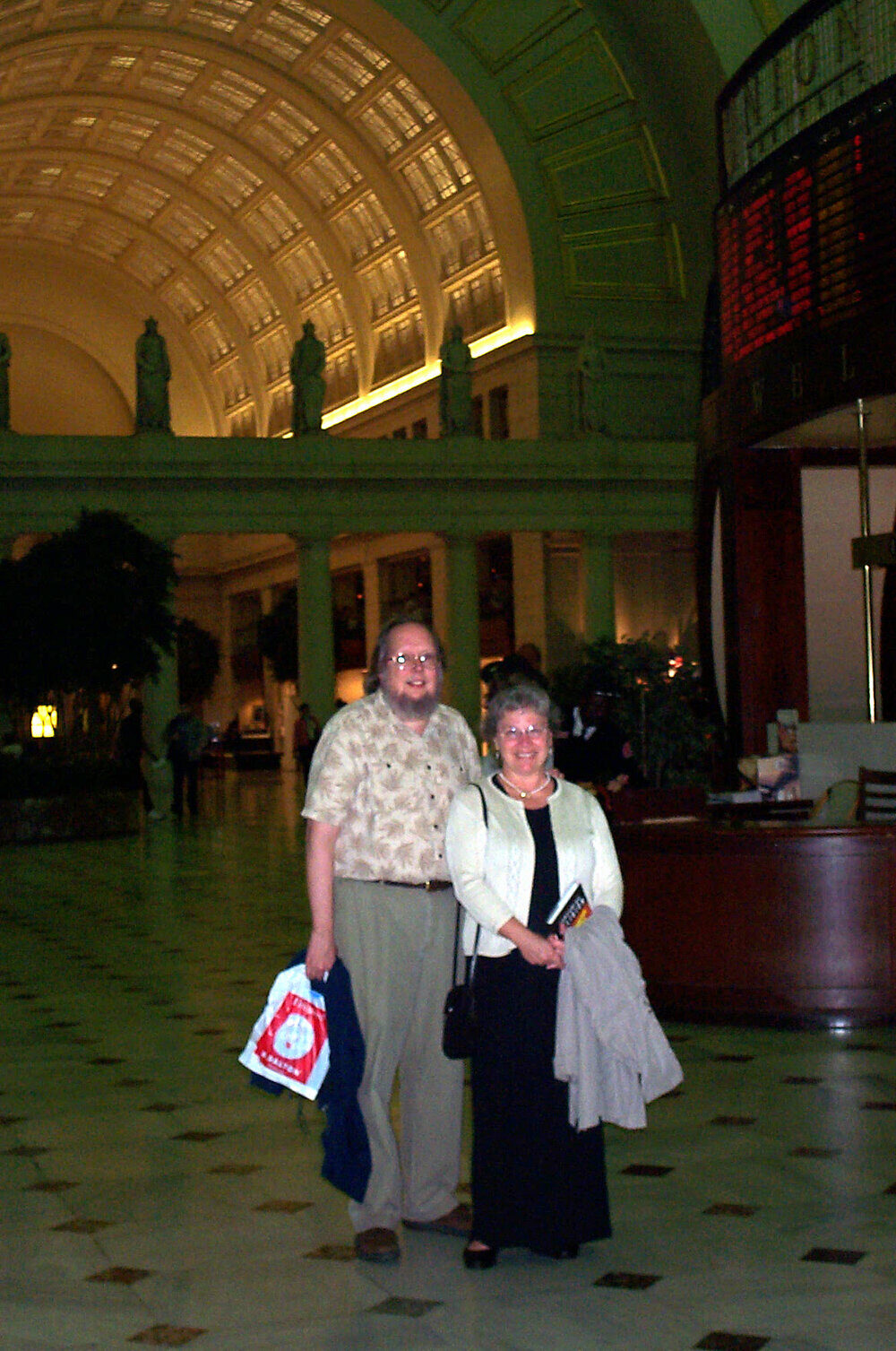 Terry Mattingly is a member of of my parish, Holy Cross Church, and an old friend. He writes a column On Religion and is Director of the Center for Christian Journalism; he founded and blogs at Get Religion. Here we are after dinner at Union Station in DC.
Ss. Gregory & Felicity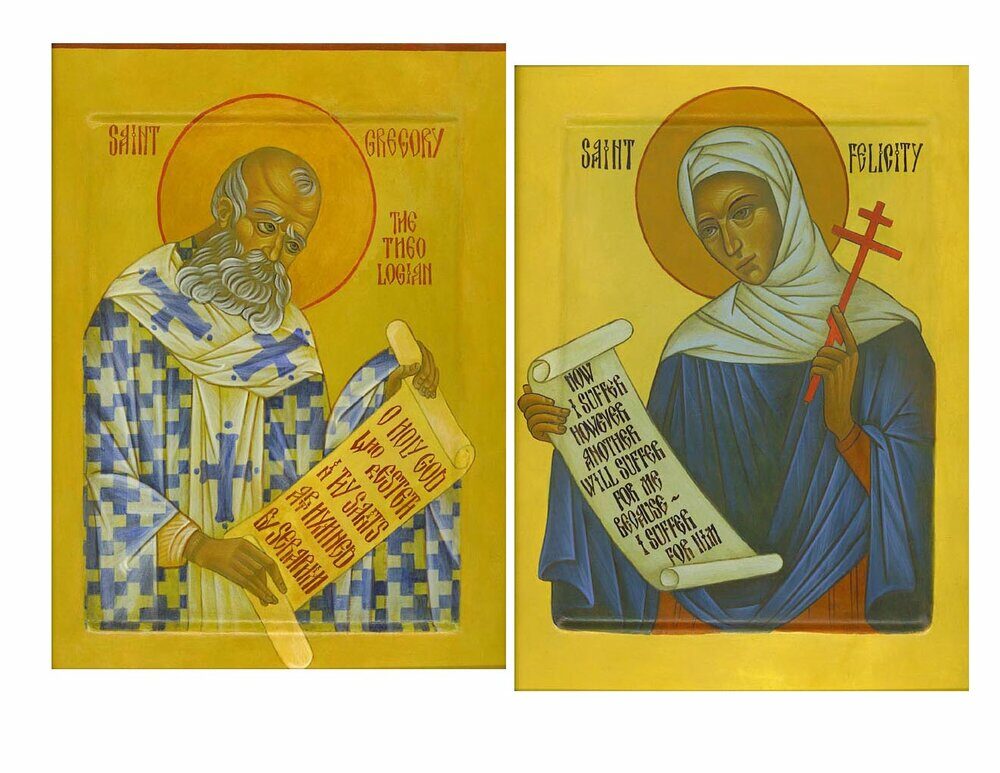 My husband's patron is St. Gregory Nazianzus, and mine is St. Felicity. These icons were made by Carolyn Shuey, a founding member of Holy Cross and our parish iconographer.
With Bp Basil in Essex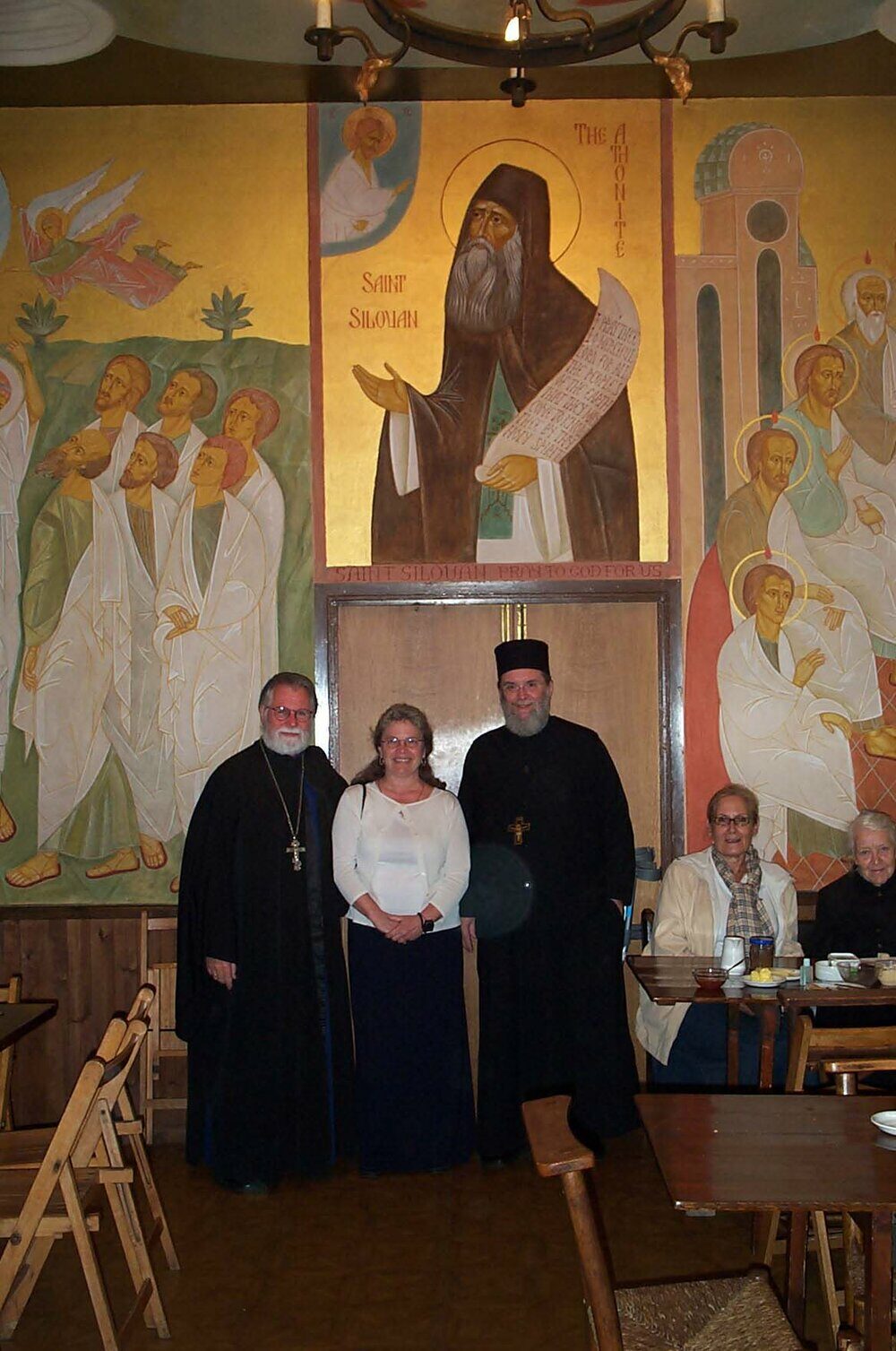 Here we are with Bishop Basil, the Antiochian Archdiocese bishop of Mid-America. We're visiting the Monastery of St. John the Baptist in Tolleshunt Knights, Essex, England, which was founded by Father Sophrony, the spiritual child of St. Silouan. Fr. Sophrony's icon of St. Silouan is overhead.
Wilsons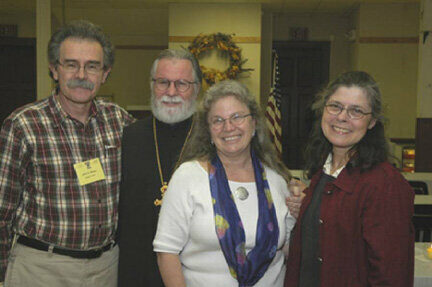 Here we are with John Wilson, editor of Books & Culture magazine, and his delightful wife Wendy.
Pastor Richard Wurmbrand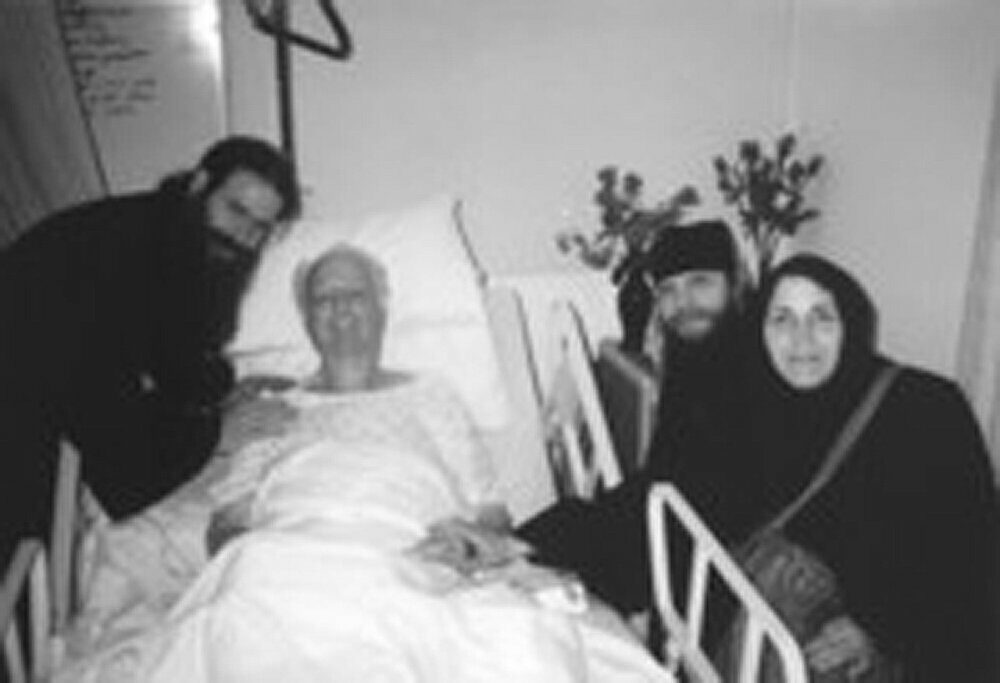 Fr Damascene, Fr Gerasim, and Mother Nina visit Pastor Wurmbrand in the nursing home, in July 1998.
Dorothy's Chrismation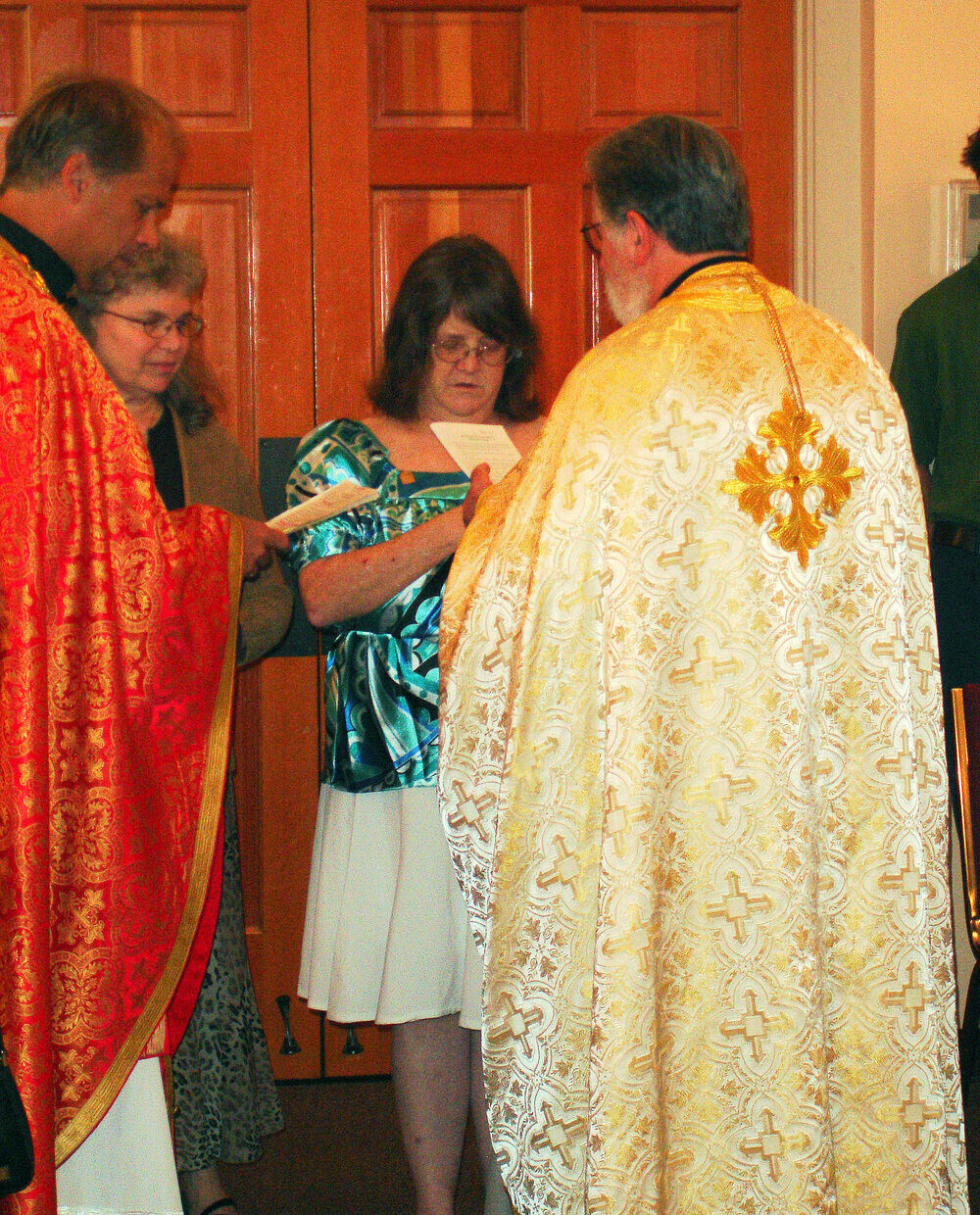 Fr. Ted Pisarchuk and my husband chrismated my sister Dorothy at St. Justin the Martyr OCA Church in Jacksonville, FL, on December 30, 2007. I am her godmother.
The Harpers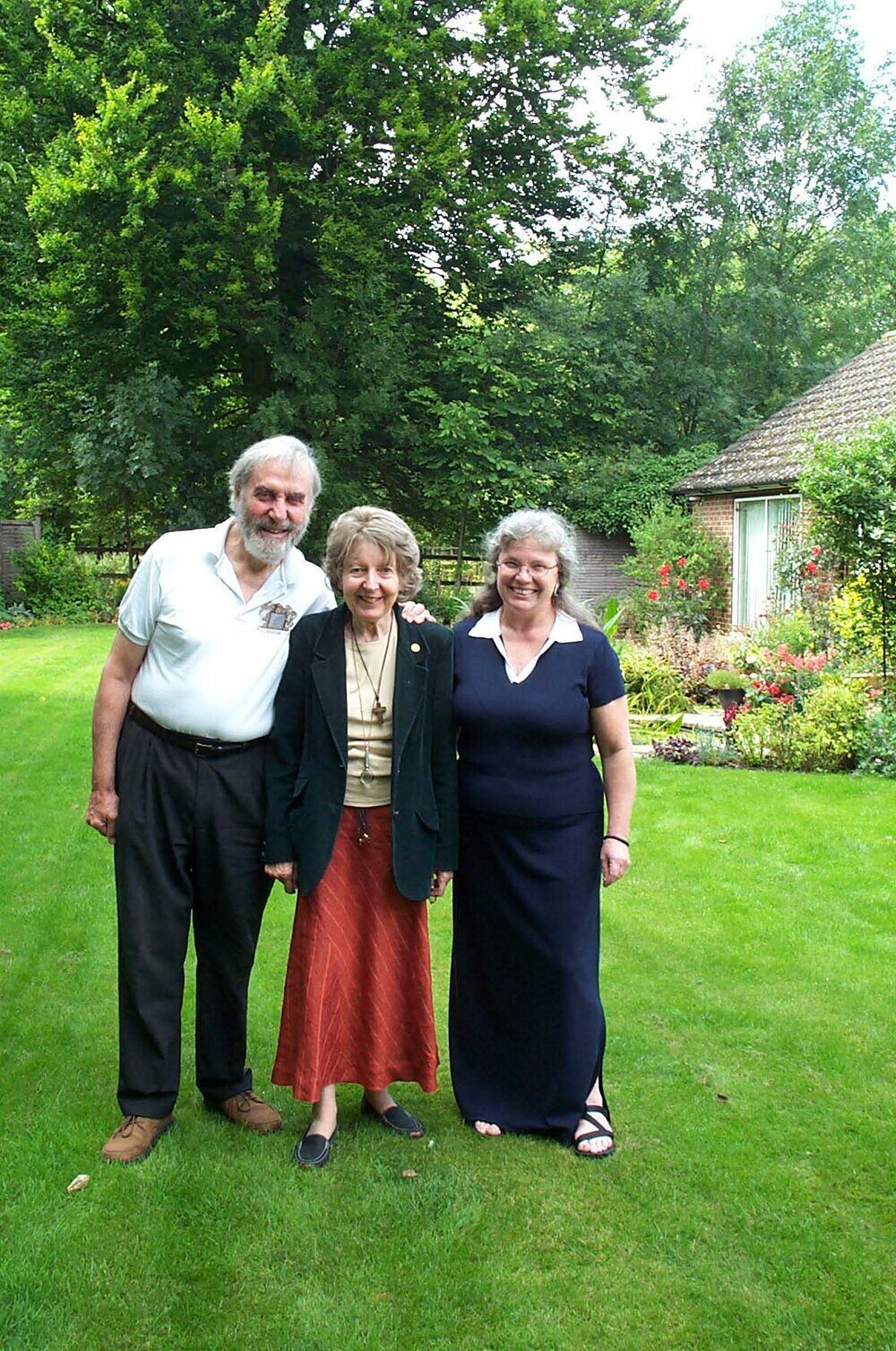 Fr. Michael Harper and his wife Jeanne were our hosts on a visit to Cambridge, England, in summer 2005.
Brother Symeon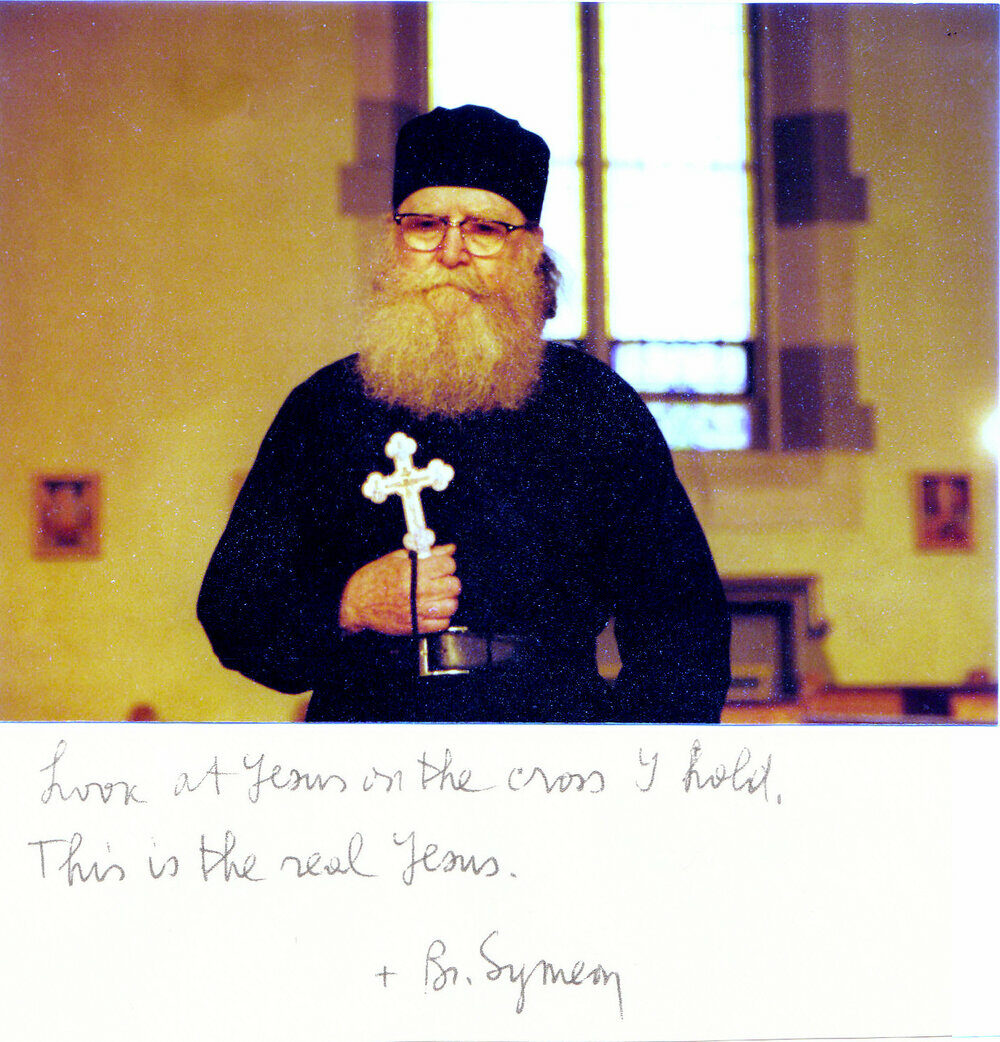 In Facing East I have a chapter on Brother Symeon, though at the time he was called Eugene. (He's also mentioned in At the Corner of East and Now.) He had come to St. George Church in Cicero, IL (near Chicago) to pray for his wife's healing, at the time that the icon of the Theotokos on their iconostasis bgan to weep. After Alina reposed he moved into the church, sleeping on a table in the Sunday School. When the parishioners discovered this they were overjoyed and prepared a place there where he could live, and eventually he was tonsured a monk.
Bro. Symeon became very concerned that Jesus was misunderstood in American culture. He thought there should be a movie that portrayed the real Jesus, and wrote a screenplay by hand, in ballpoint pen. He sent me and others copies of it, but there did not appear to be any way it could be produced. I hope one day I will have time to type it up and send it to an online publisher so that it could at least be more widely read.
Below the picture of Bro. Symeon I've put a photocopy of what he wrote on the reverse of the photo:
"Look at Jesus on the cross I hold.
This is the real Jesus."
Lunch with Arianna and Rod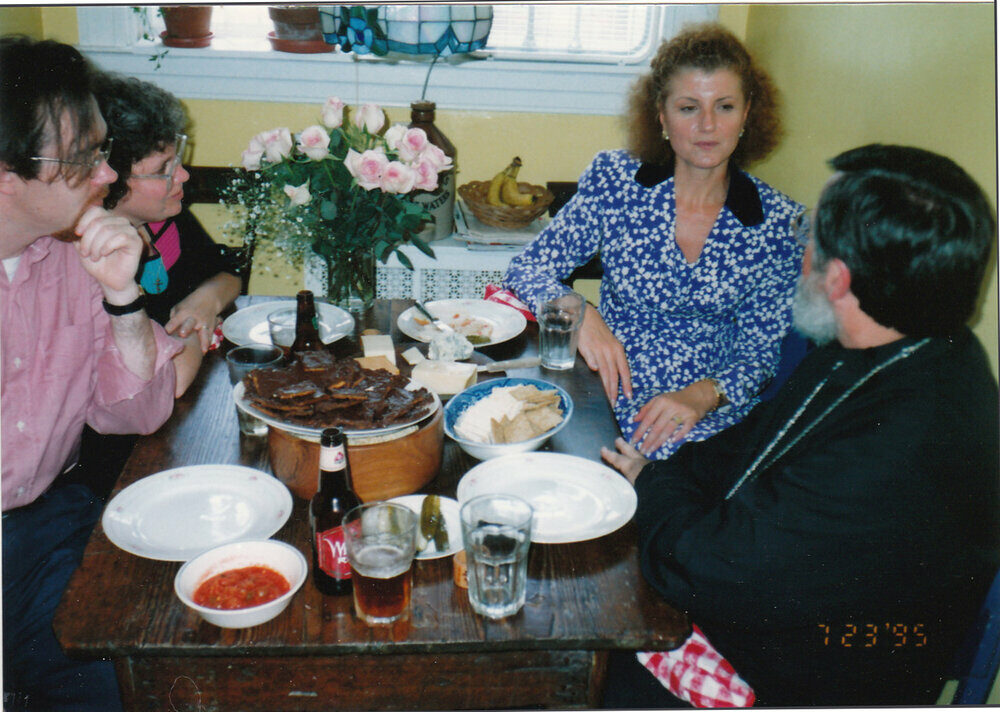 On a Sunday in July 1995, our friend Rod Dreher brought fellow-journalist Arianna Huffington to church at Holy Cross, then everyone came over for lunch in our kitchen.