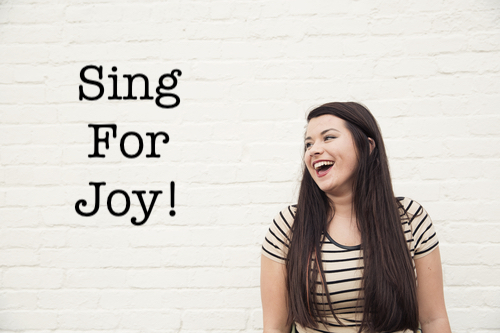 Fr. Alexander Schmemann once said, "The greatest charge against a Christian is that he has no joy." Frankly, the normal Christian faith is incompatible with life without joy. It is specifically joy, regardless of the outward circumstances that should be the "normal" Christian life.
Now I know what you're going to say: "But father, we will be accused of being unrealistic if we are joyful all the time." Well, sure we will. But that shouldn't keep us from a normal, joyful, Christian life. No, our faith isn't meant to be subject to the darkness of the current society, but it is meant to stand in stark contrast to the joyless doubt and fear of a modern society that has actually lost its collective mind! Besides, the term "joy" doesn't mean "giddy delusion." "Joy" is the description of the soul that is untouched by the changing external circumstances of life. "Joy" is the peace the Lord gives to His children to forever banish every other lesser "master" to control our inner peace. A joyful Christian is one who refuses to allow external troubles to disturb his inner peace!
Look at our lesson today in Isaiah 42:5-16:
Thus says God, the LORD, who created the heavens and stretched them out, who spread forth the earth and what comes from it, who gives breath to the people upon it and spirit to those who walk in it: "I am the LORD, I have called you in righteousness, I have taken you by the hand and kept you; I have given you as a covenant to the people, a light to the nations, to open the eyes that are blind, to bring out the prisoners from the dungeon, from the prison those who sit in darkness. I am the LORD, that is my name; my glory I give to no other, nor my praise to graven images. Behold, the former things have come to pass, and new things I now declare; before they spring forth I tell you of them."

Sing to the LORD a new song, his praise from the end of the earth! Let the sea roar and all that fills it, the coastlands and their inhabitants. Let the desert and its cities lift up their voice, the villages that Kedar inhabits; let the inhabitants of Sela sing for joy, let them shout from the top of the mountains. Let them give glory to the LORD, and declare his praise in the coastlands. The LORD goes forth like a mighty man, like a man of war he stirs up his fury; he cries out, he shouts aloud, he shows himself mighty against his foes.

For a long time I have held my peace, I have kept still and restrained myself; now I will cry out like a woman in travail, I will gasp and pant. I will lay waste mountains and hills, and dry up all their herbage; I will turn the rivers into islands, and dry up the pools. And I will lead the blind in a way that they know not, in paths that they have not known I will guide them. I will turn the darkness before them into light, the rough places into level ground. These are the things I will do, and I will not forsake them.
There is no greater expression of joy than singing. We do it all the time to celebrate a great event or just to share our feelings. Song is a gift from God to give voice to our hopes and dreams and even our fears. An old Orthodox expression says it best "He who sings, prays twice." And singing flows from an inner place in our hearts. This alone should give us a hint about why song and music are so very powerful ways to form a person. Pay attention to what you pour in your ears because that ends up in your heart!
And here, the prophet Isaiah gives the motivation for joyous singing: God has not been silent or hidden. He has made Himself known and accessible to His creation. But He has done even more. God has reached out to His creation and given His creation the ability to know Him and be in communion with Him. AND He has given His people a ministry to serve in creation for the rest of the population. God has made a relationship with His people SO THAT they will be a guide and a light for the rest of the world. And His people are meant to be light and lead by first learning how to adore their Creator with joy!
No wonder Isaiah ends the passage with a cry of joy. He says he has been silent long enough. He has been restrained long enough. It's time to "cry out" like a woman giving birth; by leading the blind on the right path!
Of course, this is the normal result of finally coming to realize the treasure God has given to us in our precious faith. Once it dawns on a soul what God has given in this joyous Christian life, silence is no longer an option! In fact, Jesus says that if the People of God won't cry out then the rocks themselves will cry out praise to God!
But what really stops our joyful life is our unwillingness to confront actual repentance. And I always add that repentance IS NOT being simply sorry for breaking a rule, but it actually is a "changing" of our minds; changing the way we think! Hence, the annual focus in Orthodox Great Lent on the penitential canon of St. Andrew of Crete, and on this 5th Thursday of Great Lent we are called to confront this canon of prayers of repentance in a serious manner. Here's an excerpt from Song 2 of the Canon of St. Andrew: "I have sinned, O Savior, have mercy! Awaken my mind to conversion, accept me who repent, have compassion on me as I cry: Against You only have I sinned and acted lawlessly; have mercy on me." Notice, it says "awaken my mind to conversion. It is here where the spiritual war for your soul is won or lost; in your mind. And it is why the constant call to repentance is the forever work of reorienting your thinking to agree with God's thinking. IF you will actually repent, you will have joy!
Today, are you awake enough to realize the treasure you have in your relationship with God through Christ? Do you see how an eternal perspective makes joy possible? If not, perhaps it's time to take the blinders off and actually explore what it means to be Orthodox on Purpose!
P.S. My soul, my soul, arise! Wherefore do you slumber? The end is drawing nigh, and you shall be troubled. Arouse yourself, therefore, that Christ God may spare you; for He is everywhere present and filling all things. AMEN
As Great Lent moves us toward Pascha, please consider a donation to Faith Encouraged Ministries. Thank you!