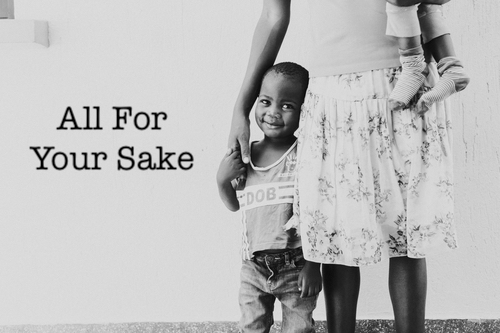 Why do you do what you do for your children? I can't tell you how many parents have shared with me the notion that they would do anything for their children. And I get it. I would do anything for my children as well.
But why? Are you hoping they will be grateful and take care of you in your dotage? Perhaps you are motivated by having such good tax deductions from having children. No, of course not. What motivates most of us parents is nothing more complicated than love. We love our children and want them to have every tool to make their lives healthy and happy. We want our kids to be successful in life.
And that makes perfect sense since we are created in the Image of God Who loves us even more than we love our children. In fact, God loves us with a love that is completely selfless since we can add nothing to God and we cannot take anything away from Him. His love for us is total without any self-consideration at all. He loves us and wants us to be with Him solely for our benefit.
In fact, everything God has ever done, from creation itself to Him coming among us in His Son, our Lord Jesus, to dying on the cross and rising again, to His second and glorious coming and even the "Awesome judgment seat of Christ", is all for us and our benefit.
Look at our lesson today in 2 Corinthians 4:6-15:
Brethren, it is the God who said, "Let light shine out of darkness," who has shone in our hearts to give the light of the knowledge of the glory of God in the face of Christ.

But we have this treasure in earthen vessels, to show that the transcendent power belongs to God and not to us. We are afflicted in every way, but not crushed; perplexed, but not driven to despair; persecuted, but not forsaken; struck down, but not destroyed; always carrying in the body the death of Jesus, so that the life of Jesus may also be manifested in our bodies. For while we live we are always being given up to death for Jesus' sake, so that the life of Jesus may be manifested in our mortal flesh. So death is at work in us, but life in you.

Since we have the same spirit of faith as he had who wrote, "I believed, and so I spoke," we too believe, and so we speak, knowing that he who raised the Lord Jesus will raise us also with Jesus and bring us with you into his presence. For it is all for your sake, so that as grace extends to more and more people it may increase thanksgiving, to the glory of God.
St. Paul is doing his best to guide the Corinthian Christians toward spiritual maturity. And his main tool in this passage is his own life. And his willingness to trust God's transcendent power in the face of his temporary problems is a lesson for us today! And when he tells them that "It is all for your sake" he helps them see that our thanksgiving to God in gratitude for His mercy is key to our own spiritual maturity!
He begins by telling them that God has given us the light "out of darkness." In the beginning, it was God's Word saying "Let there be light" and now the Light is being called into existence again by the Word (Jesus) being the Light Himself. This contrast between Light and Darkness is key because when we face tragic or painful circumstances, we feel like we are "in the dark" groping for answers or trying to make sense of our situation. And Paul is telling these Christians their first and best answer isn't some philosophical explanation, but a connection with Jesus Christ.
Then Paul reminds these Corinthians that this "treasure" (the glory of God in the face of Christ) is held in "earthen vessels." Think of a costly medicine held in a clay jar. The medicine is more valuable than the container but the container is made precious because it holds the medicine! And even though Paul says that he is afflicted, perplexed, persecuted, struck down, and always carrying the death of Jesus in us (WOW, what a description of troubles), he refuses to allow the calamity to define his life. In light of all this trouble, St. Paul refuses to allow the trouble to overwhelm his faith in Jesus. And because he knows that God's grace within him makes even his earthly body precious, his life reflects a motivation of thankfulness in his whole life.
And he says that all of this trouble in his life is so that "the Life of Jesus may be made manifested in our mortal flesh." I never will forget at a particularly painful and broken time in my life, someone asked me how I was able to keep going, and in a moment of inspiration I said Imagine how helpful it is going to be to someone else who is struggling to watch me not give up during this painful time." That insight helped me so much to not give up when life really came down hard on me.
On this day when we rejoice at the first and second finding of the precious relic of the head of the greatest prophet who ever lived, John the Baptist, we are drawn to remember his life lived in faithfulness to God's call on his life. And how John didn't let the fear of death compromise his ministry of truth-telling even in the face of execution.
Today, let us recall his holy life and the hardships he faced with the joy of the pure power of God in his life and answer the question ourselves are you able to make it through the hard times in life? If you do, it will be because you realize you are never going through hard times by yourself. Jesus Christ is right there with you and there are others who are praying you make it so they can have hope in their own dark times. Either way, it's by living a Normal Orthodox life that makes all the difference when life is hard!
P.S. The Forerunner's sacred head, having dawned forth from the earth, does send incorruption's rays unto the faithful, whereby they find healings of their ills. From on high he gathers the choirs of the Angels and on earth, he summons the whole race of mankind, that they with one voice might send up glory to Christ our God.
Have you made a gift in support of Faith Encouraged? Help us today. A gift of even $5 means so much!