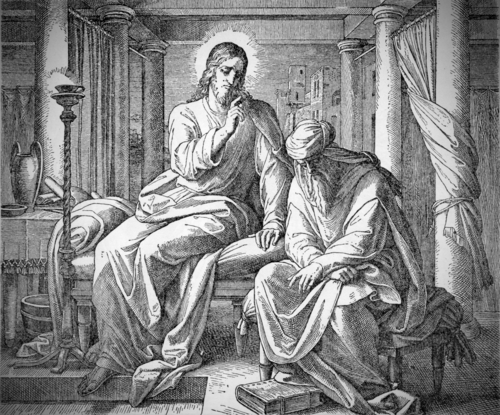 Christ is baptized!
King Solomon says this in Ecclesiastes 12:13 – "Let us hear the conclusion of the whole matter: Fear God, and keep his commandments: for this is the whole duty of man." And that's a great way to wrap up our first week of devotionals for the New Year.
But that also begs the question: How do I "fear God and keep His commandments?" All week long we have tried to unpack Jesus' conversation with Nicodemus as Nicodemus comes to the Lord at night to find out just who Jesus is. Nicodemus gets more than he bargained for and that has set us on our journey to rest how we live a "normal" Orthodox life!
As we approach the final Implication of this pivotal conversation, it's time to ask ourselves, do we want a truly whole and complete human life? Am I willing to offer my desires, dreams, and priorities to this timeless wisdom for correction, healing, and radical transformation? Let's be honest, these are scary questions. But a mature person doesn't hide from hard truths because they are hard!
One final visit to our passage in John 3:1-15:
At that time, there was a man of the Pharisees, named Nikodemos, a ruler of the Jews. This man came to Jesus by night and said to him, "Rabbi, we know that you are a teacher come from God; for no one can do these signs that you do, unless God is with him." Jesus answered him, "Truly, truly, I say to you, unless one is born from above, he cannot see the kingdom of God." Nikodemos said to him, "How can a man be born when he is old? Can he enter a second time into his mother's womb and be born?" Jesus answered, "Truly, truly, I say to you, unless one is born of water and the Spirit, he cannot enter the kingdom of God. That which is born of the flesh is flesh, and that which is born of the Spirit is spirit. Do not marvel that I said to you, 'You must be born from above.' The Spirit blows where it wills, and you hear the sound of it, and you do not know whence it comes or whither it goes; so it is with everyone who is born of the Spirit." Nikodemos said to him, "How can this be?" Jesus answered him, "Are you a teacher of Israel, and yet you do not understand this? Truly, truly, I say to you, we speak of what we know, and bear witness to what we have seen; but you do not receive our testimony. If I have told you earthly things and you do not believe, how can you believe if I tell you heavenly things? No one has ascended into heaven but he who descended from heaven, the Son of man who is in heaven. And as Moses lifted up the serpent in the wilderness, so must the Son of man be lifted up, that whoever believes in him may have eternal life."
The first Implication was the challenge of Nicodemus, and us, by Christ to abandon "too small" thinking, and embrace the reality of both the physical and the spiritual worlds. #2 was Embrace the Normal Orthjopdox life by integrating the physical and the spiritual in your everyday life. And the 3rd and final Implication of our passage are the stakes are eternal if we discipline ourselves to this Normal Life.
Jesus closes this section of His conversation with the powerful revelation "And as Moses lifted up the serpent in the wilderness, so must the Son of man be lifted up, that whoever believes in him may have eternal life." Of course, Nicodemus knows this story from the Hebrew scriptures in Numbers 21. The people of Israel were wandering in the desert and became tormented by serpents. God told Moses to make a staff with a bronze serpent on it and stand on a hill and hold the staff up for the people to see. If they looked at the staff, they were healed of the bite of the snakes. Bizzare story, don't you think?
But Jesus tells Nicodemus that we will receive eternal life when the Son of Man is lifted up like the bronze staff and whoever believes in Him would have eternal life! If I am ever going to see my life healed of the brokenness, the fear, the short-sighted consequences of selfish choices, and the waking up to the very real purpose God made me for in the first place, it is going to be as I wrestle with the Person of Jesus Christ as God in the Flesh and how I am connected to and live in Him!
I can't afford a shallow life lived asleep to the wider reality of the Kingdom of God and my place in it. And that very confrontation opens up a whole universe of wisdom to see me daily discipline my passions and desires and turn all of these aspects of myself to the grace of God. I have to realize that my life is headed to an inevitable place. And the Church wakes me up to this reality every time we pray the prayer "for a Christian end to my life, peaceful, without shame and suffering, and for a good account before the awesome judgment seat of Christ, let us pray to the Lord." I was made for eternity. I wasn't made to "end." We were all fashioned to be the eternal companions of the Uncreated God because He loves us! And that reality cannot be avoided in this present life IF I have any hope of realizing my true purpose.
So, the Way of the Orthodox IS what a Truly Normal Life is in the first place. The lifestyle of prayer, repentance, confession, liturgies, fasts and feasts, learning humility and embracing a robust and prioritized worship at home and at the church building all constitute what a Normal life is, and the implication is that eternal life is gifted to those who live this way! Between being lost in the confusion of who I am and discovering the eternal joy of living my physical life with spiritual values and eternal perspectives is what a true Normal Orthodoxy is all about!
P.S. Lord, when You were baptized in the Jordan, the veneration of the Trinity was revealed. For the voice of the Father gave witness to You, calling You Beloved, and the Spirit, in the guise of a dove, confirmed the certainty of His words. Glory to You, Christ our God, who appeared and enlightened the world.
Let me know what you thought of our little experiment with the multi-part devotionals. I confess I am a bit unsure since we didn't get to talk about the other passages this past week. Still, I also found it helpful to me, personally, to really write more about this wonderful passage. And we didn't even get to John 3:16! 🙂 Email me your thoughts at email hidden; JavaScript is required