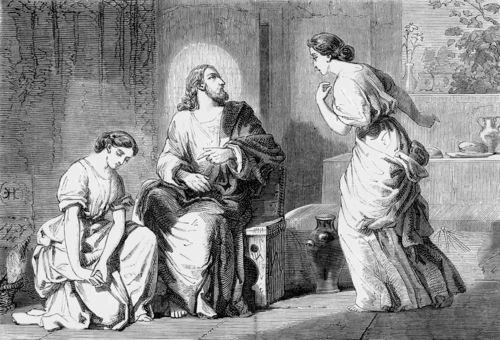 It was painful to watch. He was spiraling down into the abyss of human fear and addiction, and he was my friend. I watched as he struggled but still stumbled and I heard the desperation in his voice when he called me and asked that most human and most underr=satandable question when you are trapped in a dark place, "Father, does God even care about me?"
No wonder St. Paul commands us to "weep with those who weep." (Romans 12:15).
The truth is when someone is in that place it simply isn't helpful to say "Of course, God cares. He's allowing this to teach you and to actually help you." Don't say that to someone even if you believe it's true. Just be with them and journey through that dark place with them, encouraging them to keep moving. God always cares, dear ones. And He usually cares THROUGH you!
Look at our familiar Gospel Lesson today in Luke 10:38-42, 11:27-28:
At that time, Jesus entered a village; and a woman called Martha received him into her house. And she had a sister called Mary, who sat at the Lord's feet and listened to his teaching. But Martha was distracted with much serving; and she went to him and said, "Lord, do you not care that my sister has left me to serve you alone? Tell her then to help me." But the Lord answered her, "Martha, Martha, you are anxious and troubled about many things; one thing is needful. Mary has chosen the good portion, which shall not be taken away from her." As he said this, a woman in the crowd raised her voice and said to him, "Blessed is the womb that bore you, and the breasts that you sucked!" But he said, "Blessed rather are those who hear the word of God and keep it!"
Jesus had a special relationship with Mary and Martha and their brother, Lazarus (yes, THAT Lazarus). And He would often stay in their home when He was traveling nearby. On this occasion, His popularity had grown to the point that when those in the village heard He was there, they came running. And the house filled up quickly with people who wanted to hear this Preacher from Nazareth.
Martha, being the oldest sister, started immediately doing what good hostesses do when the house is full of guests; she started serving. Her younger sister wanted to hear what Jesus was saying so she went and sat down by His feet to listen. Not sure just where Lazarus was, but I'm sure he was close by. Finally, after trying to take care of everybody else, Martha asked the question "Lord, do yu not care…" And Jesus responded to this precious woman with exactly what she needed for her spiritual formation, correction, and benefit.
Jesus doesn't answer Martha's question directly. But He DOES prove He cares by going to the heart of Martha's spiritual need at that moment.
First, He lovingly says her name. Jesus wants Martha to know He sees her, He knows her, and He loves her. Jesus Christ, God in the flesh, knows who you are and where you are. Jesus lovingly says her name because He wants her to know He knows! The truth is one of the sweetest sounds any person hears is their name said with love and affection. We all long for that and we seek it. God knows this because He made us for communion with Him, so He calls us by name! God cares!
Next, Jesus names the very heart of her spiritual condition. "You are anxious and troubled about many things…" In moments of our lives where we are struggling, it becomes vital we know how to actually name the challenges we face. Is it fear? Is it envy? Is it worry? What is the name of the condition that is feeding our spiritual struggles? Jesus goes directly to the heart of Martha and gives her the insight she needs to let go of that which is making her doubt God's love and care. When we serve out of our love and freedom, we aren't noticing who isn't helping us. We are content with our service. But when we impose expectations on others to "do like I do" we fall into the trap of envy and anger. A dangerous place for a sister. God cares!
Finally, Jesus refocuses Martha toward her path to wholeness. The Lord calls Martha to the wisdom of the freedom God grants us to discern our own lives and not judge others. "There is only one thing needful." Jesus reorients Martha's vision away from what she doesn't have and to what she already has; an opportunity to choose rightly in life! If I am going to get over the spiritual illnesses that enslave me to a life poorly and inattentively lived, I am going to have to listen for course corrections from the Lord. God cares!
Today, do you need a moment to stop and listen for the course correction from the Holy Spirit? God knows you by name and He knows what is best to heal your life and make you like Himself through grace. Right now, stop. Pray. Realize God knows you better than you know yourself, and BE Orthodox on Purpose.
P.S. Dear Lord, You know my name, my real name. You know me better than I know myself. The truth is there are parts of me that I simply can't or don't see. You see me. You love me. Give me the grace to hear You call my name and reveal to me what my own "one thing needful" is right now in my life. Thank You for caring so much for me. Amen