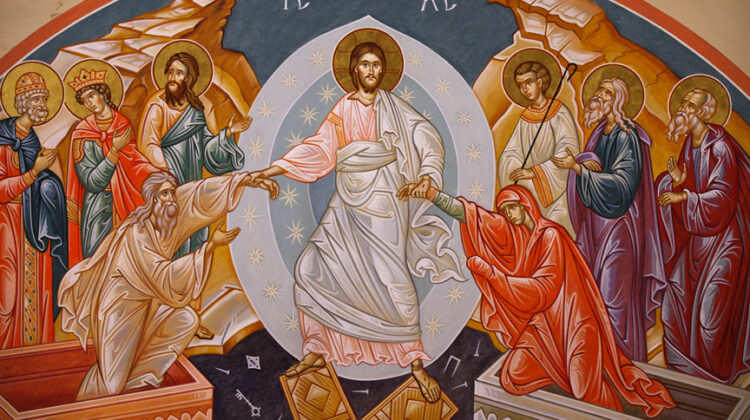 Chris IS Risen!
Christ is risen from the dead, by death, trampling down upon death, and to those in the tombs, He has granted life.
On this Holy Pascha, I'd rather share the words of St. John Chrysostom and his glorious Paschal Homily:
"If any man be devout and love God, let him enjoy this fair and radiant triumphal feast. If any man be a wise servant, let him rejoicing enter into the joy of his Lord. If any have labored long in fasting, let him now receive his recompense. If any have wrought from the first hour, let him today receive his just reward. If any have come at the third hour, let him with thankfulness keep the feast. If any have arrived at the sixth hour, let him have no misgivings; because he shall in nowise be deprived thereof. If any have delayed until the ninth hour, let him draw near, fearing nothing. If any have tarried even until the eleventh hour, let him, also, be not alarmed at his tardiness; for the Lord, who is jealous of his honor, will accept the last even as the first; He gives rest unto him who comes at the eleventh hour, even as unto him who has wrought from the first hour.

And He shows mercy upon the last, and cares for the first; and to the one He gives, and upon the other He bestows gifts. And He both accepts the deeds, and welcomes the intention, and honors the acts and praises the offering. Wherefore, enter you all into the joy of your Lord; and receive your reward, both the first, and likewise the second. You rich and poor together, hold high festival. You sober and you heedless, honor the day. Rejoice today, both you who have fasted and you who have disregarded the fast. The table is full-laden; feast ye all sumptuously. The calf is fatted; let no one go hungry away.

Enjoy ye all the feast of faith: Receive ye all the riches of loving-kindness. let no one bewail his poverty, for the universal kingdom has been revealed. Let no one weep for his iniquities, for pardon has shown forth from the grave. Let no one fear death, for the Savior's death has set us free. He that was held prisoner of it has annihilated it. By descending into Hell, He made Hell captive. He embittered it when it tasted of His flesh. And Isaiah, foretelling this, did cry: Hell, said he, was embittered, when it encountered Thee in the lower regions. It was embittered, for it was abolished. It was embittered, for it was mocked. It was embittered, for it was slain. It was embittered, for it was overthrown. It was embittered, for it was fettered in chains. It took a body, and met God face to face. It took earth, and encountered Heaven. It took that which was seen, and fell upon the unseen.

O Death, where is your sting? O Hell, where is your victory? Christ is risen, and you are overthrown. Christ is risen, and the demons are fallen. Christ is risen, and the angels rejoice. Christ is risen, and life reigns. Christ is risen, and not one dead remains in the grave. For Christ, being risen from the dead, is become the first fruits of those who have fallen asleep. To Him be glory and dominion unto ages of ages. Amen."
Read The Good News! Mark 16:1-8:
When the Sabbath was past, Mary Magdalene, and Mary the mother of James, and Salome, bought spices, so that they might go and anoint Jesus. And very early on the first day of the week they went to the tomb when the sun had risen. And they were saying to one another, "Who will roll away the stone for us from the door of the tomb?" And looking up, they saw that the stone was rolled back, for it was very large. And entering the tomb, they saw a young man sitting on the right side, dressed in a white robe; and they were amazed. And he said to them, "Do not be amazed; you seek Jesus of Nazareth, who was crucified. He has risen, he is not here; see the place where they laid him. But go, tell his disciples and Peter that he is going before you to Galilee; there you will see him, as he told you." And they went out and fled from the tomb; for trembling and astonishment had come upon them; and they said nothing to any one, for they were afraid.
May we all enter into the new life Christ wins for us through His suffering and death and resurrection on our behalf! Kali Anastasi kai Kalo Pascha!
P.S. Though You went down into the tomb, You destroyed Hades' power, and You rose the victor, Christ God, saying to the myrrh-bearing women, "Hail!" and granting peace to Your disciples, You who raise up the fallen. Kontakion of Great and Holy Pascha