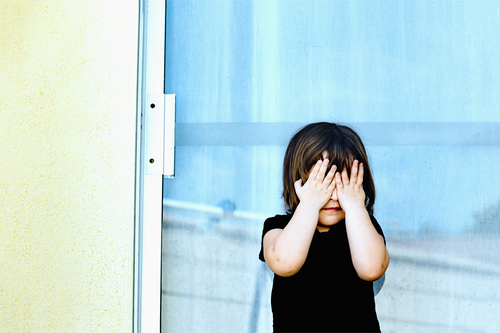 The English psychologist and analyst D.W. Winnicott once said "It is a joy to be hidden, and disaster not to be found." Since we humans were made for communion, the disaster of not being found is particularly terrifying to us. We all long to be loved and known and we all are terrified of being discovered and our true selves exposed!
No wonder we are so confused!
But what happens when it seems God is hiding from us? How do we react when it seems He is hard to find in the terrifying or confusing moments of life? Let's see how the Prophet Isaiah dealt with this feeling of God hiding as he ministered to the nation of Judah in the 8th century B.C.
Look at our lesson today in Isaiah 8:13-9:7 (We will only look so far into the passage, but I hope you read the whole thing!):
But the LORD of hosts, him you shall regard as holy; let him be your fear, and let him be your dread. And he will become a sanctuary, and a stone of offense, and a rock of stumbling to both houses of Israel, a trap and a snare to the inhabitants of Jerusalem. And many shall stumble thereon; they shall fall and be broken; they shall be snared and taken."

Bind up the testimony, seal the teaching among my disciples. I will wait for the LORD, who is hiding his face from the house of Jacob, and I will hope in him. Behold, I and the children whom the LORD has given me are signs and portents in Israel from the LORD of hosts, who dwells on Mount Zion. And when they say to you, "Consult the mediums and the wizards who chirp and mutter," should not a people consult their God? Should they consult the dead on behalf of the living? To the teaching and to the testimony! Surely for this word which they speak there is no dawn. They will pass through the land, greatly distressed and hungry; and when they are hungry, they will be enraged and will curse their king and their God, and turn their faces upward; and they will look to the earth, but behold, distress and darkness, the gloom of anguish; and they will be thrust into thick darkness.
The Prophet Isaiah served the nation of Judah, and most of this week (until we get to the feast of the Annunciation) we will spend some time with this great prophet. By way of background, Isaiah lives in the southern kingdom of Judah at this time. The 10 northern tribes of a united Israel have divided from the two tribes of Judah and Benjamin, and this split occurred because the 10 tribes had fallen into idolatry and the two southern tribes around Jerusalem wanted to stay faithful to the God of Abraham, Isaac, and Jacob.
During this time when Isaiah is speaking to the nation, the area was in turmoil over the political maneuverings of the Syrian Kingdom and the Kingdom of Israel against Judah. These were dark times for the faithful in Judah and it seemed God was hiding His face! But Isaiah wanted the people to know that all was going to be well.
He tells the faithful to remember just Who their God is – He is holy – "Holy" means "set apart for a specific use." In other words, the God Who loves them isn't distracted by lesser purposes or confused about just what is right and what is wrong. God is holy. He is attentive. Even when it seems that all is dark, He knows what He is doing!
He is also "a sanctuary." God is the safe place, even when it seems He is silent. We are always safe in Him and He doesn't stop being that safe place for us when times are scary. It may seem He is distant, but that isn't true. He remains the safe place, the sanctuary, to those who trust in Him.
And He is "a stone of offense." Surprising, isn't it? Why mention this in the same breath as "holy" and "sanctuary?" because the God Who seems to be hiding is only appearing to be hiding to those who refuse to SEE Him! Only the inattentive and the spiritually blind will "trip" over Him. And that is only because they have not paid attention to Him and they have neglected Him. They stumble over Him like a man who is in a dark room hits his toe on the furniture. But this stumbling, this "rock of offense" will not be ignored. And God will not be a "stone of offense" or a "rock of stumbling" for those of us who don't take our eyes off Him!
Today, does it feel like God is hiding from you? Are you tempted to think God is "far away" and doesn't "see" you? Don't! It isn't true. Remember just Who your God is in the Face of our Lord Jesus and you won't stumble and you'll be Orthodox on Purpose!
P.S. O God, my life is chaotic and scary at times. In the fog of trouble, I am tempted to "forget" just Who You are, and I can be blinded by my fears and pain to doubt You are close by. In this "war" for my soul, help me, O Lord, to stay attentive to You and to know You as my true "sanctuary." Have mercy on me, O Lord, and forget not Your mercy and grace to me! Amen