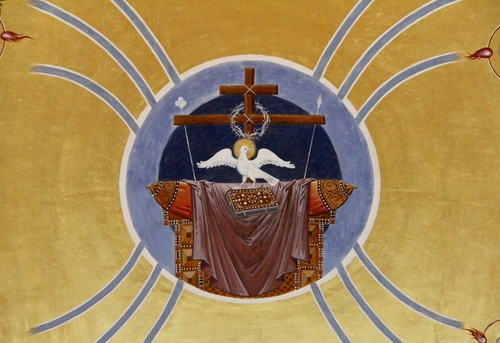 Emotionally, I'm done. Mentally, I'm drained. Spiritually, I feel dead. Physically, I smile! Ever been there? Yeah, me too. So what drives us to wait till it's almost too late to ask for help? Pride? Fear?
Probably both, and then some other realities like not knowing ourselves well enough to realize when we're getting into the danger zone of our lives.
Of course, part of the problem could be we have unexampned expectations and goals. To be sure, it's important to set high goals so we don't tumble down into the pit of low expectations. But it is just as harmful to have unrealistic expectations and allow them to crush us into despair. So, how do we navigate this reality? We look outside ourselves for our true purpose and then we embrace the awesome truth that the Lord has sent us "One called along side to help!"
Here's the lesson today in John 15:17-27; 16:1-2:
The Lord said to his disciples: "This I command you, to love one another. If the world hates you, know that it has hated me before it hated you. If you were of the world, the world would love its own; but because you are not of the world, but I chose you out of the world, therefore the world hates you. Remember the word that I said to you, 'A servant is not greater than his master.' If they persecuted me, they will persecute you; if they kept my word, they will keep yours also. But all this they will do to you on my account, because they do not know him who sent me. If I had not come and spoken to them, they would not have sin; but now they have no excuse for their sin. He who hates me hates my Father also. If I had not done among them the works which no one else did, they would not have sin; but now they have seen and hated both me and my Father. It is to fulfill the word that is written in their law, 'They hated me without a cause.'

But when the Counselor comes, whom I shall send to you from the Father, even the Spirit of truth, who proceeds from the Father, he will bear witness to me; and you also are witnesses, because you have been with me from the beginning. I have said all this to you to keep you from falling away. They will put you out of the synagogues; indeed, the hour is coming when whoever kills you will think he is offering service to God."
First, Jesus sets the goal! Love one another! By the way, you have to understand that commandment defines and sets the standard for "love" by how God loves us. Until you reach that standard, you have work to do and repentance to embrace. And then Jesus tells His followers and us what kind of world He is commanding them to love one another in. It is a world that will hate them because that world hated Jesus. And this hatred will end up having many think you are the bad guy for following Jesus. And not only that, but they will mistreat you and punish you all the while thinking they are doing a good thing because you follow Jesus! Oh, and don't forget to abandon hating them back or feeling like life is unfair because you are mistreaed. Yep, all that has got to go as well.
Ouch, how am I supposed to ever hope from even getting close to following my Lord's command to "love one another?"
Glad you asked!
Jesus has sent us the Help we need to obey His command! He has sent us He Who eternally Proceeds from the Father – The Holy Spirit – The Paraclete – The One Called Alongside to Help! And how will the Holy Spirit help us? He will always remind you to forever focus on Jesus so that you will be His witness in the world.
You see, Jesus DOES love us more than we, ourselves, know how to love. So, if I have any hope of growing and maturing and getting strong and becoming consistent in my love of you and Him, I have to have the power of attentiveness to keep my life focused on Him. Here comes the Holy Spirit to remind me of Jesus' life, His words, His wisdom, His love, His actions, and His strength. And that strength that took a corpse and resurrected that corpse from the dead on Easter morning is the very strength available to me to accomplisheverything the Lord has commanded! That makes following Jesus in a chaotic world that hates Him and me possible. No room for despair or giving up. He is hear to help, at every moment, in every situation, all the time!
Today, are you feeling weak? Believe it or not, that's a good place to be IF you turn your life to Christ and ask for His help to endure with joy, knowing you are not alone. You are not abandoned. There is the Comforter holding all the wisdom and love of Chriszt, ready to pour that strength into your weakness as much as you can bear and as much as you need to keep you Orthodox on Purpose!
P.S. Heavenly King, Comforter, Spirit of Truth, Who is everywhere present and filling all things. Treasury of Good Gifts and Giver of life, come and abide in us and cleanse us from every stain, and save our souls, O Good One. Amen