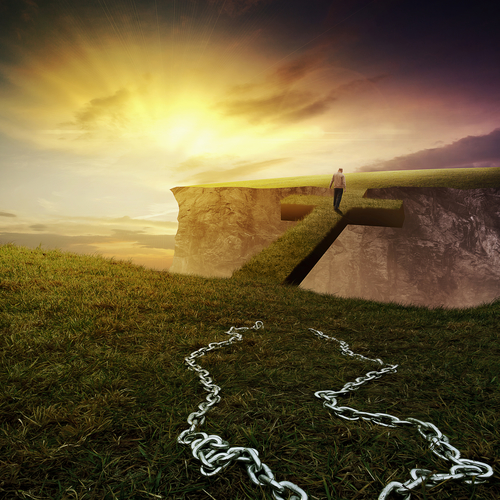 You've seen the bumper sticker "Practice Random Acts of Kindness." I confess I've seen them all over and my reaction to this altruistic admonition ranges (depending on my mood) from mild annoyance to a twinge of guilt. But rarely does this bumper sticker psychology move me to action. But, hey, that's the weakness of a bumper sticker mindset!
So, why is it so easy to be moved but never changed? Why do I respond with tears of joy and empathy when I see kindness in action and that, alone, isn't enough to modify my behavior or actions? Why isn't the feeling enough? Or better, Why don't my feelings have a stronger tie to my will? My grandmother use to tell me she knew what she should do but her "want to" was broken! There has never been a better description of just what our Orthodox Faith was meant to fix in us than that! Our "want to" is broken and we need it repaired and healed!
Look at our lesson today in Galatians 4:28-31; 5:1-10:
Brethren, we, like Isaac, are children of promise. But as at that time he who was born according to the flesh persecuted him who was born according to the Spirit, so it is now. But what does the scripture say? "Cast out the slave and her son; for the son of the slave shall not inherit with the son of the free woman." So, brethren, we are not children of the slave but of the free woman. For freedom Christ has set us free; stand fast therefore, and do not submit again to a yoke of slavery. Now I, Paul, say to you that if you receive circumcision, Christ will be of no advantage to you. I testify again to every man who receives circumcision that he is bound to keep the whole law. You are severed from Christ, you who would be justified by the law; you have fallen away from grace. For through the Spirit, by faith, we wait for the hope of righteousness. For in Christ Jesus neither circumcision nor uncircumcision is of any avail, but faith working through love. You were running well; who hindered you from obeying the truth? This persuasion is not from him who calls you. A little leaven leavens the whole lump. I have confidence in the Lord that you will take no other view than mine; and he who is troubling you will bear his judgment, whoever he is.
St. Paul continues his loving and fatherly correction of these Galatian Christians by reminding them that they are the children of the free not of the slave.
And that change of revelation changes everything. You weren't created to be a slave to your desires or your fears or your appetites. Christ has set you free from the slavery of the time-bound, the mere animal desires that turn us into monsters and not humans. You were made to be free and master your appetites and tame them and make them servants to you! So, if you were made for freedom, why aren't you free?
Paul insists we embrace the gift of freedom offered to us by Jesus Christ SO THAT we will be who we really are. We aren't meant to be enslaved by our greed or our fears or even our good intentions. We are set free by Jesus Christ to start the hard work of seeing that freedom seep into every nook and cranny of our lives, to heal our broken "want to."
Today, know that God never does anything for Himself since He is already complete and whole. Everything He has ever done said, or taught, has been for you and me. This is our path, dear one to true freedom and a healed "want to." The Path of robust love sets me free to selfless liberty that makes me like my Creator. Risky? Yes. Painful? You bet. Is it worth it? Only if you call eternal joy and peace and discovering and becoming who you were really meant to be worth it. Only if you can be Orthodox on Purpose!
P.S. Dear Lord, You made me like You, and I live like too many things not like You. My slavery to my passions makes me a slave to the darkness of my own selfish blindness. But this was not Your intention for me when you made the world. So You came to liberate me and the whole of humanity through Your selfless love. Please for=give me for my poor choices and set me free to finally become by grace what You are by nature. Amen!