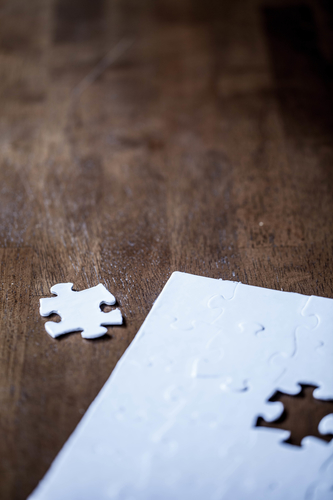 "Those that don't learn from history are doomed to repeat it." So goes the saying that came to my mind as I considered today's lesson. You see we humans are easily conned into believing "bigger is better." We think that if some church has a lot of people then it must be successful. But how many times do we have to see these large groups disintegrate after a leader experiences some scandal or trouble?
The truth is you can have a fulfilled and complete life if you embrace the truth: You and God are always a majority! You were created for a true community that doesn't let you hide from yourself or others! In fact, 2 or 3 are all that's really required!
Look at our lesson today in Matthew 18:18-22;19:1-2; 13-15:
The Lord said to his disciples, "Truly, I say to you, whatever you bind on earth shall be bound in heaven, and whatever you loose on earth shall be loosed in heaven. Again I say to you, if two of you agree on earth about anything they ask, it will be done for them by my Father in heaven. For where two or three are gathered in my name, there am I in the midst of them."

Then Peter came up and said to him, "Lord, how often shall my brother sin against me, and I forgive him? As many as seven times?" Jesus said to him, "I do not say to you seven times, but seventy times seven."

Now when Jesus had finished these sayings, he went away from Galilee and entered the region of Judea beyond the Jordan; and large crowds followed him, and he healed them there.

Then children were brought to him that he might lay his hands on them and pray. The disciples rebuked the people; but Jesus said, "Let the children come to me, and do not hinder them; for to such belongs the kingdom of heaven." And he laid his hands on them and went away.
The place where I stumble the most is when I think "I'm strong enough to handle this." And I am almost always wrong. The delusion of "power" and "strength" is a trap created so that you tumble into despair at your "failure." This despair weakness you further and despondency sinks you into the "what's the use" mentality that always leads to slavery.
But Jesus offers us another path. I'm going to warn you, this isn't going to make sense at first. Here goes: When you're weak; you're strong! And, you don't need a huge crowd to have Christ with you.
However, you DO NEED community! And to have community means to deal with the constant temptations to divide and isolate yourself. And that's going to call for the greatest discipline ever – forgiveness. You won't have "two or three" gathered together if you never practice forgiveness. You'll become isolated and cut off from the humble strength of community and you'll be a sitting duck for temptations and the delusion of your own self-sufficiency!
The power of forgiveness lies in the necessary embrace of an eternal perspective and not the self-centered fantasy of my own ego. If I am easily offended, or constantly upset, or find that the drama of relationships swirls around me, I won't be awake or aware that Jesus Christ is present among His people. I'll treat God like I treat others – distant and disconnected. And you weren't made for that aloneness, dear one. You were made for community – a true community where you have to do the hard work of being in community. You have to prioritize the truth that God is the "friend that sticks closer than a brother." But you will be asleep to that reality if you can't forgive those around you.
Forgiveness protects me from me. It isn't meant to make you a "doormat" or to justify wrongdoing. But it is meant to keep you humble and sensitive to God's presence right there among you and your community. It's absolutely essential in forming you into a person who sees her relationship with Christ as the top priority of life.
Today, are you swayed by the trappings of power and ego? Warning, these fantasies lead to a trainwreck life! You were made to be made sensitive to God's presence through the hard work of 2 or 3 gathered together with Jesus in the midst! And that comes when you're willing to forgive and be Orthodox on Purpose!
P.S. Dear Lord, You made me for communion with You and those around me. It seems the ones closest to me are the hardest to keep connected. And I know the ones closest to me force me to deal with my pride and my own brokenness. In fact, Lord, I now see them as "gifts" to me to make me confront myself! But so often I don't want to confront myself. So conflict and disconnect occur in my relationships. Please forgive me for those times I let my ego and my pride hide me from myself, and help me see those closest to be as the ones You've placed in my life to help me seek You and know myself. Amen.