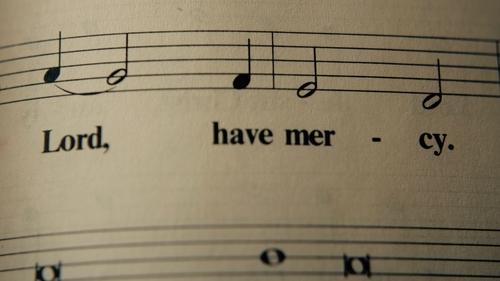 I do this sometimes. When I'm checking out at the grocery store, I will read the outlandish headlines on the tabloid papers displayed there. Of course, that's why they put those papers there so that you'll read them while you wait in line. Smart marketing!
But sometimes the headlines are so outrageous that I will actually pick the paper up and look inside!
Why are we drawn to sensational stories? Why do we relish conspiracy theories? Why is "Keeping Up With the Kardashians" popular?
We DESIRE to KNOW everything, and we need to learn there are some things I simply can not truly know. And one mystery stands above all other mysteries: Just how deep does God's mercy go!
Let's look at our lesson today in Romans 11:25-36:
Brethren, lest you be wise in your own conceits, I want you to understand this mystery: a hardening has come upon part of Israel, until the full number of Gentiles come in, and so all Israel will be saved; as it is written, "The Deliverer will come from Zion, he will banish ungodliness from Jacob"; "and this will be my covenant with them when I take away their sins." As regards the gospel they are enemies of God, for your sake; but as regards election they are beloved for the sake of their forefathers. For the gifts and the call of God are irrevocable. Just as you were once disobedient to God but now have received mercy because of their disobedience, so they have now been disobedient in order that by the mercy shown to you they also may receive mercy. For God has consigned all men to disobedience, that he may have mercy upon all. O the depth of the riches and wisdom and knowledge of God! How unsearchable are his judgments and how inscrutable his ways! "For who has known the mind of the Lord, or who has been his counselor?" "Or who has given a gift to him that he might be repaid?" For from him and through him and to him are all things. To him be glory for ever. Amen.
St. Paul gives us a real treasure of wisdom and insight when he writes his Letter to the Romans, and the Holy Spirit wants us to discover and value this treasure because He preserved this wisdom for us in having Romans recognized as a part of the New Testament canon of Holy Scriptures. Today's reading is one of the many reasons why this is such a treasure.
Paul deals with the sticky issue of the special calling God made of Abraham and his descendants and the reality that the vast majority of the Children of Abraham rejected their Messiah when He came! This is a very real issue then and now. Did God change His mind about the Jews? Has God rejected His covenant with Abraham? Has God "picked" a new "favorite?" One could be forgiven for asking these questions in light of the very real situation of the message of Jesus as the Messiah and now all these non-Jews coming into the Church!
Paul says the hearts of the Jews have hardened against the Truth, but that God's calling on them is irrevocable. He then says that this moment in time has also produced the happy event of the Gentiles being received into the Family of God through God's grace. So, while the rejection of the Jews of God's mercy is terrible for them, it becomes an opportunity for us to received God's mercy and be grafted into the Vine of God's Family. After all, all men have proven to be disobedient, even the ones who've had a "head start" on God's grace and wisdom. But God's mercy and grace are stronger than all men's disobedience combined!
God's mercy and grace are always greater than humanity's sins and rebellion. God's grace is immeasurable and all the sins of all the humans who've ever lived are swallowed by His love and forgiveness. As we say in confession "If You kept a record of sins who could stand? But You are the God of the penitent!"
As painful and tragic as the rejection of Israel of their Messiah is, it isn't greater than God's mercy or His eternal calling. The truth is the first converts to the Church were all Jewish and all the Lord's Apostles were obedient Jews. And now, millions of Gentiles who never had the spiritual head start of being in the "Chosen Few." This message of God's forever intention of saving the whole world by first setting apart one group of people to give the Law to for the purposes of blessing the whole world is an amazing display of God's mercy and love.
Today, are you willing to see the whole picture of God's plan for saving the whole world? Look at His amazing mercy for us all in saving the whole of humanity and determine to live your life Orthoxox on Purpose.
P.S. Dear Lord, along with the Apostle Paul, I thank You for Your mercy in giving the Law to the descendants of Abraham. You did this for my salvation. And then You reveiled this choosing as the way You were going to extend the blessings of being descendants of Abraham to anyone who had faith. Lord, we stand in awe of Your wisdom and mercy, and we rejoice that You save us and love us more than we could ever imagine. You are the Only Lover of Mankind. Amen.