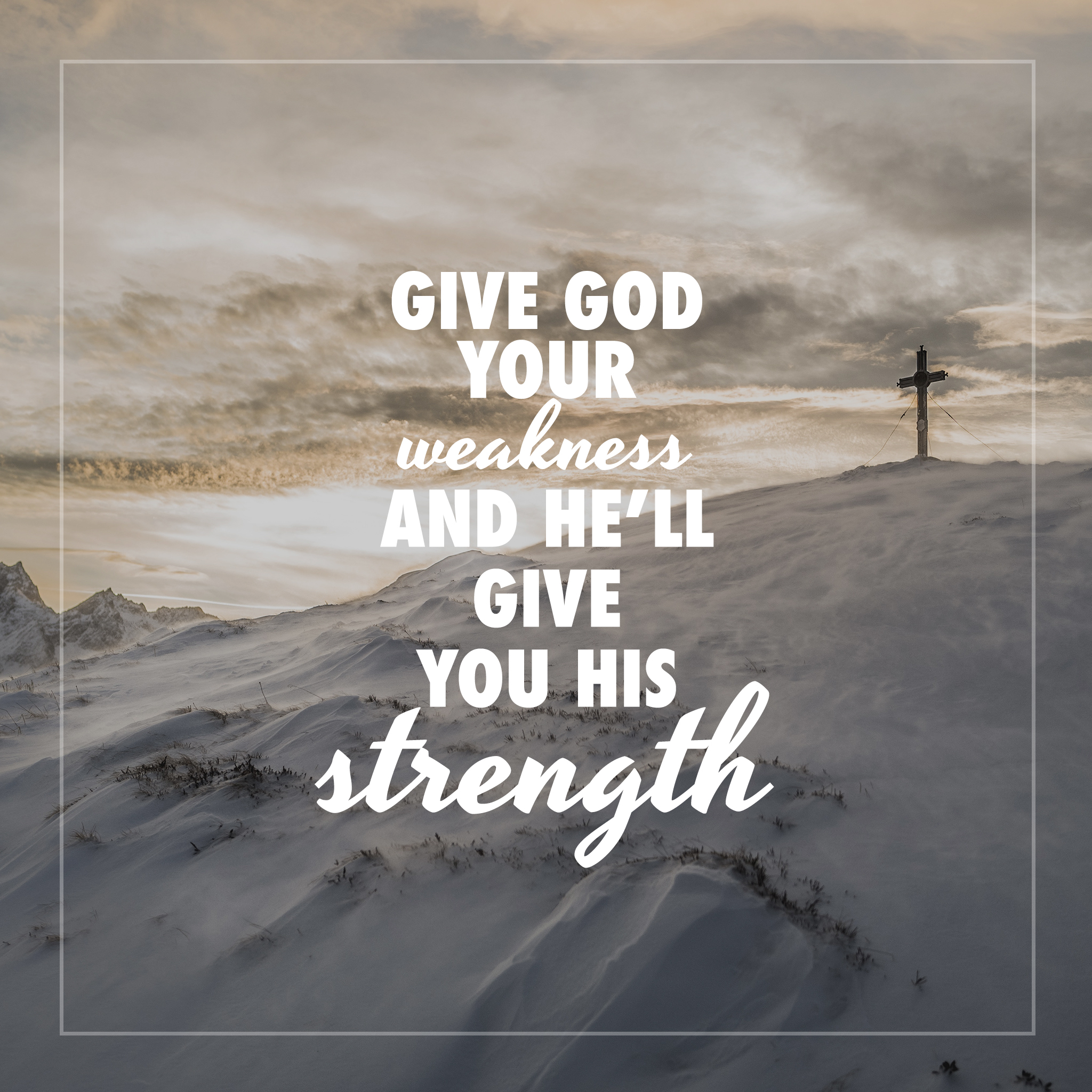 Weakness is something that I have a particular fear of experiencing. In fact, the older I get, the more I see my fear of appearing "weak" has shaped my choices, usually in an unhealthy way. When you fear being "weak" you find yourself hiding from real weaknesses that never get confronted and subsequently never get stronger!
But what if you were strongest only WHEN you acknowledged your weakness? What if God made Himself "weak" so that your weakness could be healed? What if the path to true spiritual maturity and true personhood has everything to do with you confronting your weaknesses?
Look at our lesson today in Romans 13:11-14; 14:1-4:
Brethren, salvation is nearer to us now than when we first believed; the night is far gone, the day is at hand. Let us then cast off the works of darkness and put on the armor of light; let us conduct ourselves becomingly as in the day, not in reveling and drunkenness, not in debauchery and licentiousness, not in quarreling and jealousy. But put on the Lord Jesus Christ, and make no provision for the flesh, to gratify its desires.

As for the man who is weak in faith, welcome him, but not for disputes over opinions. One believes he may eat anything, while the weak man eats only vegetables. Let not him who eats despise him who abstains, and let not him who abstains pass judgment on him who eats; for God has welcomed him. Who are you to pass judgment on the servant of another? It is before his own master that he stands or falls. And he will be upheld, for God is able to make him stand.
St. Paul uses his great Roman epistle to instruct us about the power of being in a community and how we are all called to consider "the other" in what we do and say. Now, know this; this is a two-edged sword and it is easily misapplied and even abused IF we ignore both love and truth-telling. There's a ditch on either side of this narrow road, so BE ATTENTIVE!
First, St. Paul makes a provocative statement; our salvation is nearer to us now than when we first believed. The "night" when "no man can work" is passed and we are in the "day." With this, he is telling us that the coming of Christ has made us "children of the Light" and so the excuse that we were in the dark or that we couldn't see how to live is no longer available to any of us. Christ has come. The Light has dawned. If you stumble now, it's because you actively choose to shut your eyes to the Light!
And the taming of the passions is possible now because of the coming of the Paraclete, the Holy Spirit. Christ is formed inside us now. Christ, Who strengthens us to resist being enslaved by our desires and temptations. We CAN BE free as we "put on the Lord Jesus Christ." As our baptismal hymn declares "As many as have been baptized into Christ have PUT ON Christ!"
Then St. Paul forever links our disciplined passion, our living in the Light to how we treat those who are "weak in faith." We are to show hospitality, to welcome him. BUT, not to argue. Paul uses the example of the discipline of fasting to show what he means. Some fast from all animal products and others don't. Keep your eyes on your own plate and remember that your fellow believers are servants of Christ, not you!
Paul ends this wisdom to the Romans by reminding us all that God is able to help the weak man in faith stand, and with this, we are confronted with the truth that all of us are weak in some places in our spiritual lives. Arrogant boasting has no place in a serious believer's actions!
So, Today, are you careful in how you act around new believers and those who are "weak" in the faith? Are you willing to admit your own weaknesses and your complete dependence on God to help you "stand?" Being attentive to this humility is always necessary if you ever hope to be Orthodox on Purpose.
P.S. Dear Lord, I confess I am weak, but You declare that when I am weak, then I am strong, because my weakness invites me to depend on You. And learning to depend on You and Your strength is absolutely necessary for me to stay strong, even when I'm weak! Please help me always keep this in mind and not give up when I feel I am weak! Amen.