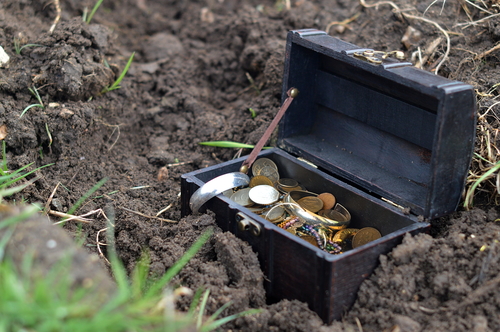 I know, I know, it doesn't make sense right off the bat. But it really is true; God wants to GIVE you everything He has! AND, you're going to have to WORK for it!
I really do get why this paradox is so confusing and, frankly, off-putting. How can both of these truths BE true? God is all-powerful. Who can resist Him? No one, that's who. Humanity is bent toward selfishness and pride and, if given the chance, will always take advantage of kindness! How do we escape this dilemma? I'm glad you asked.
Look at our lesson today in Luke 12:32-40:
The Lord said, "Fear not, little flock, for it is your Father's good pleasure to give you the Kingdom. Sell your possessions, and give alms; provide yourselves with purses that do not grow old, with a treasure in the heavens that does not fail, where no thief approaches and no moth destroys. For where your treasure is, there will your heart be also. Let your loins be girded and your lamps burning, and be like men who are waiting for their master to come home from the marriage feast, so that they may open to him at once when he comes and knocks. Blessed are those servants whom the master finds awake when he comes; truly, I say to you, he will gird himself and have them sit at table, and he will come and serve them. If he comes in the second watch, or in the third, and finds them so, blessed are those servants! But know this, that if the householder had known at what hour the thief was coming, he would not have left his house to be broken into. You also must be ready; for the Son of man is coming at an unexpected hour."
I loved how intimate the Lord begins this passage: "Fear not, little flock…" Of course, His "little flock" will expand to be a worldwide community. But this notion of the "little flock" is meant to reinforce the necessity of living in the actual community on your local level. I always get amused at myself when I get all worked up over national or international events that I can neither change nor control. Still, I can live in my community and interact with real people and get involved and share my life with other lives in a healthy and salvific way while I pray for the peace of the whole world and leave the results to the Lord Who still loves His "little flock." But I digress!
Jesus tells His "little flock" that the Father desires to give them His kingdom. GIVE! Did you see that? God has never wished to withhold Himself and all He possesses from you. Never! Ever! It is His "good pleasure" ( a HUGE understatement!) to GIVE you the Kingdom. Everything! The whole shooting match! God WANTS (and what God wants He gets!) to give you His kingdom. Imagine you get a call from the queen of England or the richest man in the world and they say to you "Hey, I've decided to give you everything I have. Come and get it." Now multiply that reality to infinity. Yep. A bit breathtaking, isn't it?
BUT (you knew that was coming), then the Lord issues commands that sound strangely like some work I have to do to get what's being given to me! "Sell your possessions?" "Gird your loins?" "Keep your lamps burning?"
You see, my angels, it isn't a matter of God's power to GIVE you the Kingdom. That's a done deal. It's yours! Now. The challenge is in your ability, your capacity to RECEIVE the kingdom! And making you able to RECEIVE His kingdom is going to take active attentive WORK! You have to break free from the downward tug of self-centeredness, of arrogant and foolish pride, of being deluded into believing the lies of a society that is simply enslaved to the blindness of their own passions. You live in that darkened place. But there is wisdom on how to escape to sanity!
Today, it is never a matter of God giving you Himself; it is always a matter of you being able to receive Him. So, the Church preserves the timeless wisdom on how to make yourself able to receive in the Divine Mysteries, the disciplines of prayer, fasting, and almsgiving, all to make you able to be Orthodox on Purpose!
P.S. O Lord God, the Only Lover of Mankind, Your love for me is unmeasurable and everlasting. Your generosity is inexhaustible and eternal. There is no way for me to measure Your grace and mercy. Grant me, Lord, the attentiveness to not forget Your goodness toward me in my everyday living, and fill me with such gratitude that I will never throw away the Treasure You have given me through neglect or foolish choices. Amen