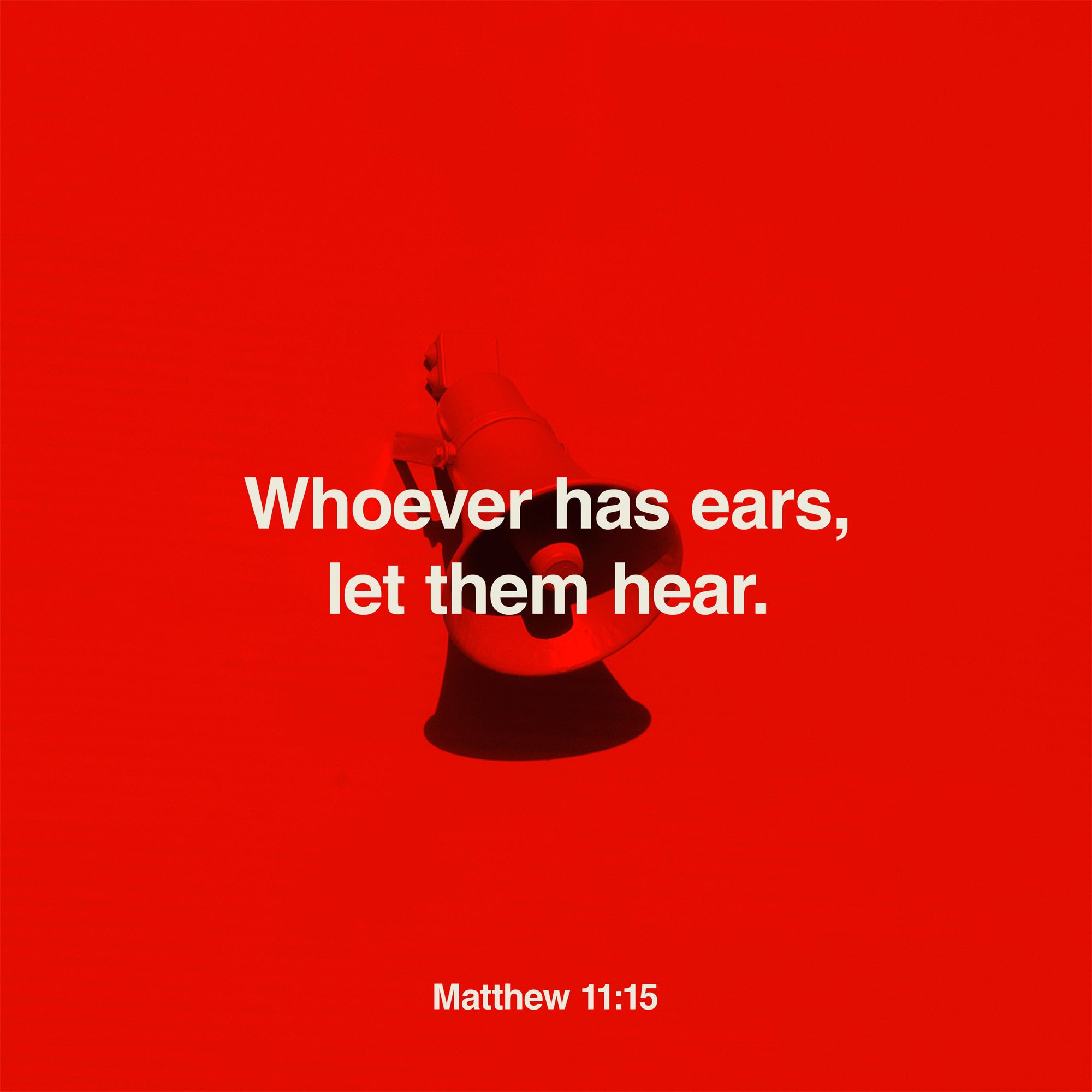 In the beginning, God said…. And with that action, God has been using speaking and hearing to start the process of metania (repentance) in the hearts of those who have "ears to hear."
There are so many examples of this pattern of God's actions that there are too many to mention them all. God "called" Abraham from the land of his father. God "called" the prophet Samuel and the prophet Isaiah in the First Testament. And God used the Archangel Gabriel to speak to the Theotokos the truth of her conception. An ancient saying is that the Lord began His fleshtaking from Mary the moment the words fell on her ears and she gave her Magnificat response.
Hearing and the resulting healing of persons and all humanity is tied together. And your own healing is tied to your willingness to hear!
Look at our lesson today in Luke 6:17-23:
At that time, Jesus stood on a level place, with a great crowd of his disciples and a great multitude of people from all Judea and Jerusalem and the seacoast of Tyre and Sidon, who came to hear him and to be healed of their diseases; and those who were troubled with unclean spirits were cured. And all the crowd sought to touch him, for power came forth from him and healed them all. And he lifted up his eyes on His disciples, and said: "Blessed are you poor, for yours is the Kingdom of God. Blessed are you that hunger now, for you shall be satisfied. Blessed are you that weep now, for you shall laugh. Blessed are you when men hate you, and when they exclude you and revile you, and cast out your name as evil, on account of the Son of man! Rejoice in that day, and leap for joy, for behold, your reward is great in heaven."
We've looked at this passage many times. But I want you to notice today what motivated these broken people to seek out Jesus. These people were convinced that to hear Jesus and to be close to Jesus would result in their healing. And they were right, but at a deeper level than many of them knew.
Jesus was going to heal these folks, but His healing was meant to heal a deeper sickness in them all. And to prove this, He preached to them that they were already blessed if they were poor, or hungry, or weeping, or hated, or excluded, or even cast out. These folks were offered healing that was meant to turn them into people who could even look at desperate circumstances and see the blessing in them.
Don't you see, if we really so reorient our thinking that even bad circumstances hold blessings for us, we are truly free! We cannot be crushed by the temporary troubles that are crushing others BECAUSE we have been healed so deeply by our intimacy with Jesus Christ that temporary troubles are impotent to destroy us. We are free from the intoxicating powers of fear and anxiety because our intimacy with Jesus, our closeness to Him, our willingness to hear His wisdom and His love, make us immune to those intoxicating passions.
So, how do we get this healing, this deep and eternal healing?
First, we have to wake up to our need, our deep need, for Jesus Christ. The healing of these people started when they got up from where they were and sought out Jesus. A person who is healed and immune from the power of the temporary to enslave them embraces the spiritual labor of getting close to Jesus. Times of worship are prioritized. Personal piety of daily prayers and a busy icon corner in one's home. Get up! Get to Jesus.
Next, we have to want more than temporary comfort. These folks started out towards Christ because they were physically suffering. But they left from their encounter with Christ with the deeper ability to never allow temporary troubles to steal their joy and peace. You have to begin to desire deeper truths than mere physical comfort.
Finally, we have to stay attentive to His Wisdom. Healing starts with a willingness to hear. Finally abandoning the shallow egoism of some kind of "self-sufficiency" is key to escape the drunken blindness of our passions. I have to humbly embrace and constantly maintenance with prayer, fasting, and generosity, my hearing from Him in His holy Scriptures, in the liturgical life of the Faith, and in His "still, small Voice" that calls me away from that which enslaves me!
Today, are you hearing Jesus? Are you desiring to seek Him out and be close to Him? To truly hear Him is to be set free to be Orthodox on Purpose.
P.S. O Lord, I truly desire to be healed of the deepest wounds in my soul. I truly desire to be freed from the crippling sickness of a life lived inattentive to You and Your wisdom. Grant me, today, to be quiet enough to hear You and humble enough to seek for You moment by moment for the healing of soul and body. Amen.