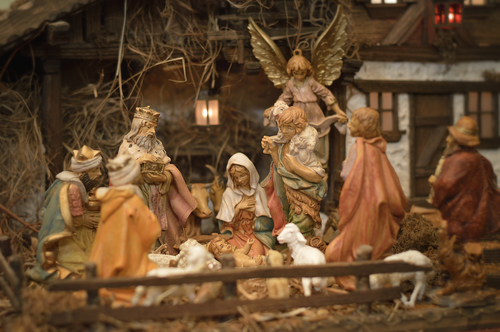 Christ is Born!
On this Feast of the Nativity, let's take the time to celebrate this season of 12 days with attentiveness!
I never will forget telling my mom that our family would be late for Christmas dinner because we had a church service that day! She said "Church on Christmas Day? Why?" Now, to be fair, my family growing up didn't go to church on Christmas day. We weren't raised, and my parents weren't raised in a church tradition where we had worship services on Christmas Day. We considered ourselves Christians, but we were not really connected with the timeless tradition of liturgical worship and a formation of liturgy as prayer and Eucharist.
So, when I converted to Orthodoxy, all that changed. Now, I'm in liturgy and taking the Eucharist on Christmas Eve and on Christmas Day. It's a religious holiday after all!
Look at our lesson on this Christmas Day in Matthew 1:18-25:
The birth of Jesus Christ took place in this way. When his mother Mary had been betrothed to Joseph, before they came together she was found to be with child of the Holy Spirit; and her husband Joseph, being a just man and unwilling to put her to shame, resolved to divorce her quietly. But as he considered this, behold, an angel of the Lord appeared to him in a dream, saying, "Joseph, son of David, do not fear to take Mary your wife, for that which is conceived in her is of the Holy Spirit; she will bear a son, and you shall call his name Jesus, for he will save his people from their sins." All this took place to fulfill what the Lord had spoken by the prophet: "Behold, a virgin shall conceive and bear a son, and his name shall be called Emmanuel" (which means, God with us). When Joseph woke from sleep, he did as the angel of the Lord commanded him; he took his wife, but knew her not until she had borne a son; and he called his name Jesus.
St. Matthew gives us a straightforward account of the Birth of Jesus and he reveals to us some significant insights about this Universe Changing moment in Human History.
First, Mary and Joseph were betrothed. Just like our Orthodox wedding services today, Jewish weddings had two parts: The Betrothal and the final Joining. In those days whole months may pass between the first part of the wedding (the Betrothal) and the actual final aspect of the service where the new couple go on their honeymoon. Matthew reveals to us what our Orthodox tradition has said all along. The Theotokos was betrothed to Joseph but we never see where they finalized the ceremony to allow for a honeymoon! No wonder St. Joseph is often called "St. Joseph, the Betrothed." Tradition tells us St. Joseph was much older than Mary and was primarily betrothed to Mary as a guardian of her virginity. He was a widower with children from his previous marriage and was the perfect guardian for this young woman who had such a special and unique calling for the salvation of the world!
Second, Mary was "found to be with Child of the Holy Spirit." It makes perfect sense that the Uncreated Author of Creation would enter His world by taking flesh from one of us through a miraculous birth! This pregnancy was normal; in all aspects EXCEPT it's inception. As St. Gabriel the Archangel told the Theotokos when she asked how she was suppose to get pregnant with a Son if she was still a Virgin, The Holy Spirit will overshadow you, Mary, and what is born of you will be the Son of the Most High God! Just like the Holy Spirit did at Creation, the Holy Spirit once again "moved upon the face of the waters." (Genesis 1:2)
Finally, this Virgin Birth would mean the Universe Recreating Truth: God is now WITH US! And that confrontational Truth will mean we humans will just have to come to grips with this reality. God is not far off in the clouds somewhere but right here in the mess of the chaotic world with us and standing next to us to give us Himself and His strength to overcome the chaos of the darkened world!
Today, Christ is born and your life, my life, and the whole of creation will not, cannot be the same ever again! Our Orthodox Faith invites us to this Feast with our eyes wide open and our honest and grown up realization we were created to be Orthodox on Purpose!
P.S. Just a few days left in 2020, but still several days in our Christmas Celebration. From all of us at Faith Encouraged Ministries Merry Christmas and a Happy New Year!