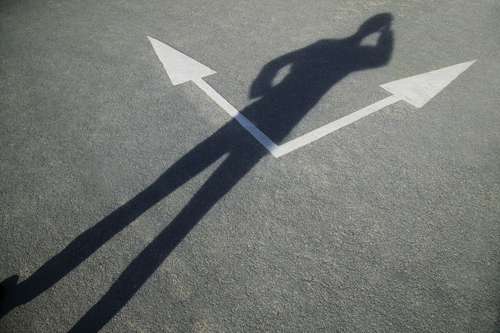 Jack Canfield (he's the guy who wrote "Chicken Soup for the Soul") once said "Clarify your purpose. What is the WHY behind everything you do? When we know this in life or design it is very empowering and the path is clear."
But what about the motives of others that aren't so clear? The truth is so many people out there are more than willing to tell you how you should live. How do we discern all that free advice?
Well, first off, remember something a friend told me years ago: "Free advice is worth every penny you paid for it!" You must also grow in your ability to work out the conclusions of any given mindset or ideology. Ultimately, there are only two paths; the path that leads to death, and The Path that leads to life!
Look at our lesson today in John 10:9-16:
The Lord said, "I am the door; if any one enters by me, he will be saved, and will go in and out and find pasture. The thief comes only to steal and kill and destroy; I came that they may have life, and have it abundantly. I am the good shepherd. The good shepherd lays down his life for the sheep. He who is a hireling and not a shepherd, whose own the sheep are not, sees the wolf coming and leaves the sheep and flees; and the wolf snatches them and scatters them. He flees because he is a hireling and cares nothing for the sheep. I am the good shepherd; I know my own and my own know me, as the Father knows me and I know the Father; and I lay down my life for the sheep. And I have other sheep, that are not of this fold; I must bring them also, and they will heed my voice. So there shall be one flock, one shepherd."
Jesus reveals the Two Paths here when He tells us "The thief comes only to steal and kill and destroy; I came that they may have life, and have it abundantly." Here, our Lord uncovers the purpose of the Evil one's influence on your life, to steal from you; and kill you; and destroy you.
In your life, your choices ultimately have one of two ends – life or death. Can you discern where you are producing death in your life? Look for these characteristics.
First, The Thief always comes to steal from you. It is no mistake that that old devil is named a thief by Jesus. He knew that fallen angel from the beginning and He watched as that devil tried to con his way onto the throne of the universe. He watched Satan fall like a star and now that evil one wants to take from you all that God wants to give you. Looking at your choices, your priorities, your behavior, where are you cooperating with this Thief to rob you of your ultimate purpose?
Next, The Thief always wants to kill you. Death is always the "wages" of sin. But it's so very important to define sin as the Orthodox Faith defines sin – missing the mark. Everywhere your life is missing the mark is sin and that deficiency always grows death in your life. But I will never be able to discern where I'm missing the mark if I don't know what the mark is. What is my life suppose to be shooting for? And the answer is LIFE, not death. But life is more than mere survival. Life, according to Jesus, is He Himself! He is the Way, the Truth, and the Life. So, whatever in your life, big choices and small choices and all the in between choices, are either, ultimately, leading you towards Life (Jesus) or death (the thief).
Finally, The Thief wants to destroy you. And that's because the thief, that old serpent, wants to destroy God. Silly snake. He can't destroy God so he strikes out at those of us created in God's image. All his promises of "happiness" or fulfillment by following his path to death are all lies! Empty promises that turn to dust in our mouths. Jesus, has come to give us Himself, The Life you were meant to live!
Today, are your choices dragging you to death or leading you to life. Who are you cooperating with – The Thief or The Christ? Your answer determines whether you live or die, whether you are Orthodox on purpose or not! Oh, and don't forget, Winter Lent begins Sunday!
P.S. Lord, by the prayers of our blessed St. John Chrysostom, whose memory we keep today, grant that we might be people whose words are fitly spoken, like apples of gold, and pitchers of silver. Fill us with the remembrance of Your Holy Name that we might, like St. John, boldly proclaim in word and deed that You are the True Light that enlightens every person who comes into the world!