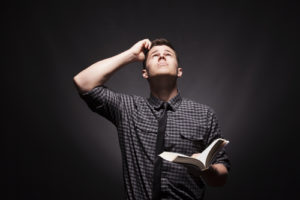 I was in my first round of theology school when I came across the phrase for the first time: "The Hard Sayings of Jesus." As I read the article that was meant to explain the difficult passages in the Gospel where Jesus said things like "Unless you love me more than your family, you can't be my disciple" or "It is better to cut off your hand or pluck out your eye than go into hell with an intact body." OK, I had to admit it, these were hard sayings.
But what did I expect from a serious Christian life, constant rescue out of the consequences of my choices? I had to come to the very stark conclusion that seriously following Jesus meant a confrontation with my undisciplined desires.
Look at our lesson today in Colossians 3:17-25; 4:1:
Brethren, whatever you do, in word or deed, do everything in the name of the Lord Jesus, giving thanks to God the Father through him. Wives, be subject to your husbands, as is fitting in the Lord. Husbands, love your wives, and do not be harsh with them. Children, obey your parents in everything, for this pleases the Lord. Fathers, do not provoke your children, lest they become discouraged. Slaves, obey in everything those who are your earthly masters, not with eyeservice, as men-pleasers, but in singleness of heart, fearing the Lord. Whatever your task, work heartily, as serving the Lord and not men, knowing that from the Lord you will receive the inheritance as your reward; you are serving the Lord Christ. For the wrongdoer will be paid back for the wrong he has done, and there is no partiality. Masters, treat your slaves justly and fairly, knowing that you also have a Master in heaven.
St. Paul is offering these Christians in Colossae an invitation to take seriously their commitment to the Christian life. And this invitation is an invitation to focused and attentive labor.
But not just any labor. This is the labor of love in relationships. And that makes perfect sense because we are created in God's Image to be made into His likeness and that means we were made for relationship. You see, God knows Himself eternally as Persons in Communion and this means we will know ourselves in the same way. In communion; in relationships, we will be confronted with our true selves and we will be invited to repent BECAUSE of the work we do in relationships, OR we will remain strangers to our true selves if we stay inattentive to the relationships around us.
Paul covers the whole gambit of our daily relationships: Wives and Husbands, Children and Parents, and even the (inconvenient and now unthinkable) relationships between "slaves" and "masters."
But he prefaces his remarks to wives and husbands, to children and parents, to slaves and masters with this key phrase: "do everything in the name of the Lord Jesus, giving thanks to God the Father through him."
All actions, all thoughts, all words (spoken and unspoken) are to be done as if you were doing all this in the "name of the Lord." This meant to these early Christians something very powerful and specific. You see, they were formed by having kings and leaders that exercised authority on behalf of the Emperor. If these leaders were telling you to do something or demanding you pay this or that tax, it was as if the Emperor himself was giving you this command. So when they hear St. Paul say this about Jesus, they knew what he meant. He means that our words, thoughts, and actions should be motivated by the truth that we are followers of jesus Christ and our actions are motivated by the reality that people will get to know what Jesus is like from watching how we live! WOW!
But there's one more part to this; the power of learning how to "give thanks." Let's face it, looking at the above paragraph, you and I have to confront the reality we can't really do that. I don't want people thinking Jesus is like me when I'm short tempered or selfish or acting like a clown. So what's the key to taking seriously the power of relationships to change me and my motivations? The key is gratitude! Being grateful to God and staying attentive to gratitude is the key to staying attentive to the work of relationships! If I can cultivate gratitude, I'll stay attentive to how my actions affect others!
Today, are you a grateful person who is attentive to the relationships around you? The key to a Purposeful Orthodox life starts there!
P.S. Lord Jesus Christ, have mercy on our nation as we face the reality of our divisions. Help us be courageous, loving, and patient, and grant us a conviction towards righteousness and love for our enemies. Remind us that "If my people, which are called by my name, shall humble themselves, and pray, and seek my face, and turn from their wicked ways; then will I hear from heaven, and will forgive their sin, and will heal their land." Amen.