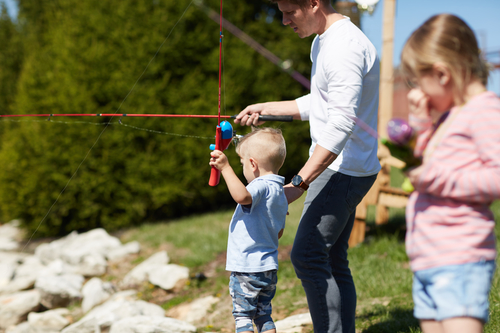 Christ is risen!
There's a great Country song from 1994 performed by Tim McGraw called "Don't Take the Girl" and it tells the story of how a young man's attitude toward the "fairer" sex changes as you get older. But the first part of the song as a young boy begging his dad not to take the neighborhood girl along with them on their fishing trip! When little Johnny hears his dad is taking a GIRL with them on their afternoon of fishing he says:
"Take Jimmy Johnson Take Tommy Thompson Take my best friend Bo"
"Take anybody that you want As long as she don't go Take any boy in the world Daddy please, don't take the girl"
I bet that boy changes his tune when he gets older! Of course, maturity has a way of destroying ignorant prejudice!
Look at our lesson today in Acts 10:44-48; 11:1-10:
In those days, while Peter was still saying this, the Holy Spirit fell on all who heard the word. And the believers from among the circumcised who came with Peter were amazed, because the gift of the Holy Spirit had been poured out even on the Gentiles. For they heard them speaking in tongues and extolling God. Then Peter declared, "Can any one forbid water for baptizing these people who have received the Holy Spirit just as we have?" And he commanded them to be baptized in the name of Jesus Christ. Then they asked him to remain for some days. Now the apostles and the brethren who were in Judea heard that the Gentiles also had received the word of God. So when Peter went up to Jerusalem, the circumcision party criticized him, saying, "Why did you go to uncircumcised men and eat with them?" But Peter began and explained to them in order: "I was in the city of Joppa praying; and in a trance I saw a vision, something descending, like a great sheet, let down from heaven by four corners; and it came down to me. Looking at it closely I observed animals and beasts of prey and reptiles and birds of the air. And I heard a voice saying to me, 'Rise, Peter; kill and eat.' But I said, 'No, Lord; for nothing common or unclean has ever entered my mouth.' But the voice answered a second time from heaven, 'What God has cleansed you must not call common.' This happened three times, and all was drawn up again into heaven."
St. Peter is explaining to the folks back in Jerusalem who are really upset with him about preaching to the first Gentile convert, the Roman centurion Cornelius. The Jewish leaders of the new Christian  Church are upset that Peter, a Jew, has associated with Gentiles. Can it be that God intends to make Gentiles followers of Jesus? We'll see.
Not 4 years before this event with Cornelius, in the upper room on the Day of Pentecost, St. Peter and the 120 disciples gathered there in obedience to the Lord's command received the promised Holy Spirit on the Day of Pentecost! And when the Holy Spirit was given to them, the disciples of Jesus were filled with confidence, and even the ability to speak to all the people gathered there in Jerusalem for the Feast of Pentecost in their native languages so everyone would understand the Good News of new life in Christ!
And now, that same Holy Spirit was doing the same thing with these Gentiles! What further proof did St. Peter need that God was no respecter of persons but accepts everyone and anyone who longs to know Him! God reveals what He never made a secret in the first place – He intends everyone, no matter their race or background – to be together in His Church!
Today, are you able to help all the folks around you who are spiritually hungry for the fullness of the faith ready to receive it and embrace it? What are the barriers in your heart, your head, and even your community to be the conduit of God's Good News to "whosoever will" so that everyone has a chance to be Orthodox on Purpose?