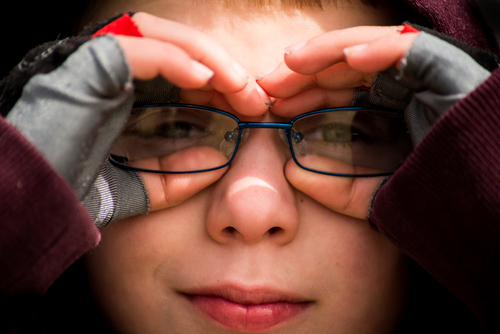 There is a common temptation to reduce all religion to merely behavioral modification systems. In other words, too many people think Faith is about making you a "good" person. For some religious systems, this may be true. But it is decidedly NOT the normal Orthodox Christian mindset.
Orthodox Christianity isn't about making you a "good" person but making you a "REAL" person. The changes in your behavior, your choices, your priorities in being a faithful follower of Jesus Christ are always the byproduct, never the goal!
Look at our lesson today in Luke 6:17-23:
At that time, Jesus stood on a level place, with a great crowd of his disciples and a great multitude of people from all Judea and Jerusalem and the seacoast of Tyre and Sidon, who came to hear him and to be healed of their diseases; and those who were troubled with unclean spirits were cured. And all the crowd sought to touch him, for power came forth from him and healed them all. And he lifted up his eyes on His disciples, and said: "Blessed are you poor, for yours is the Kingdom of God. Blessed are you that hunger now, for you shall be satisfied. Blessed are you that weep now, for you shall laugh. Blessed are you when men hate you, and when they exclude you and revile you, and cast out your name as evil, on account of the Son of man! Rejoice in that day, and leap for joy, for behold, your reward is great in heaven."
Jesus here begins His preaching that would eventually be called "The Beatitudes." And you may be wondering why I said Christianity isn't a behavioral modification system. Fair enough. Let me see if I can answer well enough.
First, the word "blessed" is used. And it is used for life situations that most people would not really feel are places of blessing. Being poor; being hungry; weeping; hated; excluded; and so on. The average person looking at their life and seeing all this would say they were being punished or being treated unfairly. But I doubt many would say they are blessed.
And yet that is the word our Lord uses. And He does this for a very powerful reason. Notice every one of these sad situations are temporary! You may be poor, but not forever. You may be hungry, but not forever. You may be weeping, but not forever. You may be hated, but not forever. You may be excluded, but not forever. None of the difficulties mentioned by the Lord are an eternal state. None! So this is far from some social command to relieve these sad situations, though the Lord does command us to do this in other places. No, it is a revelation that, even if we devote our lives to relieving the suffering of others, there will still be people who suffer.
That doesn't mean we shouldn't relieve suffering. We should and we must. But it does mean we must also avoid the shallow and depressing notion that this is what the Faith is all about. No, the real power of our Faith is the eternal perspective we offer to the world AND the power of the love and grace of God to turn even our worst times into pathways to peace regardless of current circumstances. Because it's only in being free enough to be at peace no matter what is going on around you that can ever be truly Good News to a world gripped by chaos.
It's the reason the Lord reminded His disciples in another place that "the poor you always have with you." Because there are always going to be hurting people around us. And we, ourselves, are always going to have good times and difficult times. It is the Faith that Christ reveals that invites us to embrace an eternal perspective that makes impotent any temporary situation to destroy us and make us abandon our hope in Christ.
Today, are you blessed by being set free to by Christ and His gift of eternal life from ever allowing even painful temporary troubles to steal your joy? You can be. By practicing the disciplines of the Faith, the timeless Faith, you and see treasures in every moment of a life lived Orthodox on Purpose!