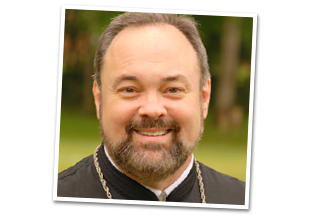 Christ is Born!
I'm sitting in my home office on an early morning thinking about the new year right around the corner, and what God has in store for us for this precious gift of time. And my heart can't escape the one example I see in Christ and all the saints – serve others!
But how? Oh, you know me well by now. You know I love to preach. You know I love to communicate. You know I love the Church and want everyone in this country and around the world to be Orthodox. You've spent enough time with me to know me pretty well.
What you don't know is that I struggle with my ministry. Honesty time. I do. I love doing what I do, but I also know that, undisciplined and unexamined, even the most precious gifts and opportunities become caustic and the exact opposite of what God intended for these gifts and opportunities. We are never free to stop referring all our life to God in Christ. And doing this well requires me to know myself well enough to set my priorities so that God does His work in my life to make me like Himself!
Since we launched Faith Encouraged Ministries several years ago, we have traveled to so many places. We've recorded hundreds of devotionals, written a book, produced a video series meant to introduce people to our precious Orthodox Christian Faith, spent Sunday evenings doing a Live talk show, AND pastoring a growing parish! I can't tell you how many times I've been asked "Father, how do you do it?" And my answer is an honest "I don't know!" All I know is that I got to Orthodoxy in the middle of my life and I've felt this burning desire to share this beauty with those within and outside of the Church. I'm convinced this Orthodox Christian Way of life is the highest form of humanity in existence and I want everyone to know this Person, Jesus Christ, in His fullness.
But, as the years have advanced, I've had to be honest about the pace of my own life. I have children that need me to be present to them. I have a family that depends on me, and frankly, my health needs my undivided attention. Plus, our growing parish has to build our first church building and I need to raise $7 million to build this "icon of paradise" for our community.
Because of that, here is what Faith Encouraged Ministries will look like next year: I will continue producing the written daily devotionals at FaithEncouraged.org and on Ancient Faith website. You can sign up for the daily devotionals at FaithEncouraged.org. I won't be continuing the audio version after December 31st. I will be doing at least quarterly LIVE radio talk shows on Ancient Faith from my home studio. We'll talk to interesting people and we will look forward to talking with you as well on these special LIVE shows. We won't be traveling, except for the 1st National Men's Retreat sponsored by Ancient Faith in August of 2020. I'm honored to be one of the speakers at this important gathering of men from across the nation! I hope to meet you there!
Oh, and one more thing; I am working on creating opportunities to do Video Conferencing with parishes and groups. If this is something you're interested in contact me at email hidden; JavaScript is required.
2020 is going to see me working on my physical health, being a dad and husband, and serving my growing parish in building our much needed new church building. I still need your patronage to help us pay the bills at Faith Encouraged Ministries. So, become a Patron on our Patreon site by making a monthly gift at www.patreon.com/FaithEncouraged.

I am so grateful to you and I pray our media outreach has been and will continue to be a blessing to you and your family. Please stay connected and please pray for me. And may our very good God bless you and your family in 2020.
Your servant,
Fr. Barnabas

Founder and Director of Faith Encouraged Ministries
Faith Encouraged Ministries is a recognized 501(c)3 non-profit ministry. All gifts are tax-deductible! Click HERE to make an end of the year donation!