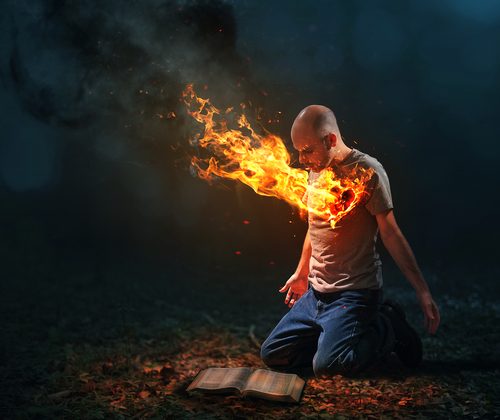 "Do you pray to Zeus?" What? Yep, the lady was serious when she found out I was a Greek Orthodox priest, she wondered if we prayed to Zeus! Holy Moly! "No, ma'am" I said. "We are lovers of Jesus Christ, and actually we are the first Christians." She was amazed. She said "I've never heard of you before." "Yes, ma'am, I know. We have to do better at letting our neighbors know who we are."
But the exchange got me thinking. I wonder how many other people think we still hold to those ancient myths about gods and power and religion. I wonder how many "myths" all of us still believe in spite of the grace of God in Christ that has come to the world.
Look at our lesson today in 2 Peter 1:10-19:
BRETHREN, be more zealous to confirm your call and election, for if you do this you will never fall; so there will be richly provided for you an entrance into the eternal kingdom of our Lord and Savior Jesus Christ.

Therefore I intend always to remind you of these things, though you know them and are established in the truth that you have. I think it right, as long as I am in this body, to arouse you by way of reminder, since I know that the putting off of my body will be soon, as our Lord Jesus Christ showed me. And I will see to it that after my departure you may be able at any time to recall these things.

For we did not follow cleverly devised myths when we made known to you the power and coming of our Lord Jesus Christ, but we were eyewitnesses of his majesty. For when he received honor and glory from God the Father and the voice was borne to him by the Majestic Glory, "This is my beloved Son, with whom I am well pleased," we heard this voice borne from heaven, for we were with him on the holy mountain. And we have the prophetic word made more sure. You will do well to pay attention to this as to a lamp shining in a dark place, until the day dawns and the morning star rises in your hearts.
Peter starts his words of wisdom to us by asking us to "be more zealous." But not the frenzied zeal of of a mere fan. No, our zeal, our enthusiasm for our faith must grow because we actually desire, we want to make our identity as lovers of Jesus Christ the center of our lives. We must desire to wake up to the fact we are "called" to belong to Jesus, and Him alone. Not to ourselves. Not to our jobs. Not to our bank accounts. Not even to our families. But to Jesus. The paradox is when I am zealous to belong to Christ ALL my other relationships to everything and everyone find their proper balance! But if I get my "first love" wrong, it poisons all my other loves.
And Peter goes on to tell us that this focus on Christ isn't just a collection of clever stories made up to give us some moral philosophy. All religions and even no religion can do that to one degree or another. No, St. Peter tells us he and his fellow disciples saw Jesus and His miracles and His resurrection with their own eyes. He was there at the Mountain of Transfiguration and saw Moses and Elijah talking to Jesus on the mountain. Peter witnessed this himself! All of this is meant to transfer your Christian Faith from the realm of moral philosophy to the reality of the true purpose of God for you and your life: to be made by grace what Christ is by nature. You are meant to become, through the grace of God, a person who shines with an eternal Light.
Today, is that light shining in your life? Do others realize you are a follower of Jesus Christ? And do they see in the way you live that Jesus is more than a myth! He is the very Lord of your life. Our Orthodox Faith has all the spiritual tools you need to make that Light shine in your life. All that's necessary is that you zealously live Orthodox on Purpose!