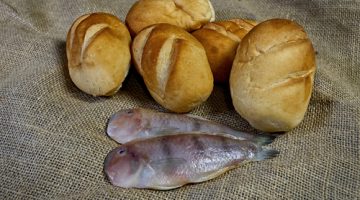 Christ is risen!
Alexander the Great is reported to have said "Nothing is impossible to him who will try." Yeah, try telling that to a group of people who refuse to try. I remember having a conversation with a man about building a new church building on our property and he told me to my face "Father, it's impossible. These folks will never do it." He was surprised when I responded to him with "You're right, if they won't even try, they won't do it." But it isn't because it's not possible. The "impossible" is only that way when we forge that with God, nothing is impossible!
And that's why when we dare to attempt what everyone says is impossible, we find God standing with us, taking the "little" we have and making it so abundant that our "leftovers" are more than our initial offerings!
Look at our lesson today in John 6:5-14:
At that time, Jesus, lifting up his eyes and seeing that a multitude was coming to him, said to Philip, "How are we to buy bread, so that these people may eat?" This he said to test him, for he himself knew what he would do. Philip answered him, "Two hundred denarii would not buy enough bread for each of them to get a little." One of his disciples, Andrew, Simon Peter's brother, said to him, "There is a lad here who has five barley loaves and two fish; but what are they among so many?" Jesus said, "Make the people sit down." Now there was much grass in the place; so the men sat down, in number about five thousand. Jesus then took the loaves, and when he had given thanks, he distributed them to those who were seated; so also the fish, as much as they wanted. And when they had eaten their fill, he told his disciples, "Gather up the fragments left over, that nothing may be lost." So they gathered them up and filled twelve baskets with fragments from the five barley loaves, left by those who had eaten. When the people saw the sign which he had done, they said, "This is indeed the prophet who is to come into the world!"
We know this story all too well. And that can be a hindrance to some deep insights if we run past this passage saying "Oh, I know that old story." So, stop with me here at this passage and let's discover some deep truths here.
First, I love the way the Lord offers Philip a rhetorical question to get to the deep revelation of His power and authority. He asks how much money they will need to buy food for the crowd. Philip responds with a huge sum of money that wouldn't be enough to accomplish this "impossible task." In modern amounts, St. Philip contends that it would take more than $14,500 to feed such a crowd. That amount of money in the Lord's day was unimaginable! In other words, Philip was saying it wasn't possible for them to feed the crowd.
Then a boy offered what he had, a small lunch of five loaves and two fish. The disciples accept the offering but are still convinced the task is "impossible."
What does Jesus do? He takes what is given and prays over this offering and then starts feeding the people. And what do you know, It feeds the whole group of 5000+. But wait, there's more! They pick up the leftovers and they filled 12 baskets, one for each unbelieving disciple!
It goes to prove that "impossible" is only a word that unbelief uses to keep us enslaved to doubt. God takes what we offer in love and confidence and makes the impossible possible. That boy offered all he had, and Jesus made sure it was enough! He always does.
Today, if you have the courage and humility to offer what you have, the impossible will be within your grasp. AND, what's left over will be enough to sustain you. Being Orthodox on Purpose means you are free from the stingy unbelief of "that's impossible."