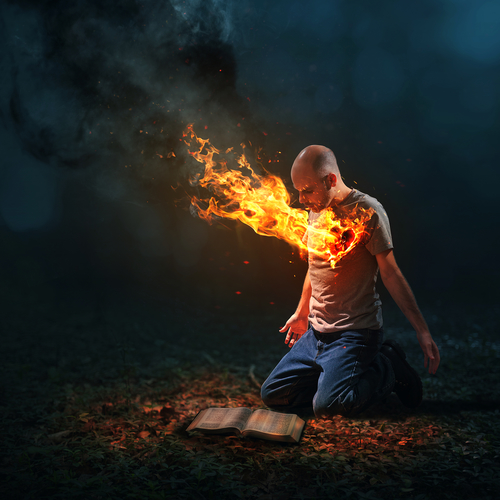 It's just not news. Seriously, you have to try and not notice that the message of God since He confronted our first parents in the Garden after their deadly choice was that He was going to fix what we had forfeited by our short sighted thinking. God has always planned to undo the "knots" we tied at the Fall.
This consistent message is key to see during our "bright sadness" of Great Lent. In fact, Orthodox is a pretty big "downer" if all we focus on is the church politics, the constant confrontation of being a sinner, or the unrelenting spiritual disciplines of prayer, fasting, and alms giving. That temptation of unbalanced focus will get you do you what the enemy of your soul desperately wants you to do – Give Up.
But what if I told you that the key to a proper perspective is seeing through this serious temptation to the other side of reality?
Look at our lesson today in Isaiah 25:1-9. This is the last part of the passage and our focus today:
On this mountain the LORD of hosts will make for all peoples a feast of fat things, a feast of wine on the lees, of fat things full of marrow, of wine on the lees well refined. And he will destroy on this mountain the covering that is cast over all peoples, the veil that is spread over all nations. He will swallow up death forever, and the Lord GOD will wipe away tears from all faces, and the reproach of his people he will take away from all the earth; for the LORD has spoken. It will be said on that day, "Lo, this is our God; we have waited for him, that he might save us. This is the LORD; we have waited for him; let us be glad and rejoice in his salvation."
St. Isaiah continues his prophetic ministry to the People of God. Remember, a prophetic ministry isn't so much "foretelling" and "forth telling." It is a ministry of proclamation, not fortune telling. And Isaiah proclaims the ultimate intentions of God concerning the whole word.
First, there's going to be a Feast! And it's going to be on "this mountain." Consider one of the most important strategic places to be is on "high ground." You can see clearly in all directions and you can tell if an attack is coming. But Isaiah declares that God is going to bring an end to the battles and the celebratory feast will be with all the comfort foods and drinks you can imagine! Comfort, that's the key to this Feast. All the struggles will be seen as the temporary things they are!
Next, there's going to be Clarity. God is going to destroy the "veil that is spread over all the nations." Even here in the First Testament, when the Hebrews are basking in the fact that they are The Chosen People, God is communicating clearly that His intention is to save the whole world! This veil, this heaviness of despair and despondency and the lack of hope will be destroyed and God will "swallow up death forever." All tears will be dried, and all the hatred against the People of God will vanish! Finally, the whole of humanity will "see the Light!"
Finally, the People will Respond. And how do they respond? They will embrace fully that God is their God indeed! The intimacy of this phrase can't be ignored. It is not a claim of "ownership" but of fidelity and faithfulness. God is my God. I am His and He is mine. My patience and confidence in Him has come to fruition and He has done all He said He would do. Let us be glad, even now, even during the struggle, because God WILL BE faithful.
Today, are you struggling in the middle of this Lenten journey? Many of us are. The spiritual disciplines have stirred up painful truths about ourselves. The services have confronted us with truths of our fickle faithfulness. We confess our sins and they are many. But wait, that isn't the whole story. The truth also is that He will wipe every tear away. It is so sure to happen that it might as well already have happened! Rejoice and be glad in His salvation, dear one. Be Orthodox on Purpose!