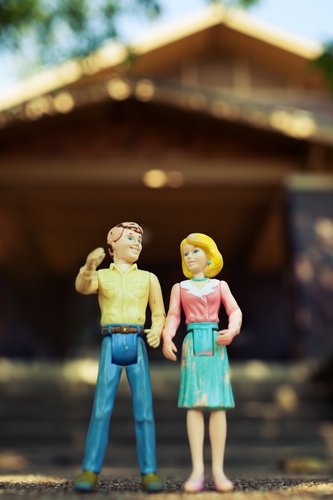 As a "son of the South" I've heard people say "Bless your heart" all my life. And the irony is that this phrase that almost sounds like a prayer, is really a versatile phrase American Southerners use to both bless AND curse.
And it all depends on how it's used. It can be a genuine expression of concern or it can be used to cover with a thin layer of religiosity actual gossip and mean spirited intent.
But, I guess all language can have that kind of flexibility that reveals a heart's true motivations.
Look at our lesson today in Luke 6:17-23:
At that time, Jesus stood on a level place, with a great crowd of his disciples and a great multitude of people from all Judea and Jerusalem and the seacoast of Tyre and Sidon, who came to hear him and to be healed of their diseases; and those who were troubled with unclean spirits were cured. And all the crowd sought to touch him, for power came forth from him and healed them all. And he lifted up his eyes on His disciples, and said: "Blessed are you poor, for yours is the Kingdom of God. Blessed are you that hunger now, for you shall be satisfied. Blessed are you that weep now, for you shall laugh. Blessed are you when men hate you, and when they exclude you and revile you, and cast out your name as evil, on account of the Son of man! Rejoice in that day, and leap for joy, for behold, your reward is great in heaven."
Jesus calls several groups "blessed" and at first blush this can be a bit confusing since the groups He calls "blessed" are often seen as under a curse or groups we should avoid being in.
He calls the poor "blessed." He calls the hungry "blessed." He calls the weeping "blessed." He even calls the hated "blessed."
And He calls these groups "blessed" not because of their misfortune or their troubles, but because their situations are ALL temporary! Their poverty is temporary. Their hunger is temporary. Their weeping is temporary. And even their hated status is temporary.
What isn't temporary is their true end – The Kingdom of God belongs to the poor. The hungry will be satisfied. The weeping will have their tears dried by laughter. And the hated will have an eternity in a place where they are loved and cherished.
And that eternal state of affairs exists because each of these groups are where they are in this temporary place BECAUSE they value the Kingdom of God more than their own comfort! It is this motivation and focus in their lives that makes the sad situations bearable in the face of temporary pain. The Kingdom of God is that eternal place where all temporary pains are swallowed in peace! And even the memories of the temporary struggles are sweetened by the eternal joy that proved motivation strong enough to endure such temporary sufferings.
St. Paul in another place said "For I consider that the sufferings of this present time are not worthy to be compared with the glory which shall be revealed in us." (Romans 8:18) When we can have the faith to see through the temporary to the eternal, our lives really do become blessed no matter the outward circumstances.
Today, are you suffering with a circumstance that makes you feel anything but blessed? Are you facing a spiritual or even physical poverty? Do you find yourself struggling with hunger? Are your eyes welled with tears at your current situation? Perhaps you find yourself hated and rejected. Yes, these moments in life are painful, and filled with the dread that "my life will never be better." But Jesus comes to us today and invites us to see through the temporary into the eternal. When we do this, we discover that even those painful times are filled with spiritual treasures that strengthen my resolve to be Orthodox on Purpose!
P.S. Did you miss Fr. Barnabas on the Healthy Minds, Healthy Souls with Fr. Nick Louh and Presbytera Roxanne Louh? No worries. Just click the link and listen to the archived show!