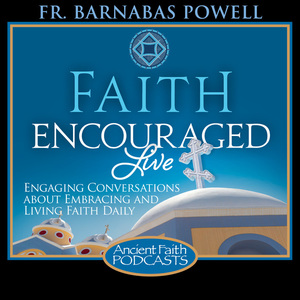 This past Sunday night, Fr. Barnabas made the big announcement that the Faith Encouraged LIVE Show on December 23rd will be the final show.
In 2014 we launched Faith Encouraged LIVE on Ancient Faith Radio and our very first show was about becoming a Welcoming Parish. Since then we've done 79 Faith Encouraged LIVE shows and we've talked to some of the most fascinating people and covered some important subjects, all surrounding Father's dream and vision of making sure everyone has an opportunity to hear the wonderful treasures of our Orthodox Faith.
This wasn't an easy decision for us at FEM. We've spent the last several months trying to organize our time and schedules in such a way that we can accomplish the vision of our shared ministry.
Something has to give if our ministry is going to accomplish what we need to accomplish. We want to do more videos through Faith Encouraged and Father is doing research and writing the script for a new video series, as well as doing work on a new book planned for 2020.
Doing this show has been a real source of joy for us and we're thankful to all of the guests and listeners who have made it possible.
If you weren't able to listen live on Sunday night, here's the link to the show so you can hear more details from Father about the changes at Faith Encouraged Ministries.
We're thankful to God for you. Please pray for us.