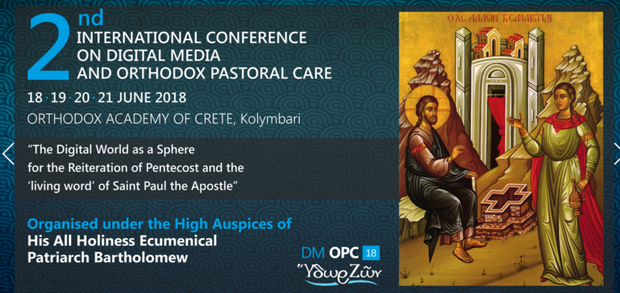 Dear Faith Encouraged Family,
Fr. Barnabas leaves this Saturday to attend and present at the 2nd International Conference on Digital Media and Orthodox Pastoral Care to be held in Chania, Crete, Greece June 18-21. (www.dmopc18.com)
This conference draws on an international representatives from several Orthodox Local Churches as well as representatives from over 21 countries. And the speakers, both clergy and laity, will offer talks that focus our attention on the opportunities, the dangers, and the theological perspectives of using this modern digital media to share the Faith, encourage the Faithful, and offer a witness of Timeless Wisdom to a world so very much gripped by the delusions of the temporary.
Fr. Barnabas' talk is entitled "Some Practical Results of Using Digital Media as a Means to Communicate the Life-giving Message of the Orthodox Faith." His talk will share with this international audience the encouraging messages you've shared with Fr. Barnabas over the years as Faith Encouraged Ministries grew. Now, as we step on this international stage, we are honored to be one of the recognized ministries using media for God's glory.
Several Ancient Faith Radio content producers will join Fr. Barnabas in Crete and offer their perspectives as well. We are also planing a special recorded version of Faith Encouraged LIVE while we are all at the conference to share with you this wonderful event.
Please pray for Fr. Barnabas as he travels and as he speaks to this conference. May God, the blessed and life-creating Holy Trinity, bless and keep us as we use all the tools we have to share this timeless faith with the whole world!
And, as always, we love to hear from you! Email us at email hidden; JavaScript is required! Or just reply in the comments section! Your messages to us are as important as our messages to you!