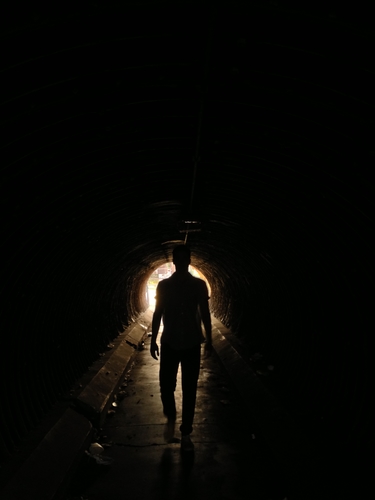 Christ is risen! On this Apodosis (Leavetaking) of Pascha, may God grant us faithful hearts until next Pascha!
Stumbling around in the dark isn't just a problem for me when I'm looking for a midnight snack (as if I really needed that!), but is a perfect metaphor for my life lived without the Light and wisdom of the faith to protect me from bad choices and missed opportunities in my life!
I never will forget going with my mom to Ruby Falls in Tennessee and going underground to the huge waterfall the sight was famous for. At that time the tour included a moment when all the lights were turned off and everyone was in the pitch black of the underground cavern. It was so dark you could almost "feel" the darkness. No body moved a muscle because no one could "see" anything! Imagine how foolish it is to try to live your life in the "darkness" of spiritual blindness. No wonder people stumble through life!
Look at our Gospel Lesson today on this Leavetaking of Pascha and the preparation day for the Feast of the Ascension in John 12:36-47:
The Lord said to the Jews who came to him, "While you have the light, believe in the light, that you may become sons of light. When Jesus had said this, he departed and hid himself from them. Though he had done so many signs before them, yet they did not believe in him; it was that the word spoken by the prophet Isaiah might be fulfilled: "Lord, who has believed our report, and to whom has the arm of the Lord been revealed?" Therefore they could not believe. For Isaiah again said, "He has blinded their eyes and hardened their heart, lest they should see with their eyes and perceive with their heart, and turn for me to heal them." Isaiah said this because he saw his glory and spoke of him. Nevertheless, many even of the authorities believed in him, but for fear of the Pharisees they did not confess it, lest they should be put out of the synagogue: for they loved the praise of men more than the praise of God.

And Jesus cried out and said, "He who believes in me, believes not in me but in him who sent me. And he who sees me sees him who sent me. I have come as light into the world, that whoever believes in me may not remain in darkness. If any one hears my sayings and does not keep them, I do not judge him; for I did not come to judge the world but to save the world."
Look at how blind the people were in the Lord's day. He did so many miracles but still they couldn't "see" the Light right in front of them. And all of this stubborn spiritual blindness was foretold by the Prophet St. Isaiah several centuries before the coming of Christ. And their blindness didn't blind them to an idea, or a doctrine. No, their blindness blinded them to a Person!
This Light isn't a set of philosophical ideas. This Light isn't some record of rules and regulations of moralistic duty. This Light isn't even a religion. This Light is a Person, and this Person has come to reconnect us to the Father in such a way that our entire life is filled with clarity, purpose, and direction. Philosophy didn't bring people to Christ. The religion of the day actually turned most of the religious leaders against Christ. And all the rule keeping in the world still didn't make the Pharisees followers of the Lord. But even so, some did follow, but their fear made them silent. By the way, does your fear make you silent?
Today, as we leave Pascha and enter into the powerful season of the Ascension, know that the path to see clearly how to live is directly tied to your ability to be in relationship with Jesus Christ. He is the Light of the World, and knowing Him and following Him leads to being Orthodox on Purpose!
P.S. Today is the LAST DAY of our Pascha Appeal. With the support we've raised we are going to upgrade our equipment as best we can to start getting more videos to you for your use and instruction. You still have time to help us. Please do!