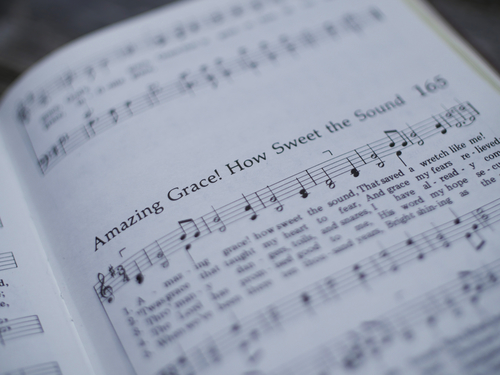 "Amazing grace, how sweet the sound, that saved a wretch like me. I once was lost, but now I'm found. Was blind, but now I see." I can still hear my grandmother singing that song when I was just a little boy. It's almost one of the earliest memories I have of her. She and my grandfather would take me to their little Baptist church and Pawpaw would lead the singing and mawmaw would sing right along! Wonderful memories.
And it seemed that the Jesus they sang about was loving and kind and wanted to "save" us, but Jesus' Father was angry and stern, and we were in real danger from Him. I confess, this image of Jesus and His Father confused me. I bet it confuses a lot of folks. So, how are we supposed to think about this? What's the clear and wise way? As with most of these profound truths, the clear way is through the hard work of being Orthodox on Purpose!
Look at our lesson today in Ephesians 2:4-10:
BRETHREN, God who is rich in mercy, out of the great love with which he loved us, even when we were dead through our trespasses, made us alive together with Christ (by grace you have been saved), and raised us up with him, and made us sit with him in the heavenly places in Christ Jesus, that in the coming ages he might show the immeasurable riches of his grace in kindness toward us in Christ Jesus. For by grace you have been saved through faith; and this is not your own doing, it is the gift of God: not because of works, lest any man should boast. For we are his workmanship, created in Christ Jesus for good works, which God prepared beforehand, that we should walk in them.
Paul is writing to the Ephesian Church and he is attempting to get them to embrace a real vision of God that is both clear and forgiving. God expects us to wake up AND He has every intention of being merciful TO us, even when we stumble. We are called to wake up and repent!
By the way, it's important to note that when the scriptures use the word "God" this is usually referring to God the Father. As I've told my Genesis class over and over again: When we say "God" we mean The Uncreated. We mean The Holy Trinity. We mean The Father.
So, notice how St. Paul describes God, the Father: He is "rich in mercy." He acts out of "great love with which He loved us" even before we knew we needed Him. And He has made us alive, rescued us from death, "with Jesus Christ." This description of God, the Father is very much different from how too many think of God today, if they think of Him at all. This vision of God, the Father is the reality and not the deluded fantasy of an "angry God" Who throws people into hell if they don't act like He wants.
So, Paul, as well as the whole of the timeless Orthodox Faith through the ages, insists that what will save us is a reordering of our attitudes and thoughts about Who God is in the first place. He isn't subject to fits of anger and rage if we do wrong. That would mean that I have power over God Himself. I can disturb God's peace. I can control God's mood! Do you see where this is going? If this is true then my greatest arrogance AND my greatest fear is true: I'm God! I have power over the Creator. I can make God "feel" anger or wrath or disappointment. The whole intent of the evil one in his subtle lies to Adam and Eve are still affecting us today. That serpent always wanted us to think we could control God and be god without God!
But no, our God saves us from such a delusion by granting us true life in Christ. He rescues us from the futility of our thinking by giving us His life instead of the darkness of confusion and the slavery of untamed passions. And He does this because He loves us and has always intended for us to be "like" Him, just not on our shortsighted terms, but on His "immeasurable riches of His grace."
So, today, let's abandon the false view of God, the Father, and willingly embrace the "amazing grace" of a God Who loves us and saves us from the darkness of fantasy into the true life of being Orthodox on Purpose!
P.S. How's your Summer going? Are you remembering to remember God during these "lazy days?" Thanks to all our Patrons who are helping us during these summer months keep the lights on and pay the bills! Are you a Patron yet?