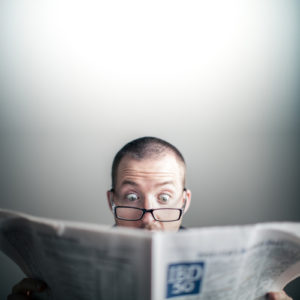 Christ is born!
OK, I've got good news and bad news, and, it turns out it's the same news.
Confused? Don't be. One man's Good News is another man's bad news, and, as usual, it depends on the condition of your desires and your perspective.
Take the financial markets, for instance. When bonds are cheap and the market is down, some folks think it's a disaster while others are making money. It just depends on how you've set up your portfolio. At other times when the reverse is true then the other side wails disaster while the group that was crying before is celebrating. You only have to go to any election night to also see this truth at work. One group is celebrating and the other group begins to predict the imminent demise of our society because of this or that election.
What's true for the markets and elections, is also true of our spiritual lives: The Message is "good" or "bad" depending on your perspective!
Look at our Lesson today in Luke 3:1-18:
…the word of God came to John the son of Zacharias in the wilderness; and he went into all the region about the Jordan, preaching a baptism of repentance for the forgiveness of sins. As it is written in the book of the words of Isaiah the prophet, "The voice of one crying in the wilderness: Prepare the way of the Lord, make his paths straight. Every valley shall be filled, and every mountain and hill shall be brought low, and the crooked shall be made straight, and the rough ways shall be made smooth; and all flesh shall see the salvation of God." He said therefore to the multitudes that came out to be baptized by him, "You brood of vipers! Who warned you to flee from the wrath to come? Bear fruits that befit repentance, and do not begin to say to yourselves, 'We have Abraham as our father"; for I tell you, God is able from these stones to raise up children to Abraham. Even now the axe is laid to the root of the trees; every tree therefore that does not bear good fruit is cut down and thrown into the fire." And the multitudes asked him, "What then shall we do?" And he answered them, "He who has two coats, let him share with him who has none; and he who has food, let him do likewise." Tax collectors also came to be baptized, and said to him, "Teacher, what shall we do?" And he said to them, "Collect no more than is appointed you." Soldiers also asked him, "And we, what shall we do?" And he said to them, "Rob no one by violence or by false accusation, and be content with your wages." As the people were in expectation, and all men questioned in their hearts concerning John, whether perhaps he were the Christ, John answered them all, "I baptize you with water; but he who is mightier than I is coming, the thong of whose sandals I am not worthy to untie; he will baptize you with the Holy Spirit and with fire. His winnowing fork is in his hand, to clear his threshing floor, and to gather the wheat into his granary, but the chaff he will burn with unquenchable fire." So, with many other exhortations, he preached good news to the people.
St. Paul called the message of the Gospel a "two-edged sword" in Hebrews 4:12. He writes "For the word of God is living and powerful, and sharper than any two-edged sword, piercing even to the division of soul and spirit, and of joints and marrow, and is a discerner of the thoughts and intents of the heart."
But this spiritual surgery is absolutely necessary if I am ever going to be able to be healed of the illness of my own self-centeredness. And even though at times this spiritual surgery is painful, inconvenient, and uncomfortable, my willingness to endure and press through my own discomfort in this process reveals whether I see the message of faith as Good news or not.
Today, the message of Jesus Christ is Good News, but make no mistake, it is also bad news to those who, out of their freedom, choose to live self-centered lives. So, it isn't a surprise when these folks react to the message of Jesus with rejection and even hatred. The same rejection follows all of us who live the Good News as well even today. It's the price for being Orthodox on Purpose!
P.S. The very first Faith Encouraged LIVE program for 2017 is this Sunday at 8 PM. Have you lost your earthly father? This past year my father died. Fr. Nick Louh's father also reposed. And Sunday we are going to share about the importance of our earthly fathers as a revelation of the Heavenly Father. I hope you'll join us. Listen Sunday at 8 PM on AncientFaith.com.