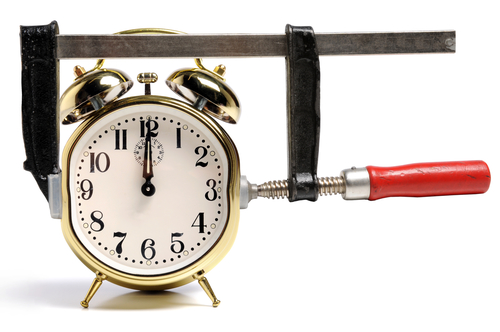 It is claimed that the great Dwight L. Moody once declared "If it's new, it's not true." Of course, I've always found that funny coming from the mouth of a Protestant!
But is this a solid saying?
It is if we keep the perspective that God is eternal, and if the Eternal God wants a relationship with you, then you are going to have to somehow share in His eternality, His timelessness if you are going to be able to enjoy being with this Timeless God.
Look at our lesson today in 2 Thessalonians 2:13-17; 3:1-5:
BRETHREN, we are bound to give thanks to God always for you, brethren beloved by the Lord, because God chose you from the beginning to be saved, through sanctification by the Spirit and belief in the truth. To this he called you through our gospel, so that you may obtain the glory of our Lord Jesus Christ. So then, brethren, stand firm and hold to the traditions which you were taught by us, either by word of mouth or by letter.

Now may our Lord Jesus Christ himself, and God our Father, who loved us and gave us eternal comfort and good hope through grace, comfort your hearts and establish them in every good work and word.

Finally, brethren, pray for us, that the word of the Lord may speed on and triumph, as it did among you, and that we may be delivered from wicked and evil men; for not all have faith. But the Lord is faithful; he will strengthen you and guard you from evil. And we have confidence in the Lord about you, that you are doing and will do the things which we command. May the Lord direct your hearts to the love of God and to the steadfastness of Christ.
What is amazing is that being trained how to embrace timelessness and enjoy eternity means being open to embrace tradition. That paradox alone is worth a book of contemplation.
But that is exactly what St. Paul teaches us today.
Paul tells these Thessalonians, who are so very occupied with stories about the Second Coming, that they have been chosen "from the beginning to be saved, through sanctification by the Spirit and belief in the Truth." So this salvation thing, according to Paul has everything to do with God's plan and purpose AND their participation in that plan and purpose!  Both the embracing of timeless truths (belief in the truth) and "sanctification" (acting on and practicing those same truths) encompasses what Paul calls "Tradition" (παράδοσις).
And the power of this Tradition isn't that it's old or even venerable. The power of tradition is that it has the ability to bear timelessness and then pass on that timelessness to the next generation. To properly embrace the power of tradition means both the humility of being taught AND the willingness to actively live this tradition.
If you've ever wondered what is the key to the Christian life, know beyond any shadow of a doubt it is the ability, the willingness to embrace tradition. Because if you can embrace tradition, you aren't embracing old teachings as much as you are embracing the people who passed on that tradition to you. Look at what Paul tells us. He says "hold firm" the tradition, no matter how you received it; either by "word of mouth" or "letter." In other words, Paul encourages us to be willing to see the timeless tradition of the Faith in the real lives of the people who lived it before us in their actions spoken and written down.
By embracing this wisdom, we set ourselves free from the temptations of merely being contemporary or relevant. We enter that perfect "school of eternity," the "holy Tradition" of the Body of  Christ, and allow the Holy Spirit to shape us into beings that can enjoy eternity.
Today, are you awake enough to the Holy Tradition of the Church to see it for what it is? The Tradition of the Church isn't merely a collection of "old" sayings or dusty practices. The Tradition of the Faith is a timeless invitation to overcome our greatest weakness, our time-bound selves, so that we can become by grace what Christ is by nature. This is absolutely the ONLY way we will ever be Orthodox on Purpose!
P.S. Each year at this time I ask you to help me pray about the next year. Many of you joined me before Thanksgiving to do just that. Now I need your help for one more goal: I need you to consider partnering with me during this Season and make a gift that sets us up for success in 2017. Your gift of $25, $50, or $100 helps us so very much. We want to start 2017 with $5000 to help us through the year. We are already over halfway there, but there's still a need. Just go to our secure PayPal link and make your gift today! Click Here to GIVE!