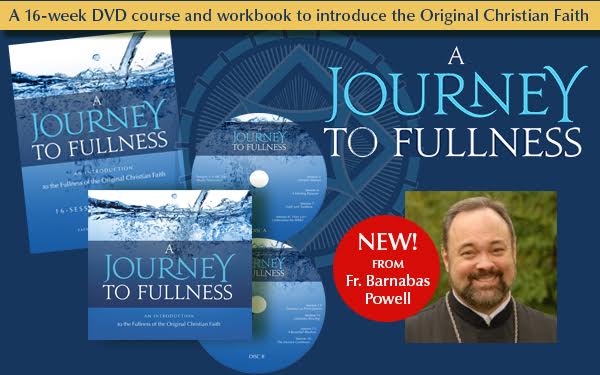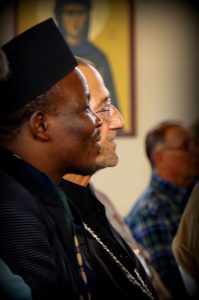 I am just back from the "Bringing Orthodoxy to America" Evangelism Conference in Portland, OR. This First Ever Evangelism Conference sponsored by the Greek Orthodox Archdiocese from a generous grant from Leadership 100 brought together a capacity crowd to St. John the Baptist Greek Orthodox Church in Beaverton, OR. And what a conference it was! There were representatives from every Metropolis of the Archdiocese and His Eminence Metropolitan Gerasimos of San Francisco as well as His Grace Bishop Athanasios of Kenya were there to pray for us and direct us.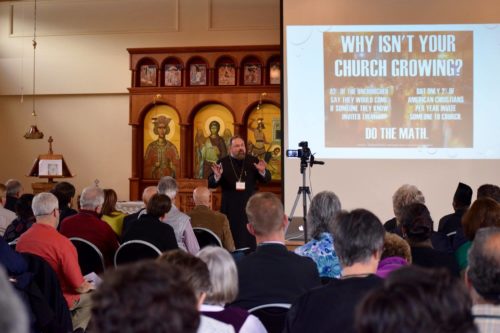 I was honored to be one of the speakers and we also used this event as the launching pad for our 16 part video and workbook outreach tool called "A Journey to Fullness."
Two volunteers with Faith Encouraged Ministries, Rick and Jan Christy, travelled with me to help us at the conference! And they sold out of all the inventory Ancient Faith Ministries, our partner in this work, brought to Portland for the conference!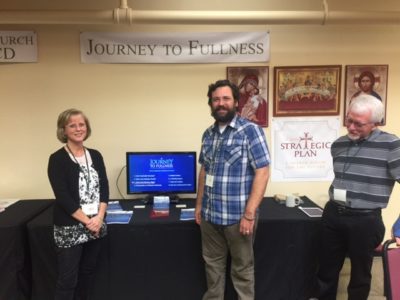 So, just a brief pause in all that's going on to say "thank you." Thanks first and foremost to God for His "unspeakable gift." Thanks to His Eminence, Metropolitan Alexios of Atlanta, for his love and oversight and vision. Thanks to our many partners who provided the money to create this series. Thanks to Joel Smith and Comprehensive Media in Nashville, TN for their expertise and generosity in doing much more than we were able to pay for! Thanks to Ancient Faith Ministries for partnering with us to produce the DVDs and the beautiful workbook and to send your materials to you! Thanks to my trusted volunteer staff (all 3 of you!) for their love and support and invaluable help! And thanks to you for being a part of Faith Encouraged Ministries. We have yet to see what God has planned for our future work, but we ask your prayers as we work daily to be Orthodox on Purpose!
Your Servant,

Fr. Barnabas Powell, parish priest at Sts Raphael, Nicholas, and Irene Greek Orthodox Church in Cumming, GA.
P.S. If you have ordered the series and workbooks, please touch base with us so we can hear the stories on how you're using the tool. Email me at email hidden; JavaScript is required. And, if you still need to order the series, just go to the Ancient Faith Store and order the series for your parish, your Sunday School class, your GOYA or Youth Group, or your Community Group gatherings. Thanks so very much!