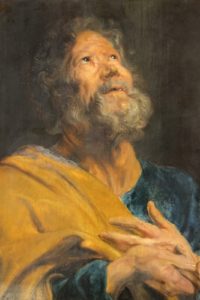 I always tell folks that God has four basic answers to our prayers: Yes, No, Wait a while, and "You've got to be kidding Me!" I confess I've heard that last one from the Lord on more than one occasion.
But what interests me the most is a prayer I pray in the Divine Liturgy every service: "Lord, You have granted us to offer these common prayers in unison and have promised that when two or three agree in Your name, You will grant their requests. Fulfill now, O Lord, the petitions of Your servants as may be of benefit to them, granting us in the present age the knowledge of Your truth, and in the age to come eternal life." Notice I ask the Lord to fulfill our petitions as may be of benefit for us, not necessarily what I want, or even what I expect, but what I need for my salvation!
Look at our lesson today in Acts 10:21-33:
IN THOSE DAYS, Peter went down to the men sent by Cornelius to him and said, "I am the one you are looking for; what is the reason for your coming?" And they said, "Cornelius, a centurion, an upright and God-fearing man, who is well-spoken of by the whole Jewish nation, was directed by a holy angel to send for you to come to his house, and to hear what you have to say." So he called them in to be his guests. The next day he rose and went off with them, and some of the brethren from Joppa accompanied him. And on the following day they entered Caesarea. Cornelius was expecting them and had called together his kinsmen and close friends. When Peter entered, Cornelius met him and fell down at his feet and worshiped him. But Peter lifted him up, saying, "Stand up; I too am a man." And as he talked with him, he went in and found many persons gathered; and he said to them, "You yourselves know how unlawful it is for a Jew to associate with or to visit any one of another nation; but God has shown me that I should not call any man common or unclean. So when I was sent for, I came without objection. I ask then why you sent for me." And Cornelius said, "Four days ago, about this hour, I was keeping the ninth hour of prayer in my house; and behold, a man stood before me in bright apparel, saying, 'Cornelius, your prayer has been heard and your alms have been remembered before God. Send therefore to Joppa and ask for Simon who is called Peter; he is lodging in the house of Simon, a tanner, by the seaside.' So I sent to you at once, and you have been kind enough to come. Now therefore we are all here present in the sight of God, to hear all that you have been commanded by the Lord."
We continue our story between the Roman Centurion (and Gentile) Cornelius and St. Peter. It's an amazing scene: Here is this Jewish fisherman, now Apostle and a leader among the newly formed Christian Church, going to visit a pious and godly Gentile who is also a Roman soldier! I love Cornelius' reaction when Peter walks into his home! What humility! What vulnerability, and Cornelius does this in front of his entire family! Wow!
Of course, Peter's reaction is just as humble but with wisdom and insight added to it! And Peter knows he is expected to offer something to these Gentiles. So, Cornelius has his entire household there and he looks at Peter and tells him they are ready to hear everything St. Peter has been commanded to tell them.
The truth is, dear ones, we never receive what we aren't willing to receive. So many times our prayers go "unanswered" from our perspective because we were unwilling to hear the answer the Lord had for us. Foolishly, we think God didn't hear us when the problem was on our end in the first place. We have to be ready to hear "all that you have been commanded by the Lord." But willingness to hear takes humility and love and trust. Without these traits, we will miss the wisdom God has for us and for our salvation.
Today, are you in a place where you are willing to hear God's wisdom for your life? Don't worry. God's isn't impatient. He'll wait, but your life won't get to the place it should be until you are ready to be Orthodox on Purpose!
P.S. We will have a very special Faith Encouraged LIVE again this coming Sunday! It will be a follow up program about the Holy and Great Council of the Orthodox Church and my special guests will be Fr. John Chryssavgis and Fr. Alexander Rentel. That's this coming Sunday night at 8 PM on AncientFaith.com