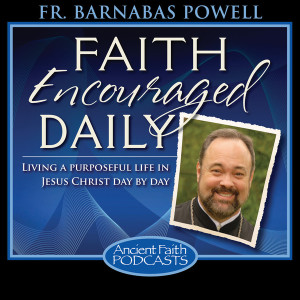 Dear Friends of Faith Encouraged Ministries,
Our daily devotional is taking a week's hiatus as Fr. Barnabas recovers from a medical challenge. Father will be having some tests done this week and asks your prayers as he recovers and takes a bit of a break from his daily devotionals.
Thank you for all who have sent encouraging notes and kind emails. It is Father's intention to resume daily devotionals next week, God willing.
In the meantime, please pray for Fr. Barnabas and visit and support his video project "A Journey to Fullness" by going to www.JourneytoFullness.com and scroll to the bottom of the page and consider a fiancial gift to support the writing and design phase of this important project. Or go to www.faithencouraged.org and click on the PayPal donation button there. All donations to Faith Encouraged Ministries are tax-deductible.
And check out Fr. Barnabas' weekly homilies and the Live call in program Faith Encouraged LIVE.
God bless us all as we stay focused on finishing our spiritual journey of Great Lent well. See you next week.
Your servants at Faith Encouraged Ministries
P.S. You can email Fr. Barnabas at email hidden; JavaScript is required
Faith Encouraged Ministries is a 501(c)3 nonprofit committed to encouraging a robust practice of the timeless Orthodox Christian Faith.