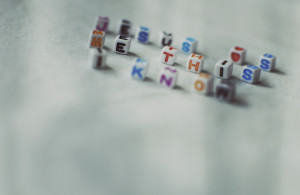 I love learning big words. Ever since I watched "Mary Poppins" so many years ago and "learned a word to spite me aching nose" I have been fascinated with vocabulary. So, when I heard the word "epistemology" I was over the moon to learn all I could!
Epistemology is "the theory of knowledge, especially with regard to its methods, validity, and scope. Epistemology is the investigation of what distinguishes justified belief from opinion." Told you it was worth it! How do we "know" something? What distinguishes an opinion from a fact? This is the philosophical work of epistemology and it is a significant work, because all of us have a system of epistemology that helps us do this kind of work in our heads. Now the question is is our epistemology sound?
Look at our Lesson today in Romans 8:28-39:
Brethren, we know that in everything God works for good with those who love him, who are called according to his purpose. For those whom he foreknew he also predestined to be conformed to the image of his Son, in order that he might be the first-born among many brethren. And those whom he predestined he also called; and those whom he called he also justified; and those whom he justified he also glorified.
What then shall we say to this? If God is for us, who is against us? He who did not spare his own Son but gave him up for us all, will he not also give us all things with him? Who shall bring any charge against God's elect? It is God who justifies; who is to condemn? Is it Christ Jesus, who died, yes, who was raised from the dead, who is at the right hand of God, who indeed intercedes for us? Who shall separate us from the love of Christ? Shall tribulation, or distress, or persecution, or famine, or nakedness, or peril, or sword? As it is written, "For thy sake we are being killed all the day long; we are regarded as sheep to be slaughtered." No, in all these things we are more than conquerors through him who loved us. For I am sure that neither death, nor life, nor angels, nor principalities, nor things present, nor things to come, nor powers, nor height, nor depth, nor anything else in all creation, will be able to separate us from the love of God in Christ Jesus our Lord.
St. Paul insists that "we KNOW (emphasis mine) that in everything God works for good with those who love him, who are called according to his purpose." Paul is writing to the Church in Rome in anticipation of him coming to visit and work with the Roman Church. This Church is made up of both Jews and Gentiles and is extremely influential since it is the Church formed in the capital of the Empire. St. Paul has been encouraging these Roman Christians to stay faithful and to deal with their proximity to power in a Christian way, especially since the Christians were a minority and a persecuted minority at that.
St. Paul gives these Roman Christians, and, by extension, us as well, three powerful insights to prove his insistence that we can KNOW God is at work in everything in our lives for good!
First, St. Paul tells us that God will work good from everything in our lives BECAUSE we who love Him are meant to be LIKE Him! Some have tried to make this verse say that God "predestined" some to be saved. But the verse is building on St. Paul's sure knowing that God is at work for good in our lives because His Purpose is to make us like Himself! And being like Him is what we need above all things.
Next, St. Paul reminds us that God is "for us." God has no ulterior motives. He wants us to achieve our true purpose to be like Him. And if He's on our side, we KNOW nothing in our lives can destroy us if we stay focused on His Purpose for us!
Finally, St. Paul reminds us that nothing can separate us from God. There is no power stronger than His Purpose for us. Nothing external, no problem, no power, no persecution is stronger than His love for us. The only thing that can separate us from Him is our own self-will focused on comfort and ease rather than His Purpose for our lives to be made Like Him!
Today, do you KNOW that everything in your life is meant and intended for the good of making you like Christ? Nothing is stronger than God's purpose for you if you will KNOW this in every circumstance. Do this and you will understand why you are called to be Orthodox on Purpose!
P.S. Thank you for your prayers for our "A Journey to Fullness" Video project. We go into production this month on the 26th and 27th. Would you be so kind as to share this link with your friends and family and ask them to sign up for news about the progress of this project? Just go to www.JourneytoFullness.com and add your email address to the grwoing list of people excited about this project! Thanks!