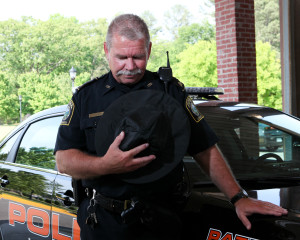 Well, the truth is I was worried (OK, actually worried and scared). I had never faced anything like this before and all I had ever heard was this situation was serious. And it was. But as I stood there waiting to face the music I so dreaded, I noticed something. My worry and fear were making things worse. These emotions and feelings were clouding my judgement, and that was dangerous. You see, I was responding to my very first burglary call when I was a young police officer, and all my worries and fears were actually putting my life in danger! I was imagining all kinds of scenarios and all this attempt at future-telling was making things worse. It was a false alarm! (Thank God!)
But that got me to thinking. If this initial reaction of worry and fear was actually harmful, then how do I avoid that very understandable initial reaction to troubles and challenges?
Look at our Gospel Lesson in Luke 12:8-12:
The Lord said to His disciples, "Every one who acknowledges me before men, the Son of Man also will acknowledge before the angels of God; but he who denies me before men will be denied before the angels of God. And every one who speaks a word against the Son of Man will be forgiven; but he who blasphemes against the Holy Spirit will not be forgiven. And when they bring you before the synagogues and the rulers and the authorities, do not be anxious how or what you are to answer or what you are to say; for the Holy Spirit will teach you in that very hour what you ought to say."
The Lord commands us to "do not be anxious" when we are faced with standing up for our faith, living our faith, even in a hostile society. But that only becomes possible when we embrace the path to that place where our tendency toward fear is swallowed by confidence and faith.
The First Step on that path is Acknowledgement. If I am ever going to be free from anxious living and have the right words to say at the right time, I have to start by embracing the truth that I am a follower of Jesus Christ. I will never be free from anxiousness while I am unwilling to declare my allegiance to Jesus Christ. That tepid way of living where I try to live with one foot in the Church and the other foot in secular society will always lead me to quick denial when I am confronted as a Christian.
The Next Step is to Accept. I am called to accept that I will not be seen as a "friend" to the society that finds it easy to blaspheme the Spirit. Knowing I will not be counted on as a supporter of a society that has forgotten wisdom sets me free to be unconcerned that I am considered "Old fashioned" or "nothing but a bigot" or "not very sophisticated." My allegiance to the Faith means I don't live in the delusion that I am one of the "cool kids." I'm free from that burden!
The Final Step is to Embrace. When the moment comes where I am confronted with the choice of being rejected by those who also reject Christ or to water down my witness by trying to "fit in" in a society that hates what I love, I will be given the words to say that are inspired and provided by the Spirit of Christ at work in me. All I have to do is rest and embrace the truth of this intimate connection with God through His Spirit.
Today, are you worried, scared, overwhelmed by life? How is your connection to God? Are you following the Path that leads to confidence and peace, or is life filled with anxiousness because you're unsure of where you're headed? Today is the day to renew your focus on building intimacy with God by practicing this timeless faith through prayer, fasting, and almsgiving. If you do, when the time comes, you'll not only have the words to say, you'll also be an example for others to follow! You'll be Orthodox on Purpose!
P.S. Thanks so much for your notes last week! One person wrote: "As a recent convert to the Orthodox faith, I find your daily devotionals quite helpful; the subjects are usually right at the time I need them." You can always send me a message at email hidden; JavaScript is required. Have a great weekend.