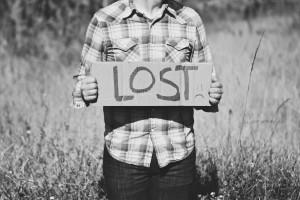 We moderns love systems. What I mean is we read all the time about "10 Ways to Boost Your Metabolism," "4 Steps to a New You!," "8 Days to a Clean House!," and so on. We simply can't resist clicking on those links to read those stories. We seem desperate to find the right "system" to address our worries, concerns, and hopes.
And yet, all too often, these articles are filled with advice we already know!
But the truth is, we already know how to be happy in life. We already know what it takes to succeed. We already know how to lose weight, grow a business, or pass a test. What we need is the "want to" to accomplish what we already know. What we need are the relationships that foster and support our good choices. What we need is communion, community, and intimacy with God and others!
And guess what, there are three indispensable steps toward getting that need met! (Ha, I bet you saw that coming!)
Look at our very familiar Gospel Lesson in Luke 11:1-10:
At that time, Jesus was praying in a certain place, and when he ceased, one of his disciples said to him, "Lord, teach us to pray, as John taught his disciples." And he said to them, "When you pray, say: 'Father, hallowed be your name. Your kingdom come. Give us each day our daily bread; and forgive us our sins, for we ourselves forgive every one who is indebted to us; and lead us not into temptation.'" And he said to them, "Which of you who has a friend will go to him at midnight and say to him, 'Friend, lend me three loaves; for a friend of mine has arrived on a journey, and I have nothing to set before him'; and he will answer from within, 'Do not bother me; the door is now shut, and my children are with me in bed; I cannot get up and give you anything'? I tell you, though he will not get up and give him anything because he is his friend, yet because of his importunity he will rise and give him whatever he needs. And I tell you, Ask, and it will be given you; seek, and you will find; knock, and it will be opened to you. For every one who asks receives, and he who seeks finds, and to him who knocks it will be opened."
These three indispensable steps toward communion are Ask, Seek, and Knock. Ask equals desire. The truth is dear one, we never grow beyond our desire. Tell me what you truly desire and I'll tell you who you really are. It is little wonder Jesus was constantly asking others "What do you want?" It's the reason we Christians are constantly taught to desire first God's will, because it is only in having our desires transformed that we will ever be who we were created to be!
Next, our transformed desire must then become active! We must Seek. We must press. We must labor. It is never enough to simply pray for God's will. We must add an active pursuit of His will by knowing the Faith, practicing the disciplines, and praying without ceasing.
Finally, we must not be timid to knock when we arrive at His will for our lives. We must knock. This is both humbling and bold. We don't ever "demand" of God. How foolish those who childishly think they can "hold God to His word." Those folks never knock, they just burst through the door as petulant children. The Father knows these folks are still too immature to ever be ready for His will. But the wise seeker of God's will knocks in humble love and obedience with full confidence that, if this is the right door, it will be opened for him.
Today, do you know what you really want? Are you actively pouring your best energies into looking for this? And, are you willing to humble yourself to knock with full expectation that the right door will be opened for you? If so, get ready to live the life you were meant to live, because you will be Orthodox on Purpose!
P.S. "A Journey to Fullness" Video Project continues to grow in our funding effort, and you are the reason! Thank you. We have a goal to achieve our half way mark before the Christmas season and the end of the year. Will you help me create this video series of 20 fifteen minute vignettes, plus a student workbook and a facilitator's guide that will help our parishes introduce our Orthodox Faith to the average person? Go to JourneytoFullness.com where you can make your tax-deductible gift in a safe and secure way! Thank you!