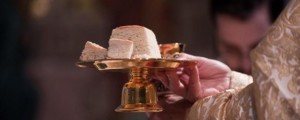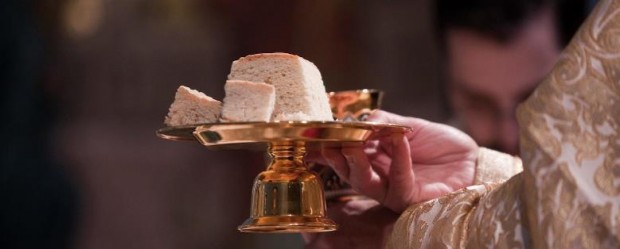 St. John Chrysostom said: "Happiness can only be achieved by looking inward and learning to enjoy whatever life has and this requires transforming greed into gratitude." I can't tell you how many people I've talked to, counseled, and known who find themselves gripped by either regret or disappointment with their lives, and, invariably, these people suffer great pain that disguises itself as anger, bitterness, or despondency. But, the heart of the Christian faith is the response of Gratitude.
And yet we Christians live without joy precisely because we fail to appreciate and embrace and be embraced by the central truth of the Christian faith – true freedom. Freedom from the fear of death. Freedom from the subtle trap of regret. Freedom to become what we were created by God to be – like Christ, and free to enjoy God forever.
So, what is the root of this forgetfulness? It has to be the blindness of our hearts to the very core of Christianity – the Holy Eucharist. What St. Ignatius called in his epistle written in the earliest centuries of the Faith "the medicine of immortality." It is why we call the Eucharist the Eucharist. The word itself is the revelation of its reality. "Eucharist" is based on the Greek word for "thank you" and contains within itself the message of freedom that should set the Christian's heart free no matter what the outward circumstances of that believer's life.
Look at Mark 8:1-10:
At that time, when again a great crowd had gathered, and they had nothing to eat, he called his disciples to him, and said to them, "I have compassion on the crowd, because they have been with me now three days, and have nothing to eat; and if I send them away hungry to their homes, they will faint on the way; and some of them have come a long way." And his disciples answered him, "How can one feed these men with bread here in the desert?" And he asked them, "How many loaves have you?" They said, "Seven." And he commanded the crowd to sit down on the ground; and he took the seven loaves, and having given thanks he broke them and gave them to his disciples to set before the people; and they set them before the crowd. And they had a few small fish; and having blessed them, he commanded that these also should be set before them. And they ate, and were satisfied; and they took up the broken pieces left over, seven baskets full. And there were about four thousand people. And he sent them away; and immediately he got into the boat with his disciples, and went to the district of Dalmanutha.
We have heard this story before how our Lord took what little the people had and multiplied it into Enough! The scriptures tell us they ate until they were "satisfied." The circumstances were bleak. The crowd had been following the Lord for three days. They had submitted to the task of learning from Him, being fed spiritually by Him, and now they were in a deserted place and, if they were sent away now, some of the people wouldn't get home before they fainted from hunger. What's more, the provisions they had available weren't enough to feed one family not to mention the thousands that were there.
But, as usual, the Lord doesn't require us to do this by ourselves. He takes what we give and makes it "enough." We don't squander the moment of opportunity by focusing on what we don't have. We gratefully and trustingly make available what we do have and God makes it "enough!" How can we see God do this time and time again in our lives and foolishly think doubt or greed will ever bring us joy?
Today, exchanging greed for gratitude; abandoning doubt for joy, is the birthright of every person who dares to trust that God will make "enough" from our provisions offered in childlike trust. Standing in the Liturgy and hearing the call of Christ as the priest steps through the Holy Gate and calls out to the faithful "With the fear of God, with Faith and Love, draw NEAR!" Embracing the Eucharist as gratitude and joy offers you and me the eternal invitation to abandon doubt and fear for the freedom of being Orthodox on Purpose!
P.S. We finish our third week of our campaign to create a 20 video series to introduce this life-giving faith to the average person 35% of the way to our challenging goal of $85,000. Have you considered being one of our partners to help us reach that goal? Please pray and ask the Lord if this is a project you should support, an then go to "A Journey to Fullness" fundraising page and join me in doing something worthy to share this faith with others. Thank you. Have a great weekend.