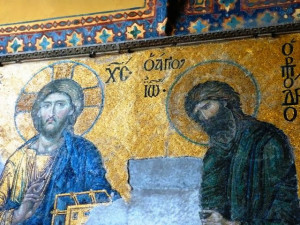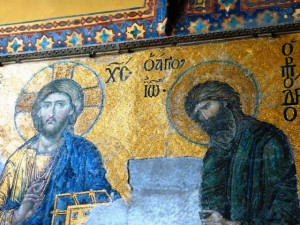 My grandfather was my hero. Growing up, he was such a strong figure in my young life that I almost thought of him as something other than a mere human. He was an Atlanta police officer and would sometimes bring his police car home and let me sit in the front seat and turn on the "blue light." Plus, Pawpaw was a master story teller. He would captivate all his grandchildren with story after story of close calls, quick actions, and car chases! Pretty exciting stuff. My Pawpaw was my hero.
And having heroes is very important. In fact, there is a whole academic understanding as to the power of the concept of "hero" in literature and fables and myths. All of human society has stories and myths about heroes. There is always that "larger than life" figure that is brave enough, faithful enough, strong enough, and wise enough, to overcome what would sweep away we "mere" mortals. From sports figures, to entertainers, to scoutmasters, to teachers, to all kinds of leaders, all human society has heroes.
Now what if the Greatest Man Who ever lived said this about another man: "Truly, I say to you, among those born of women there has risen no one greater than John the Baptist…" "Among those born of women" pretty much covers everybody! And Jesus says that there is no one greater than His cousin, John. Amazing praise, but that isn't the whole passage!
Look at our Gospel Lesson today in Matthew 11:2-15:
At that time, when Jesus had finished instructing his twelve disciples, he went on from there to teach and preach in their cities. Now when John heard in prison about the deeds of the Christ, he sent word by his disciples and said to him, "Are you he who is to come, or shall we look for another?" And Jesus answered them, "Go and tell John what you hear and see: the blind receive their sight and the lame walk, lepers are cleansed and the deaf hear, and the dead are raised up, and the poor have good news preached to them. And blessed is he who takes no offense at me." As they went away, Jesus began to speak to the crowds concerning John: "What did you go out into the wilderness to behold? A reed shaken by the wind? What then did you go out to see? A man clothed in soft raiment? Behold, those who wear soft raiment are in kings' houses. What then did you go out to see? A prophet? Yes, I tell you, and more than a prophet. This is he of whom it is written, 'Behold, I send my messenger before your face, who shall prepare your way before you.' Truly, I say to you, among those born of women there has risen no one greater than John the Baptist; yet he who is least in the kingdom of heaven is greater than he. From the days of John the Baptist until now the kingdom of heaven has been coming violently and men of violence take it by force. For all the prophets and the law prophesied until John; and if you are willing to accept it, he is Elijah who is to come. He who has ears to hear, let him hear."
Things are beginning to turn against the Lord in His earthly ministry, and the first sign of trouble was the arrest of St. John. Of course, this turn of events made John question whether Jesus was actually the One he had been waiting for, so Jesus sends word to John that all the promises of the coming of the Messiah are being fulfilled in His work with suffering people. That lets John know this prison sentence will be his last since the Messiah is here and his ministry as Forerunner is done.
But the Lord also tells the crowd gathered around Him that John was no ordinary prophet, but The Prophet foretold to come to prepare the way for the Messiah, and this ministry of John's will bless the whole world by making the way for the Messiah plain and clear, just like the prophecies declared. In fact, Jesus tells the crowd, that there has never been anyone born of a woman that is greater than John! He's a hero for the whole world!
Jesus adds a word for you and me in His final statement. He tells us that everyone (including you and me) who participate in the New Kingdom Christ establishes is greater because they live in the fullness of the Lord's finished work.
Today, as we recall one who prepared the way for the Lord, that hero of the Faith St. John, we are encouraged to see that even though we may doubt, our story isn't over. And if we have the courage to embrace the new Kingdom Jesus establishes in our hearts through His Church, we will enjoy the blessings of that eternal Kingdom to shape us, mold us, and grow us into the likeness of Him Who loves us more than we, ourselves, know how to love. And all because we choose to be Orthodox on Purpose!
P.S. Did you miss last night's Faith Encouraged LIVE program? All you have to do is go to show archives and listen to the recording. I'm grateful to my special guest, Adam Roberts, for joining us last night and helping us learn how to share our Orthodox Faith with those around us! I am also grateful to you for your enthusiastic support for the Faith Encouraged Ministries video project! Go to FaithEncouraged.org and keep up with this exciting outreach effort!