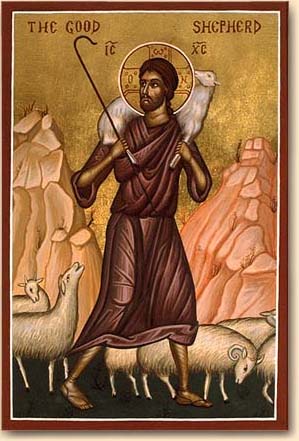 Christ is risen!
Wow, we humans are an insecure lot! The pharmaceutical companies have exploded with growth providing Americans with "medicine" to help us overcome all kinds of diseases of the psyche.
But, instead of eternally medicating symptoms, what if we could do the harder work of getting to the root of the problem in our souls? What if we began the internal journey of honest discovery at the heart of our insecurities and fears?
To be sure, our society is absolutely filled with folks who are more than happy to suggest this or that remedy to our challenges. And there are certainly helpful insights from medicine as to how to quiet our symptoms enough so that we can finally get to the heart of the problem. But how do we measure the effectiveness or even the spiritual safety of this "advice?" And what is at the heart of our insecurities? Why do we always demand more "proof" and even the veiled hunger for constant reassurance that we are "OK?"
At the heart of this all too human reality that we all struggle with the "fear" that was instilled in us in the Garden. You remember the scene; Eve, our first mother, was talking to that old serpent and the serpent said to her "Has God indeed said, 'You shall not eat of every tree of the garden'?" (Genesis 3:1) The enemy knew that if he could introduce doubt in the heart of our parents, he could perpetuate this stubborn fear through our race and delay or even enslave us to a poverty of soul that leads to death. And it is truly our love for God that "casts out fear." It has been the enemy's expressed and first desire to introduce doubt and impugn the character of the Father since the beginning. And, to this day, this is his first weapon of choice in my heart! Doubt the goodness of God and the sickness grows in my life!
Is it any wonder the people who were living in the very Day of our Lord's life and ministry on earth, even with God Himself in the flesh among them, simply couldn't bring themselves to dare to believe that He really was the Son of God?
Look at our Gospel Lesson this morning. In John 10:17-28:
The Lord said to the Jews who came to him, "For this reason the Father loves me, because I lay down my life, that I may take it again. No one takes it from me, but I lay it down of my own accord. I have power to lay it down, and I have power to take it again; this charge I have received from my Father."

There was again a division among the Jews because of these words. Many of them said, "He has a demon, and he is mad; why listen to him?" Others said, "These are not the sayings of one who has a demon. Can a demon open the eyes of the blind?"

It was the feast of the Dedication at Jerusalem; it was winter, and Jesus was walking in the temple, in the portico of Solomon. So the Jews gathered round him and said to him, "How long will you keep us in suspense? If you are the Christ, tell us plainly." Jesus answered them, "I told you, and you do not believe. The works that I do in my Father's name, they bear witness to me; but you do not believe, because you do not belong to my sheep. My sheep hear my voice, and I know them, and they follow me; and I give them eternal life."
The Lord directly confronts this human tendency to see and yet refuse to dare to believe. Listen to this exchange between Jesus and those who are standing around Him in the Temple. They saw His works, they witnessed His miracles. They heard His preaching and teaching and they still refused to believe! With all this "proof" in front of them, they were still wanting more. But that is always the way with folks who are constantly asking for proof. No matter how much you give them, it is never enough if they don't want to believe in the first place.
Today, the eternal demand for "more proof" reveals a heart filled with fear. And fear has always been a lousy motivator to freedom and spiritual health. That's why all spiritual disciplines meant to increase fear always lead to deeper spiritual slavery. But what about the command to "fear God?" Yes, indeed, but this "fear" isn't the "I'm afraid of Him" as much as it is "I stand in utter awe of Him Who has no beginning and no end, and He loves me!" That nuanced understanding sets us free from the debilitating fear that leads me to doubt that God is truly Good and loves me more than I, myself, know how to love. It is that faith that makes me Orthodox on Purpose!
P.S. Thank you so very much for your notes of encouragement to the ministry. It encourages us all. If this daily devotional is a help to you, would you let us know by emailing us at email hidden; JavaScript is required. Thanks and God bless.