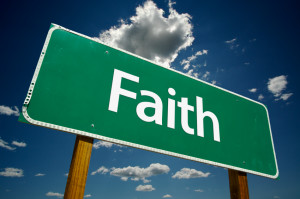 Christ is risen!
You should have seen the look on their faces when I told them what we needed to raise to accomplish our task! The looks ranged from the shocked to the sceptical to the angry! It seemed impossible for us to reach our goal without some "donor on a white horse" riding to our rescue. Of course, I also got the familiar promise "If I win the lottery…"
What is at the heart of our doubt? For me, it's my fear. I am afraid to commit to something I may fail at. I don't want to be embarrassed or seen as a failure. And yet, if there really is a God, if He really has conquered death, can you name one situation that is really beyond His reach?
Soon we will celebrate the Feast of Pentecost. The Sundays after Pascha have all confronted us with people in impossible situations, and this coming Sunday is no exception, The Blind man will be confronted with the Creator made flesh and we'll hear his familiar story all over again and be confronted ourselves with the weakness of even the worst situations in life in the face of Him Who makes the impossible possible.
Look at our Gospel Lesson today in John 6:5-14:
At that time, Jesus, lifting up his eyes and seeing that a multitude was coming to him, said to Philip, "How are we to buy bread, so that these people may eat?" This he said to test him, for he himself knew what he would do. Philip answered him, "Two hundred denarii would not buy enough bread for each of them to get a little." One of his disciples, Andrew, Simon Peter's brother, said to him, "There is a lad here who has five barley loaves and two fish; but what are they among so many?" Jesus said, "Make the people sit down." Now there was much grass in the place; so the men sat down, in number about five thousand. Jesus then took the loaves, and when he had given thanks, he distributed them to those who were seated; so also the fish, as much as they wanted. And when they had eaten their fill, he told his disciples, "Gather up the fragments left over, that nothing may be lost." So they gathered them up and filled twelve baskets with fragments from the five barley loaves, left by those who had eaten. When the people saw the sign which he had done, they said, "This is indeed the prophet who is to come into the world!"
Jesus asks the question of St. Philip "How are we to buy bread, so that these people may eat?" And Philip has the same reaction that these folks did when we had to confront the cost of our own task at hand. He names a huge number for the day, what was equivalent of eight months salary for an average worker of the day, and confesses the impossibility of being able to feed these folks!
But, once again, the problem isn't that the need is great; the problem is the short sightedness of disciples who still don't get just Who is in their midst!
Andrew, Peter's brother makes an observation that seems to be silly in light of the need: "There's a boy here with five loaves and two small fish." His mom had packed him a lunch and this little bit is all the disciples have. But that little bit is enough (in fact, more than enough) when you add in the factor of the Creator's presence!
We all know the story well. The Lord takes what is freely offered in faith and He makes it more than enough. Everyone is fed and, so as not to waste the grace of God, they pick up the leftovers and discover the leftovers is many times what was first blessed and given out!
In our own lives, we face a multitude of "impossible" situations in our relationships, in our careers, in our churches. We find it easy to make excuses why our churches go begging needing resources that would finally properly honor the dignity of the faith we say we love and believe. We keep living beneath our means all because the task swallows our confidence in ourselves and we are afraid. And that fear keeps us locked away in a place where our children see all kinds of resources for other things, all the while the potential of our parishes languish. Brothers and sisters, these things ought not to be!
Soon we will witness once again the sending of the Holy Spirit; God Himself come to empower each follower of Jesus to do the impossible – to become by grace what Christ is by nature. The world groans in slavery to their passions, longing for someone to dare to offer what they have to the Creator and watch as the Creator not only meets the need but has an abundance left over to "feed" even more people and fill their spiritually hungry souls with the "food" that makes a man free. And that Spirit is given to us by the Church freely. We have everything we need to follow Christ, and yet we are cowed into mediocrity by our fear.
Today, what do you have? Does it look so paltry and small that you are almost ashamed to offer it? Trust that your Creator is standing there waiting for you to dare to trust that what you offer is always more than enough when you bring it to Him! Trust that the God Who makes the impossible possible will do as He has always done when we dare to believe and love Him above our own doubts and fears. Today, as Pentecost looms in the distance, dare to be Orthodox on Purpose!
P.S. We would love to hear your stories of "impossible" situations made possible by trusting in God's grace. Email us at email hidden; JavaScript is required and help strengthen the faith of others by acknowledging God's grace in your own life!