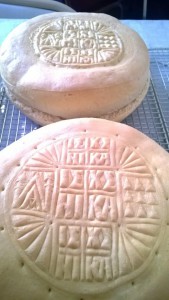 Christ is risen!
"You are what you eat!" That has always been a terrifying saying to me, especially as I constantly struggle with eating well rather than the "convenience eating" that always gets me in trouble. It seems we humans really do want to eat well. We create "food pyramids" and healthy eating tips and cauliflower pizza crust (a real thing! I saw it on the internet!). The Federal Government is always coming out with "new" information, "for our own good" of course, to tell us how we should be eating!
By the way, guess which generation is the most "obese?" It's the generation that is always talking about "organic" this and "organic" that. Yep, the 21-36 year olds known as the "Millennials." Hmm.
The truth is, it matter what you eat. Your human body was meant to have a balanced diet, to exercise, and to rest. The madness of today's pace and the over-scheduled lives even our children lead, all feed a lack of balance that creates consequences for all of us. Our bad habits cost money. Our bad habits cost time. Our bad habits end up killing us!
And we know it! No matter how much we preach at ourselves or are preached at by others, until that spark goes off in our hearts and heads to be disciplined and balanced, it's just so much good advice that goes in one ear and out the other.
Now, let's go further with this and say that what is true of our physical bodies is also true of our spiritual lives. A disciplined balance in spiritual "food" is necessary to have a healthy and happy soul! And yet, we watch every calorie but neglect the feeding and care of our own spiritual lives. While it is truly tragic that you and I destroy our physical bodies with junk food, our destructive neglect of our spiritual food has eternal consequences!
Look at our Gospel Lesson today in John 6:27-33:
The Lord said to the Jews who came to him: "Do not labor for the food which perishes, but for the food which endures to eternal life, which the Son of man will give to you; for on him has God the Father set his seal." Then they said to him, "What must we do, to be doing the works of God?" Jesus answered them, "This is the work of God, that you believe in him whom he has sent." So they said to him, "Then what sign do you do, that we may see, and believe you? What work do you perform? Our fathers ate the manna in the wilderness; as it is written, 'He gave them bread from heaven to eat.'" Jesus then said to them, "Truly, truly, I say to you, it was not Moses who gave you the bread from heaven; my Father gives you the true bread from heaven. For the bread of God is that which comes down from heaven and gives life to the world."
Jesus confronts the Jews who come to Him with this very idea: don't work so hard for physical food and neglect the spiritual nourishment your life desperately needs. So they switch and ask Him about doing the works of God and He tells them: "This is the work of God, that you believe in him whom he has sent." The work of God that you are to do is to believe! Of course that wasn't enough for this crowd. They wanted to see some sign, some "proof" and they reminded the Lord of the manna in the desert that their forefathers ate. Jesus reminds these dear folks that Moses didn't feed them in the desert; God did and now God is doing it again by sending the true Bread from heaven to feed our real hunger and not merely to fill our physical bellies which will only get hungry again!
Your life and my life is made for balance, true nutrition, and focused discipline. All the broken world is set on upsetting that balance and sending us off on some binge on this or that temporary "feast." But Jesus comes and says to us "Whoever eats My flesh and drinks My blood has eternal life, and I will raise him up at the last day. For My flesh is food indeed, and My blood is drink indeed. He who eats My flesh and drinks My blood abides in Me, and I in him. As the living Father sent Me, and I live because of the Father, so he who feeds on Me will live because of Me. This is the bread which came down from heaven—not as your fathers ate the manna, and are dead. He who eats this bread will live forever." (John 6:54-58)
Today, what are you feeding your soul? Is it the healthy diet of the Liturgy, the lives of the saints, the Holy Scriptures, and the wisdom of the faith? Or is it the easy pop psychology of modern self-help religion that always leaves the soul "fat" with empty calories and "processed" spiritual food! Why not get on a balanced spiritual diet that makes your soul healthy and satisfied by doing what's right instead of what's popular? Why not join me as we seek to be Orthodox on Purpose?
P.S. I have a prayer request: Please pray for our local parish here is Cumming. We have the wonderful problem of too many people and not enough space! And you know that that means! By the way, I'd love to pray for you as well. Email me at email hidden; JavaScript is required!