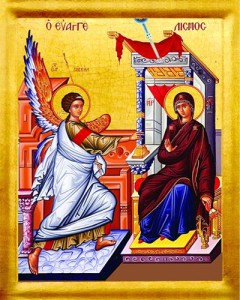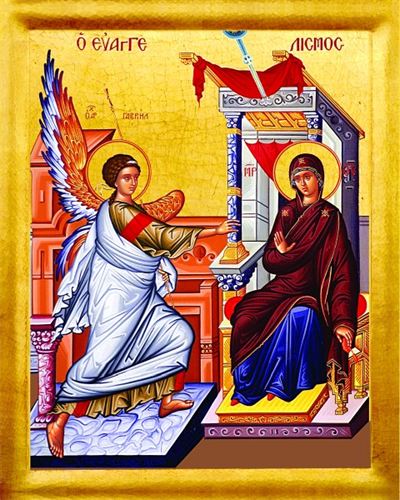 This is the crux of the matter. This is the issue that stands at the heart of the human conflict about God. This is the basic difference between Christianity and all other forms of religion. This is a big deal!
She said "Yes!"
Right here during our Lenten journey the Church brings us to one of the six feasts of the Theotokos, the Virgin Mary. And it is the Feast of the Annunciation. Of course you know this story well. God sends the angel Gabriel to a virgin engaged to a man named Joseph and the angel (interestingly, the Greek word for "angel" is literally "messenger." That's a big hint by the way!) tells this young lady that she is going to have a baby, but that this Baby will be "the Son of the Most High."
Let me set this up for you from an historical perspective. The Jewish people had by this time been expecting, preparing for, and looking for the Messiah for thousands of years. Every Jewish man knew the prophecy. Every Jewish woman wondered if she'd be the mother of the Messiah. Every Jewish generation to this point expected to be the generation that witnessed the coming of the Messiah. In other words, the Jewish people were well prepared for this event! And here it was! And here she was! And here He comes!
Look at the passage we read on today's Feastday from Luke 1:24-38:
In those days, Elizabeth the wife of Zacharias conceived and for five months she hid herself, saying, "Thus the Lord had done to me in the days when he looked on me, to take away my reproach among men." In the sixth month the angel Gabriel was sent from God to a city of Galilee named Nazareth, to a virgin betrothed to a man whose name was Joseph, of the house of David; and the virgin's name was Mary. And he came to her and said, "Hail, O favored one, the Lord is with you! But she was greatly troubled at the saying, and considered in her mind what sort of greeting this might be. And the angel said to her, "Do not be afraid, Mary, for you have found favor with God. And behold, you will conceive in your womb and bear a son, and you shall call his name Jesus. He will be great, and will be called the Son of the Most High; and the Lord God will give to him the throne of his father David, and he will reign over the house of Jacob for ever; and of his kingdom there will be no end." And Mary said to the angel, "How shall this be, since I have no husband?" And the angel said to her, "The Holy Spirit will come upon you, and the power of the Most High will overshadow you; therefore the child to be born will be called holy, the Son of God.

And behold, your kinswoman Elizabeth in her old age has also conceived a son; and this is the sixth month with her who was called barren. For with God nothing will be impossible." And Mary said, "Behold, I am the handmaid of the Lord; let it be to me according to your word." And the angel departed from her.
The significance of this moment and the reason why the Church insists we remember this event with liturgies, prayers, hymns, and devotions is because of three distinctions preserved for us in this universe changing moment. First, God fulfills His promises. The first we hear of the Messiah is all the way back in the Garden of Eden after our first parents fell for the lie of the serpent. God told the serpent that he would bruise the heel of the "seed of the woman." By the way, this is an allusion to the Virgin birth since women have the egg and men have the seed, but that's for another day! All the promises of the Messiah's coming God fulfills in sending us His Son "born of a woman, born under the Law" (see Galatians 4:4).
Next, God not only fulfills His promises, He enlists one of our race to participate in humanity's salvation. You see, God loves us, and His intention for each of us is to be His eternal companions fit to be with Him forever. But He refuses to force us. He invites us, He calls us, He woos us. But He never forces us. And He doesn't force Mary. He tells her His plans and He waits for her response. You see, dearest, God wants companions, not slaves or even submissive and cowed servant. But He knows unless we actively choose (and keep on choosing) to participate in His work in our lives, we will either think of Him as nothing more than a heavenly "sugar daddy" or, worse yet, an "angry god" only to be obeyed rather than loved. And it's best for us if we love Him, not for His benefit (He needs nothing, including me!) but for ours. He knows we will never be able to "hang" with Him forever if we don't do so willingly!
Finally, He not only fulfills His promises and chooses one of us to bring salvation to everyone, He invites us all to learn how to do as she did by entering into the "family" of God. You see, it seems all other religions either allow you to be "religious" by yourself OR they get God so wrong that you are "forced" to obey out of fear and intimidation rather than motivated by love and trust. But this revelation of Christ invites me to a "family" with a mother and brothers and sisters, all seeking to follow our mother's good example when she was confronted with an unbelievable message of Good News. She said "yes!" And now we are called to do the same. And if we do, then the same thing that happened to her will happen to us! The Holy Spirit will form the Person of Christ within us!
Today, on this Feast of the Annunciation, know that you, too, are being visited by the messenger of Good News and you, too, are being offered to have Christ formed inside you. You too are being asked to trust an amazing message; that God wants you to so be transformed by Christ within you that you actually participate in the very divine nature Himself. Just like her, you are called to say "yes" and become Orthodox on Purpose!
P.S. Here's a recent message we received at Faith Encouraged Ministries: "Thank you for your insight into each daily reading. I always look forward to reading what you write and your wisdom. Thank you, thank God!" There are two ways you can encouraged us in this daily outreach: You can email Fr. Barnabas at email hidden; JavaScript is required AND you can share these devotionals with someone else! Thanks!