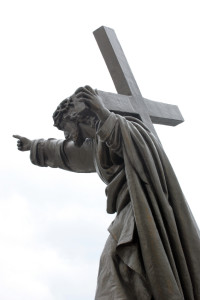 They even have a name for it; it's thanatophobia. Of course it's based on the Greek word for death – Θανατος and φοβος – literally the fear of death. It can become so bad in a person that they are terrified of dying every waking moment. Horrible!
And yet, we live in such a death denying culture we even comment at funeral homes "Does'nt he look good? He looks almost alive." We have sanitized death to the point that we don't want to be confronted with this stark reminder of our own mortality. To be sure, our ancestors had a much closer connection to this normal rhythm of life and they had all kinds of ceremonies and events surrounding the death of a loved one that really drove the whole point home to everyone affected. So, one of the consequences of our modern cultures divorce from death and mortality is our own not even thinking of our death at all except at particular times, and even then, we find the subject so terrifying , we quickly try to think of something else.
How different all of the advice of the Orthodox father when they advised to "Recall your exodus every hour; keep death before your eyes on a daily basis. Remember before whom you must appear." St. Athanasios. In fact, let me add a personal thought here I have contemplated for years: It is the very fear of death that drives most (if not all) my sinful behaviors and choices. I'm afraid I won't be happy so I grasp for that which I think will make me happy or something I want. I fear even dying of embarrassment or shame, so I lie or "embellish the truth" about my accomplishments so I can keep that fear of death away from me as far as possible! I never will forget when I first was confronted with this truth by those who were directing us toward Orthodoxy. It struck me as such a revelation that I began to see just WHY Orthodoxy emphasizes Christ's victory over death so very much. If even physical death has been defeated, then what do I really have to be afraid of?
Look at our Scripture Lesson this morning in Isaiah 25:1-9:
O LORD, You are my God; I will exalt You, I will praise Your name; for You have done wonderful things, plans formed of old, faithful and sure. For You have made the city a heap, the fortified city a ruin; the palace of aliens is a city no more, it will never be rebuilt. Therefore strong peoples will glorify You; cities of ruthless nations will fear You. For You have been a stronghold to the poor, a stronghold to the needy in his distress, a shelter from the storm and a shade from the heat; for the blast of the ruthless is like a storm against a wall, like heat in a dry place. You subdue the noise of the aliens; as heat by the shade of a cloud, so the song of the ruthless is stilled.

On this mountain the LORD of hosts will make for all peoples a feast of fat things, a feast of wine on the lees, of fat things full of marrow, of wine on the lees well refined. And he will destroy on this mountain the covering that is cast over all peoples, the veil that is spread over all nations. He will swallow up death for ever, and the Lord GOD will wipe away tears from all faces, and the reproach of his people he will take away from all the earth; for the LORD has spoken. It will be said on that day, "Lo, this is our God; we have waited for him, that he might save us. This is the LORD; we have waited for him; let us be glad and rejoice in his salvation."
What a powerful passage, AND I hope a clear indication to you that the idea of death being destroyed is not just a New Testament message, not at all. It has always been God's intention to bring death to death and to set humanity free from this terrible fear once and for all. However please note that the freedom from death isn't guaranteed to be a wonderful thing. You remember recently we talked about why God sent our parents Adam and Eve out of the Garden, so as to protect them from eating of the Tree of Life in their fallen state and living forever separated in their hearts from their Creator! But now Christ has come and "trampled down death by death, and to those in the tombs bestowing life!" Now the path to the Tree of Life is open to humanity again and God has extended His destruction of death to every human. Period. So, now it isn't a matter of living forever. That's now guaranteed for all of us. No, now the issue is properly preparing to live forever well!
No wonder the fathers teach us to remember our own mortality. No wonder they teach us to keep our Divine Appointment before our eyes everyday. No wonder we always pray "For a good answer before the awesome judgement seat of Christ." In a way God has cursed humanity with eternal life if that humanity comes to eternity ill prepared to enjoy it forever!
Today, as we continue our Lenten journey, it's time to renew our sober preparations to enjoy God forever by actively participating in that way of life that teaches us how to enjoy the gift of eternity God has already granted us! The Church liters our lives with opportunities, prayers, disciplines, people, stories, wisdom, and direction to help us come to that moment in our lives when we step beyond the daily struggles and face the eternal life granted to us all. We are all going to live forever. The only issue to be decided is will we be able to enjoy living forever. Our faith is clear; the only way to really enjoy eternity is by becoming Orthodox on Purpose!
P.S. Faith Encouraged Ministries produces Fr. Barnabas' weekly homilies from Sts. Raphael, Nicholas, and Irene in both audio and video. Go here for the audio and here for the audio and video of our weekly homilies. We pray they are a blessing to you.