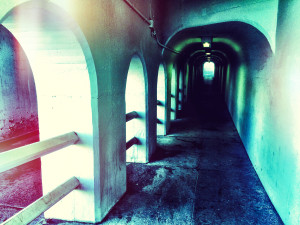 "They say hindsight's 20/20." Yep, that's what they say. I don't know anyone who, if they could and knowing what they know now, wouldn't jump into a time machine and go back to one or two spots in their lives and do something different. We all have moments in our lives where we were blind to the unintended consequences of our choices.
And yet, even knowing what we know now, we still catch ourselves about to step into choices, relationships, situations that seem familiar to those other regretful choices we've made in the past. It's unnerving how easily we repeat what we know we shouldn't!
What do you think drives this human habit? We humans vacillate between either being too easy on ourselves or too hard on ourselves. And both of these places keeps us from actually getting to the heart of how to avoid all these familiar traps in our choices. What we need is a sure-fire way to stay ahead of our unthinking choices that keep us trapped in a pattern of bad places. And there certainly are no shortage of words of advice, counseling appointments, and self-help books out there that offer us a way out. And there's not necessarily anything wrong with any of them. However, what if we could get ahold of the "owner's manual" for our lives and see so far ahead we avoided all the pitfalls? Guess what. We can.
Look at our Gospel Lesson this morning from Luke 19:29-40; 22:7-39. We won't quote the whole passage, but I hope you take the time to read it all. We'll just quote a section that illustrates the wisdom we are seeing today:
And when the hour came, he sat at table, and the apostles with him. And he said to them, "I have earnestly desired to eat this passover with you before I suffer; for I tell you I shall not eat it until it is fulfilled in the kingdom of God." And he took a cup, and when he had given thanks he said, "Take this, and divide it among yourselves; for I tell you that from now on I shall not drink of the fruit of the vine until the kingdom of God comes." And he took bread, and when he had given thanks he broke it and gave it to them, saying, "This is my body which is given for you. Do this in remembrance of me." And likewise the cup after supper, saying, "This cup which is poured out for you is the new covenant in my blood. But behold the hand of him who betrays me is with me on the table. For the Son of man goes as it has been determined; but woe to that man by whom he is betrayed!" And they began to question one another, which of them it was that would do this. (Luke 22:14-23)
Here we are, once again, approaching Great Lent. That season of the Church Year where we do our annual pilgrimage to Pascha, the Resurrection. And, once again, our Faith invites us to see with fresh eyes the familiar message we've heard over and over again. And in this fresh look at familiar words there is the key to embracing the answer to our true life. All this week, we are going to be invited to have a laser-like focus on Forgiveness Sunday and the final preparation steps into Great Lent. Ready?
Of course, here, we see the Lord give to us His gift of the Holy Eucharist. Here He institutes the "meal" that Christian communities will celebrate from then on up to today. He gives us the key to Great Lent when He says "Do this in remembrance of Me." Because it is in the ability to SEE the goal of our journey AND remember WHY the journey is worth the labor that sets us free from the unthinking and automatic patterns of our choices, our actions, and our living that entrap us into the slavery of shortsighted lives.
Today, we journey toward Forgiveness Sunday and the Faith allows us to see ahead toward the goal of our journey: Remembering Christ in all we do. Are you awake to this annual opportunity to see WHY your spiritual life is worth your BEST efforts? Are you clear on the goal of your life? are you willing to humbly embrace and be embraced by the wisdom of spiritual labors to set you free to see clearly and remember well? You can be. The truth is you should be, especially with the abundant wealth of spiritual wisdom you have right at your fingertips. All you have to do is today, in this moment, exercise your will to be Orthodox on Purpose!
P.S. A New Faith Encouraged LIVE program is this coming Forgiveness Sunday at 8 PM. And we are going to talk about Repentance. How appropriate as we launch into Great Lent. You just may be surprised to learn that Repentance is so very much more powerful than mere regret for breaking a rule! That's Sunday at 8 PM on AncientFaith.com