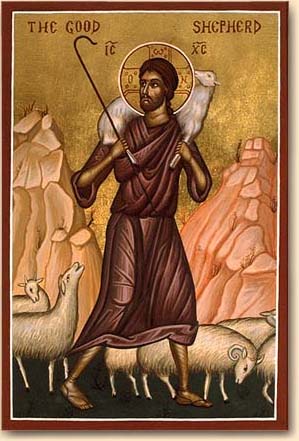 St. John Chrysostom called the faithful "reason endowed sheep." Not having a lot of experience with sheep being raised in the rural American South (Now ask me about pigs, cows, and chickens and we got something there), I had to look up what is it about sheep that made this statement make so much sense to St. John's congregation.
First, sheep are a "herd" animal. That is they are most comfortable with other sheep. They aren't "lone rangers." In fact, a sheep usually doesn't get in trouble until it gets separated from the flock. That's when a sheep is most vulnerable to attack from the wolf. Next, sheep are fairly docile animals. You never see a TV special on the Discovery Channel called "When Sheep Attack." Sheep tend to be easy going, sober, and willing to get along. Finally, sheep, being a herd animal, need a shepherd to keep them from wandering off and getting into trouble. Leaderless sheep rarely survive long.
Look at today's Gospel Lesson from John 10:9-16 (it should sound familiar since we've looked at this passage recently): The Lord said, "I am the door; if any one enters by me, he will be saved, and will go in and out and find pasture. The thief comes only to steal and kill and destroy; I came that they may have life, and have it abundantly. I am the good shepherd. The good shepherd lays down his life for the sheep. He who is a hireling and not a shepherd, whose own the sheep are not, sees the wolf coming and leaves the sheep and flees; and the wolf snatches them and scatters them. He flees because he is a hireling and cares nothing for the sheep. I am the good shepherd; I know my own and my own know me, as the Father knows me and I know the Father; and I lay down my life for the sheep. And I have other sheep, that are not of this fold; I must bring them also, and they will heed my voice. So there shall be one flock, one shepherd."
Frankly, early on in my Christian life, I wondered "why sheep? They seem so wimpy!" I wanted to be a "lion" or an "athlete." I didn't want to be a sheep. But, truth be told, we never get to those "strong" images of ourselves until we are willing to pass through the humble moments of being sheep. And that, dearest, is key here. It is only the humility of sheep that allows for a community. A community filled with headstrong persons is always filled with strife and bickering and argument; everyone insists on his or her own way, because, after all, "I'm" strong! "I" don't want to appear weak! How very different from the attitude of our Lord Jesus Who is God Himself yet humbled Himself and became obedient to death even on a cross! That humility, that love of others over Himself, made it possible for all of us to be healed of the soul sickness of rebellion and sin and death.
So, too, your humility. You see, God refuses to "force" you to humble yourself. Oh, He may allow your choices to place you in humbling situations. But even those situations may not finally get you to exercise your will to humble yourself. This is squarely in your lap! If you do finally embrace being a "reason endowed sheep" you open up all of heaven as a resource for your own spiritual growth. But the stubborn insistence of your own "rights" or "way" is a sure fire guarantee to something much worse than a sheep! You ALWAYS become a slave! Instead of the humbled and wise following the Lord, you find yourself always being led around by your anger, your depression, or you pride. How's that working out for you?
Today, are you willing this day to be a sheep in the flock of Christ? Are you? Are you willing to take a spiritual medicine that may be bitter in your mouth, but it will be sweet in your life! Look at the multitude of invitations of your faith toward this life in community! Frequent liturgies, times of prayer, seasons of fasting and feasting, lives of the saints, Holy Scripture and Holy Tradition; all inviting you to a willingness to follow! With these treasures in your life, practiced, participated in, and valued more than a mere cultural decoration of your life, you will find both the dignity and the strength to be a "reason endowed sheep" in the flock of Christ, and This Shepherd is leading His flock to paradise! This Shepherd is will make you Orthodox on Purpose!
P.S. SPECIAL ANNOUNCEMENT! This Sunday we will air an Encore Faith Encouraged LIVE program! This Sunday night at 8 PM Eastern listen in as we revisit the subject of STEWARDSHIP with my special guest Bill Mariannes! Starting on the 5th Sunday night in March, Bill and Fr. Barnabas will co-host a special LIVE call in program about church finances and faithful stewardship! Listen this Sunday on AncientFaith.com