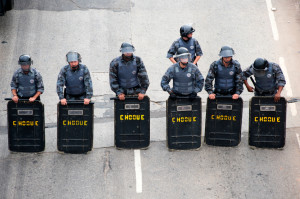 It's just such a part of our common world today! There are people who believe they are killing other people for God. In fact, when a member of ISIS (that terrorist group in Syria and Iraq) was asked why they were actually killing the children too, he said they didn't want the children to grow up and take revenge against them. Imagine a mindset so sick, so meticulous, that it could condone such atrocities! And yet, they insist this is for God. We could go on and talk about the "honor killings" (Wow, that sure is a misuse of the word "honor") and other "cultural" anomalies, but what we've said should be enough.
Of course, there are some who insist that all religions have bad examples in their past so we "shouldn't get up on our high horse" but that is such a shallow attitude that completely distorts reality. We shouldn't be surprised. We humans have an amazing power to delude ourselves into believing what we want to believe.  And that is what our spiritual path is meant to overcome, our tendency toward delusion.
But this idea of killing for God isn't new, and it certainly isn't exclusive to one particular religion or ideology. Not at all. In fact, the secular ideologies of nazism, communism, and secular humanism are all much better at exterminating humans than any religion has ever been. But, even our Lord Jesus told His disciples that there would come a day when His followers would be killed and the ones doing the killing would be convinced they were doing God's will!
Look at our Gospel Lesson in John 15:17-27; 16:1-2:
The Lord said to his disciples: "This I command you, to love one another. If the world hates you, know that it has hated me before it hated you. If you were of the world, the world would love its own; but because you are not of the world, but I chose you out of the world, therefore the world hates you. Remember the word that I said to you, 'A servant is not greater than his master.' If they persecuted me, they will persecute you; if they kept my word, they will keep yours also. But all this they will do to you on my account, because they do not know him who sent me. If I had not come and spoken to them, they would not have sin; but now they have no excuse for their sin. He who hates me hates my Father also. If I had not done among them the works which no one else did, they would not have sin; but now they have seen and hated both me and my Father. It is to fulfill the word that is written in their law, 'They hated me without a cause.'

But when the Counselor comes, whom I shall send to you from the Father, even the Spirit of truth, who proceeds from the Father, he will bear witness to me; and you also are witnesses, because you have been with me from the beginning. I have said all this to you to keep you from falling away. They will put you out of the synagogues; indeed, the hour is coming when whoever kills you will think he is offering service to God."
The power the Lord offers His Church today, even in the face of increasing hostility towards the Faith, is love. But not just any kind of love; love that flows from community – love one another. And this love will be necessary in the face of a world, a society, that sees Christ and His people as "enemies" that need to be exterminated. And this belief that Christ and His followers should be eliminated is precisely because the community founded by Christ is the antidote for human delusion. Those who want to "wake up" to reality will love the Faith; those who prefer the darkness and stupor of delusion will hate the Faith. Of course, this reality existed in the pagan Roman Empire and the early martyrs are a testament to both the world's hatred and the power of the love in the Church to give courage to those persecuted. No wonder the enemy works against the unity of the Church and no wonder the Lord longs for the Church to stay united. It is in the unity of Love that the Faithful best liberate the world from darkness.
Today, are you living free from the delusion of a world gripped by fear and death? Is your practice of the Way of Faith consistent enough to build love in your heart for those around you or are you suffering from the delusion of others as your enemy or your object of suspicion and hatred? Make no mistake that the faithful practice of the Orthodox life is a practice that builds love and mercy in our hearts for all humankind and draws us all closer together; not further apart. As we journey this week toward Judgement Sunday, let us not foolishly live in the delusion of hatred and fear but put those fallen feelings under the healing grace of a purposeful Orthodox life.
P.S. We are looking forward to taking our "Orthodox On Purpose" Lenten seminar to St. George Orthodox Cathedral in Charleston, WV on Saturday, February 21st. If you or someone you know is in the area, please make sure they know they are invited. Fr. Barnabas looks forward to meeting his friends there!