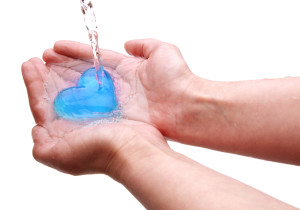 I've always been both inspired and disturbed by the Lord's words "For where your treasure is, there will your heart be also." This passage has always struck me as an immediate "gut check" no matter when I confront it.
And that makes sense because the whole purpose of the phrase is to "arrest" you in that moment for a quick inventory and inquiry "Do you know where your heart is?" And the answer, no matter how challenging, how discomforting, or how disappointing is always "wherever your treasure is." In other words, your heart is in what you treasure most in your life. Nothing brings this point home to me more than when I read contemporary stories about the "millennial" generation, or the "metrosexuals" or the "crisis in modern masculinity" or even (have you heard about this new catagory) the "lumbersexuals." Good grief! Regardless of the names, all of these stories invariably complain that the current generation can't expect the same level of prosperity as previous generations and all of them seem to declare the "American dream" is dead.
To which my theological heart responds "So what!" Perhaps a truly fulfilled human life shouldn't depend on comfort or prosperity, at least not how these words are defined in a culture that has dismissed the workings of the soul and the spiritual maturity of an "examined life." Perhaps this current generation will be richer in deeper realities, especially if we Orthodox choose to stop hiding our treasures from the modern world!
But I digress! Look at our Gospel Lesson today, and you'll see what I'm talking about:
The Lord said, "Fear not, little flock, for it is your Father's good pleasure to give you the Kingdom. Sell your possessions, and give alms; provide yourselves with purses that do not grow old, with a treasure in the heavens that does not fail, where no thief approaches and no moth destroys. For where your treasure is, there will your heart be also. Let your loins be girded and your lamps burning, and be like men who are waiting for their master to come home from the marriage feast, so that they may open to him at once when he comes and knocks. Blessed are those servants whom the master finds awake when he comes; truly, I say to you, he will gird himself and have them sit at table, and he will come and serve them. If he comes in the second watch, or in the third, and finds them so, blessed are those servants! But know this, that if the householder had known at what hour the thief was coming, he would not have left his house to be broken into. You also must be ready; for the Son of man is coming at an unexpected hour." Luke 12:32-40
"Be like men…" YES! Men who are anticipating, men ready, men focused, men truly AWAKE! And looking forward to being with their Lord! That's the kind of man I want to be! But how do we get such men? Look again at the passage. First, have a healthy disregard for your possessions. Next, value eternal realities more than temporary ones. And finally, love FIRST your Lord above all others and with eager anticipation and wakefulness for His presence! Those kinds of men have their hearts in a place where true treasures exist, and not in that fleeting "fool's gold" that can be stolen or rot!
In an age where "the clothes make the man," in an age "where he who dies with the most toys wins," in an age that confuses pleasure with love and peace with the absence of conflict, we so desperately need men who will make a different choice and walk a different path. And we need those men NOW!
Today, where is your heart? Oh, I'm not asking where you think your heart ought to be. That's too easy to fake! No, seriously, with an honest inventory of your loves, where is your heart? Look at what you treasure most in your life and you can tell that place by looking at where you spend most of your time, your talent, and yes, your money. Find that spot and you'll find your heart. Is it where it needs to be? If not, perhaps it's time to have a spiritual "heart transplant" to a better place. Perhaps it's finally time to be Orthodox on Purpose!
P.S. Have you visited the Faith Encouraged Daily page where you can hear these daily devotionals? Go HERE and check it out! And then, share this with someone else today. They just may need a heart transplant too!