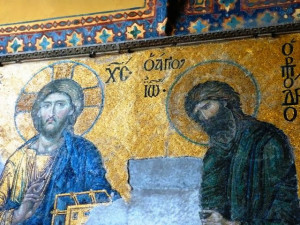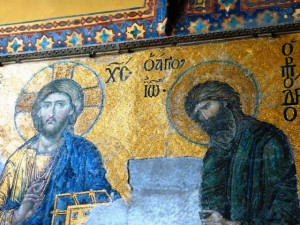 "γνωθι σεαυτον" Know Yourself: with these two words ancient philosophers and Christian theologians have wrestled with a fundamental reality – We humans spend a lot of time either hiding from ourselves or narcissistically focused on a false self. But truly knowing who we really are is fundamental to being who we really are!
My bishop is fond of asking us to pray for him that he will constantly know himself and not lose himself. Isn't that wonderful? All at once, humble and profound.
This reality is so absolutely essential to any hope of spiritual maturity and wholeness that St. Basil, in his homily on Attentiveness concludes "be attentive to yourself, that you may be attentive to God, to whom be glory and dominion unto the ages." To do the work of knowing yourself soberly and honestly requires a focus most of us struggle to attain even in the briefest of moments. Our lives are jam-packed with busyness and schedules and noise and meetings and media and, well the list goes on and on. And this distracted living causes most of the problems in our lives, in our relationships, and in our work. This distractedness, this lack of attentiveness, makes us strangers even (primarily) to ourselves. No wonder we wonder what we should "be" when we grow up. No wonder we struggle to "grow up" at all.
This lack of authentic self-knowledge nags at our souls. We sense we should be able to know ourselves and, either consciously or unconsciously, we attempt to fulfill this fundamental need with all kinds of lesser remedies with haphazard results. We seek self-knowledge in "self-esteem" only to be reduced to "let's not keep score so no one's feeling are hurt," or we fall off the other side of this narrow road by an illusion of false humility that comes off more as a cry for attention than the humble self-forgetfulness of one who truly knows himself and knows he has nothing to prove. Both of these attempts at self-knowledge lead us nowhere near the truest results.
Look at our Gospel Lesson for today. It's in Luke 3:1-18. Read the whole pericope today, but, for space sake, I'll just quote the last three verses: As the people were in expectation, and all men questioned in their hearts concerning John, whether perhaps he were the Christ, John answered them all, "I baptize you with water; but he who is mightier than I is coming, the thong of whose sandals I am not worthy to untie; he will baptize you with the Holy Spirit and with fire. His winnowing fork is in his hand, to clear his threshing floor, and to gather the wheat into his granary, but the chaff he will burn with unquenchable fire." So, with many other exhortations, he preached good news to the people. Luke 3:15-18
St. John the Baptizer knew himself. He understood who he was, what he was called to accomplish, and where his life was suppose to go. This self-knowledge created a freedom for St. John for him to be liberated from false expectations and delusions of grandeur. His self-knowledge made him free to be who he was and this freedom gave him peace. But this freedom wasn't embraced without cost. If you know the scriptures concerning St. John then you know he was a man of robust spiritual discipline. He spent many years in the solitary place of the "wilderness" and ate only "locust and wild honey." His discipline provided him his healthy self-knowledge, and his utter trust in God's grace and mercy provided the motivation for his discipline. In other words, our self-knowledge isn't going to be "cheap" or "easy!" It is going to take a conviction within us that this work of true self-knowledge will produce my truest self in communion with Christ. St. John could know what he knew about the Lord, and know what he knew about himself because he came to understand the true purpose of life is restoration of communion with God! As St. Basil says above "be attentive to yourself, that you may be attentive to God."
Today, as we approach the moment when the Lord Himself will submit Himself to baptism by St. John's hands, let's embrace with sober joy the invitation from God to know ourselves without the delusions of false arrogance or false humility. My spiritual maturity and freedom ultimately depend on my willingness to see myself, warts and all" with an honesty that protects me from attempts to justify myself or falsely condemn myself. Because if I fall into either of these delusions, I will never discover who I really am. Here, at the beginning of another year, perhaps it's time to either recommit to this valuable work or begin this work for the first time. All the tools I need to do this are in abundant supply in a "normal" Orthodox life. All I have to do is be willing to embark on this journey, and God Himself will be my helper! This is the only way to ever be Orthodox on Purpose.
P.S. Thank you for your notes of encouragement. You can write me at email hidden; JavaScript is required, and don't forget to share this if you find it helpful.